Review: Dell M318WL Mobile Projector Delivers Quality on the Go
The portable projector offers users superior display features and flexibility in an easy-to-carry package.
Like some of you, I've had questions about the mobile projector market. Sure, they're lightweight and easy to use, and they make presentations a snap. But can they throw enough light to make my presentation meaningful? Is the picture clear and easy to focus? What about connectivity and input ports? I hate lugging around a heavy projector, but will a device that weighs less than a pound satisfy my needs?
Enter the Dell M318WL mobile projector. My first step was to take it to a medium-sized conference room with the lights on, hook it up to my laptop and see what happened. It instantly made me a believer. Here's why.
SIGN UP: Get more news from the EdTech newsletter in your inbox every two weeks!
Intuitive Controls Guarantee Clear Picture in Any Setting
Positioned at the end of a table and projecting to a whiteboard, the LED lamp was bright enough from about six feet away to project a nice 60-inch diagonal image with zero washout. The lines of my presentation were crisp and clear. The manual focus lever has just enough resistance, and yet remains smooth, to find that sweet spot where the focus is perfect. The device also permits a vertical keystone adjustment of up to 40 degrees. 
You control the settings — and there are quite a few — with a menu-driven interface that's easy to navigate. Image settings include brightness, contrast, color temperature and white intensity. Aspect ratios of 16:10 and 4:3 are available, and display settings include zoom levels from one to 10. At level three, the entire picture is visible, but past that you'll start to lose the edges of the display, which could be just fine if you want to zoom in on a detail.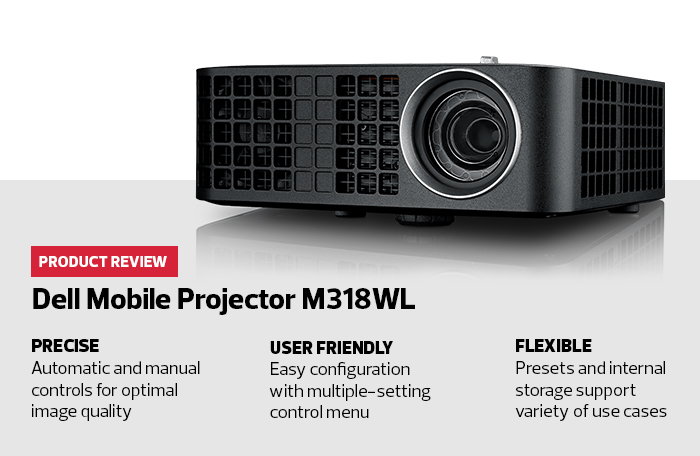 You can also set the device to be a rear projector and turn on auto-keystone correction. Although auto-keystone works well enough for small corrections, I preferred the manual keys for more in-depth adjustments. Preset modes, such as Movie and Presentation, automatically optimize settings.
Connect Effortlessly With Wired or Wireless Options 
Dell designed several ways to project your image. For the simplest, Dell includes a full-size HDMI cable. With the optional wireless dongle set in the USB-A port, use the EZCast Pro application on a mobile device or download the network projection application to a laptop. You can connect through the USB port using the same applications. The projector supports image and Microsoft Office viewer displays from a flash drive. Finally, the device offers 7 gigabytes of internal storage so you can copy and display files locally, a useful feature for quick collaborations.
This experience changed my mind about the potential of mobile projectors. On a campus, the Dell M318WL would be a great choice for something that's easy to tote from classroom to conference room without compromising quality. 
Share Content Easily with Quick Application Setup
In addition to the standard HDMI cable, the Dell M318WL mobile projector offers multiple ways to connect, both wirelessly and via a USB cable. 
To go wireless, you'll need a Dell Wireless Dongle Kit WD518. Simply plug the dongle into the USB port and select Wireless Display on the menu. If you're on a Mac or Windows laptop, open the wireless connectivity, search for the projector's ID and then enter the preshared key (both displayed by the projector). Once connected, navigate your browser to http: //10.0.50.100/ and follow the instructions to install the application. You'll only have to do this last part the first time you connect.
If you'd rather connect a mobile device, you can use the EZCast Pro application. On your device's wireless settings, connect to the projector's ID, enter the key and then launch EZCast Pro. The application casts whatever is on your mobile device to the projector.
To use the USB wire, connect the provided USB-A cable to your laptop. Select Internal Memory for the input type, then Storage Media. Your laptop will detect the projector as if it were an external storage device. Choose the correct install file (Mac or Windows), copy it to your laptop and execute. On the projector, switch the input back to USB Display, and on your laptop, click Find a Projector. Double-click your projector ID and choose Mirror On or Extend to use the device through the USB port.
Dell Mobile Projector M318WL
Resolution 1280x800 pixels (WXGA)
Light Source Mercury-free LED 500 Lumens
PORTS: HDMI, USB, audio jack
PROJECTION DISTANCE: 3.2 to 8.5 feet, 30- to 80-inch screen size
Dimensions: 4.1x4.1x1.4 inches
Weight: 0.8 pounds
Storahe 7GB