4 Ways Technology Has Contributed to a Top-Ranked Higher Education in Virginia
Survey ranks the state as the best in the country for a public education; here's how tech might have helped.
When it comes to getting a great college education, students in Virginia seem to have a leg up. The state took the top spot in an annual study from financial firm SmartAsset comparing four-year public colleges and universities based on the undergraduate graduation rate, the net price, the 20-year return on investment and the student-to-faculty ratio.
Virginia has been a long-time staple of the list, but with a graduation rate of 70 percent and a 20-year ROI of $442,660, this year it rose to the top.
The state has also risen to the top in leveraging technology for students.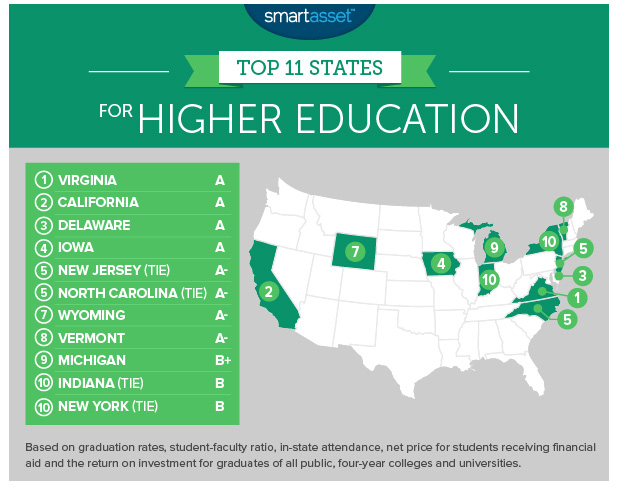 SOURCE: SmartAsset, "The Best States for Higher Education in 2017."
1. IT Course Offerings Are In-Line With Trends
Cybersecurity jobs are in high demand, and universities have seen success in offering hands-on experience. George Mason University in Fairfax, Va., is no exception to that. Its two cybersecurity graduate programs have made a number of top lists.
An article on Universities.com says, with classes in late afternoons and early evenings, the programs have been a perfect fit for mid-career tech professionals. The two programs also provide a number of hands-on experiences, including a residency where students spend time at a cybersecurity enterprise.
"George Mason's programs are at the forefront of cybersecurity education through our engagement with thriving Washington metropolitan-area community and our world-class research," says Angelos Stavrou, a GMU computer science professor, in the article.
2. Universities Are Fostering Innovation Through Technology
GMU has been in the news recently for innovative use of 3D printing. WTOP reports that five bioengineering students made a custom prosthetic arm for a 10-year-old violinist.
To foster similar creativity, the University of Virginia in Charlottesville, Va., created an initiative to support entrepreneurship and innovation both on and off campus. The university's i.Lab is 10,000 square feet of collaboration space, maker tools and other technology. Leveraging this, along with mentoring from industry experts, UVA hopes the space will be able to support "multi-disciplinary teams developing high-impact technology that may form the basis of a new venture."
3. Historic Campuses With Cutting-Edge Technologies
Though the College of William & Mary in Williamsburg, Va., is the second oldest university in the United States, that doesn't mean it can't offer students great technology. EdTech reports that the school was able to bring internet access to every building on campus.
"Combined, the college installed about 1,500 wired and wireless [access points] supporting 802.11b, g and a protocols," the article reports.
The IT staff hid both wired and wireless APs in closed podiums and decorative elements so they could deliver ubiquitous internet access without compromising the history of the campus.
4. Tech-Filled Spaces Support Student Achievement
Virginia Tech in Blacksburg, Va., has leveraged technology to boost achievement in freshman math courses by creating the Math Emporium, a 60,000-square-foot lab.
EdTech reports that the lab is equipped with more than 530 Apple iMacs and onsite tutors to facilitate self-paced math courses, open study and group work.
garytog/Thinkstock