Review: Lenovo ThinkCentre Tiny Packs a Punch
The Lenovo ThinkCentre Tiny delivers powerful performance in a petite package.
Just about every institution runs on technology these days, but for many, the challenge is to get that technology to as many students as possible — not an easy feat for those on a shoestring budget. The Lenovo ThinkCentre M600 Tiny 10G9 is tailor-made for colleges seeking a superb return on a modest investment.
Just a few years ago, the Tiny's ultra-small form simply would not have been possible. Today, this compact package runs a full version of the Windows 10 Pro 64-bit operating system and supports all Windows programs. And while it's not a scientific workstation, the 1.6-gigahertz processor, coupled with 4 gigabytes of RAM, quickly opened every educational and productivity program or app I threw at it, including memory-intensive tools like Adobe Photoshop.
Every Tiny comes with a variety of mounting options for easy deployment. Users can set the device vertically, horizontally or into a rack enclosure with other units to create a mobile computing lab.
In addition, because the Tiny supports keyboard power-up commands, users can even keep it locked away for security. Hitting "Alt + P" on a connected USB keyboard will boot up the unit, even if a user can't physically touch it. That also means users can mount the Tiny behind a monitor to create a compact all-in-one.
Ready to Adapt to Many Learning Environments
The Tiny's advanced features are not normally found in an ultraportable desktop, and they're impressive. For educational users, one of the most useful attributes may be the dual-monitor support. The Tiny has two DisplayPort-type outputs and the built-in intelligence to enable connected monitors to work together with a single image.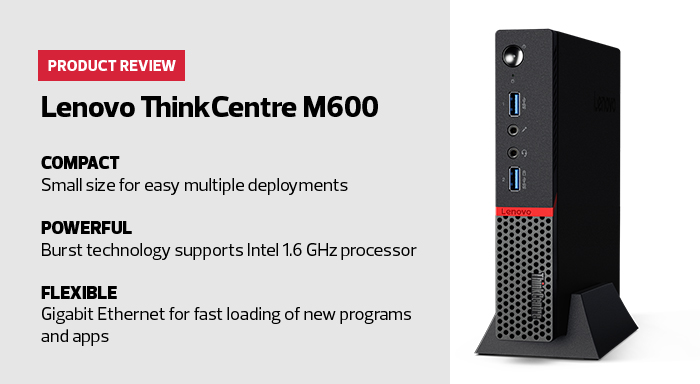 SPECIFICATIONS: Processor Intel J3710 Quad-Core 1.6GHz, Hard Drive 2Gbps, Graphics Intel HD Graphics with dual-monitor support, Memory 4GB DDR3L SDRAM, expandable to 8GB, Size 7.2x7x1.4 inches , Weight 2.8 pounds
I tested this with a virtual reality conferencing application, and I was able to look around the virtual classroom as it sprawled across two LCDs to create a single large image. I was also able to stream a presentation on one monitor while using a virtual whiteboard on the second. The Tiny never even stuttered. Speedy wireless 802.11ac adds even more options for applications and deployment, as does the integrated Bluetooth 4. And the Tiny's USB 3.0 port permits extremely fast interaction and data transfers with a connected peripheral. Priced at just under $370 per unit, the Tiny would be a welcome addition and a high performer in any classroom.
The Tiny Is Tough Where It Counts
Almost everything about the Lenovo ThinkCentre M600 10G9 Tiny is surprising. You simply don't often find such a small, economical unit designed for educational environments that boasts so many features or performs so many advanced tasks. So, I figured that pitting its toughness against the military's rigorous MIL-STD810G procedures should be no different.
To be clear, the Tiny is not designed for war, and it is not certified against the more warlike features of the mil-specs. For example, it isn't designed to block dust and sandstorms, and it likely wouldn't stand up to the harshest part of the military testing regimen: the drop testing designed to simulate shock. But the Tiny may need to be hardy to withstand the forces it might encounter in a shared learning environment. So I fired up my military test bed to put the Tiny through its paces.
I mentioned that features such as keyboard power-on would support deploying the Tiny — or many Tiny units together — as a mobile computer lab in a portable cart, which instructors could move between classrooms as needed. In that case, the biggest force working against the unit would be vibration, which it is protected against.
I set up the Tiny on a shake tray and began the vibration testing. After benchmarking performance while stable, I then cranked up the vibrations. After an hour of hard vibrations, nothing physically came loose. The internal design is solid so that nothing can loosen when the unit faces those types of forces. A follow-up benchmark found identical performance after the test, so it wasn't negatively impacted at all.
Heat can also be a killer in certain environments. Although it's recommended that all computer equipment be well-ventilated and ideally cooled, some Tiny deployments may prove challenging, depending on the enclosures used. I increased the heat on an operating Tiny to 110 degrees Fahrenheit inside the test enclosure and left it there for two hours.
Although I did record a 3 percent drop in overall performance in the hot environment, there were no component failures. Using the Tiny in a heat-intensive environment is not recommended, but the unit demonstrated that it can beat the heat.
Having a $361 unit ruggedized against the typical forces it might encounter is surprising, but this speaks to the quality of the Lenovo ThinkCentre Tiny — and to its expected longevity. In the final analysis, this little unit could have a big impact on classroom deployments.
More On