Horizon Report App Makes Higher Ed Trend Data More Accessible
The New Media Consortium's mobile app puts research findings at users' fingertips.
Higher education leaders can gain insights faster, thanks to a mobile app from the New Media Consortium.
The Android and iOS app transforms the NMC Horizon Report: 2016 Higher Education Edition from a static, 56-page PDF into an engaging tool complete with video and embedded links.
"The interactive features really set this apart from the traditional PDF and certainly print or web," said Lorenzo Vallone, senior vice president of the company that designed the app, in an interview with EdScoop.
The new design allows policymakers and college and university faculty to drill down into the report findings, which include a list of the six technology trends impacting higher education.
Other sections focus on challenges to technology adoption and the impact that technology trends have on policy, leadership, and teaching and learning practices.
Internal links quickly direct readers to the content they're interested in most — whether the user is online or offline — while links to NMC's social media accounts make it easy for readers to share their perspectives and content with their peers.
"We're excited for the ed tech community to view the NMC Horizon Report from a brand-new perspective, and we hope the app helps us reach more education leaders with timely insights to better inform their strategic planning," said Samantha Becker, NMC senior director and manager of the NMC Horizon Project, in a statement.
College and university professionals can find the app in the Google Play store or on iTunes, where it's available for smartphones and tablets.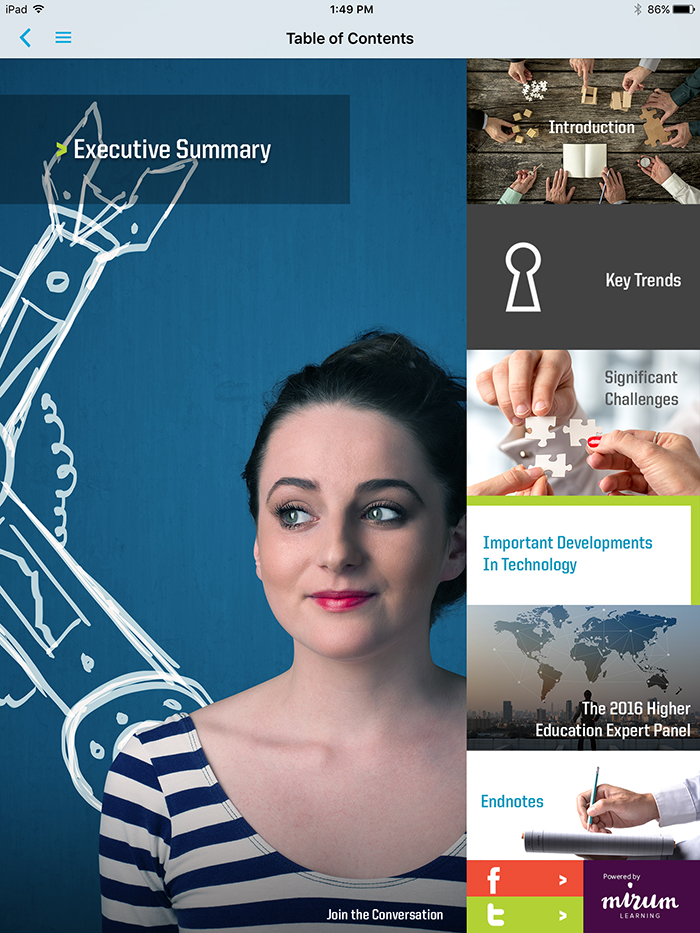 NMC's app offers easy navigation from the home screen.
ismagilov/ThinkStock
More On