3 Ways to Use Digital Signage on Campus
Colleges and universities turn to digital displays to improve campus communication.
Traditional bulletin boards have gone the way of the dinosaurs.
Innovative colleges and universities now turn to digital signage to share important messages with students. The shift not only offers time- and money-saving benefits to institutions but also enhances the quality of campus life for students and faculty.
Read through three popular uses for digital signage, and then score tips for designing an effective content strategy for the displays on your campus.
1. Simplifying Wayfinding
Campuses aren't just home to students and staff: Prospective students and other visitors frequently need to find their way from building to building. Layered digital maps placed in high-traffic areas can make it easier for people to find their destinations.
Digital signage, however, isn't limited to the outdoors. Western Iowa Tech Community College, for example, places interactive maps near entrances to get people on their way quickly.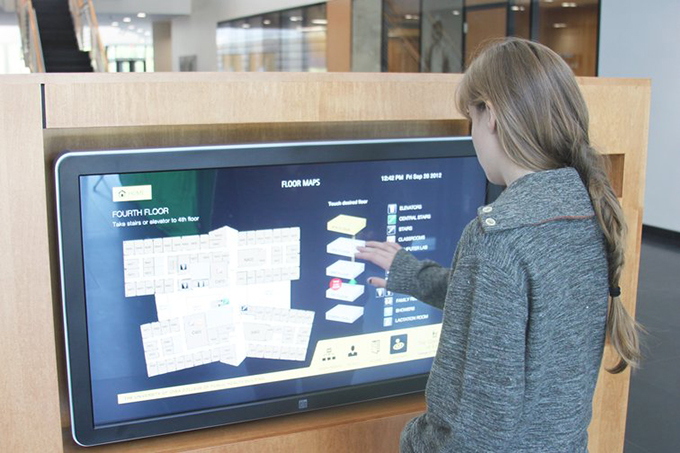 A digital sign at Western Iowa Tech Community College. SOURCE: University Business
2. Spreading Safety Messaging and Emergency Information
Digital signage provides an excellent space for colleges and universities to caution students about severe weather and catastrophic events.
But not all safety messages have to be quite so solemn: According to the Wisconsin State Journal, the University of Wisconsin–Madison Police Department considered posting warnings on digital signs after the Pokémon GO mobile app encouraged unsafe walking and biking behavior among students.
3. Amplifying Student Voices
In an article on the website College Planning & Management, Jessie Porter, digital media specialist at the University of Texas at Dallas, says "digital signage allows an opportunity for student organizations to broaden their reach and better engage their target audiences." The UT Dallas Student Affairs division even reserves its digital displays for nonacademic events.
While Boston University doesn't have designated displays for student organizations, that institution does allows groups to create digital promotions for upcoming events. It then rotates the ads through 11 digital displays spread across campus to provide optimal visibility.
Has your college or university found another use for digital signage? Tell us about it in the comments section below.
Kenneth Schulze/ThinkStock