3 Ways Higher Ed Is Playing Along with the Pokémon GO Craze
The week-old augmented reality game has swelled to unprecedented popularity among college students, but they're not the only ones getting in on the action.
While some college students have integrated augmented reality into their research or coursework, others have embraced AR technology for a nonacademic reason: catching Pokémon.
Released less than a week ago, Nintendo's Pokémon GO mobile game draws on camera and location data from users' Android or iOS smartphones to transform real-world scenes into video-game backdrops.
Undergrads immediately took to the AR game, wandering through campus seeking out loose Pokémon and PokéStops.
The amount of #Pokestops on my #college campus is absolutely crazy #PokemonGO

— Princess PhotographK (@MsPhotographiK) July 11, 2016
College and university representatives didn't miss out on the fun, though. Here are a few of our favorite examples of how higher ed responded to — or amplified — the Pokémon GO madness.
1. Texas Universities Rumble on Twitter
Just a day after the game's release, Texas State University challenged Texas A&M University to a Pokémon GO Twitter battle.
@TAMU TRAINER #TXST wants to battle! #PokemonGo pic.twitter.com/rzsur56yc9

— Texas State (@txst) July 7, 2016
2. Campus Police Level Up Their Safety Messaging
When students walk around with their eyes on their phones, trouble ensues. In response, the University of Wisconsin–Madison Police Department not only tweeted out cautionary messages to would-be Pokémon catchers but also planned to post safety warnings on digital signs throughout campus, the Wisconsin State Journal reports.
Dear Everyone,

Watch where you are walking. Pokemon aren't worth it.

Hugs,
UWPD

— UW-Madison Police (@UWMadisonPolice) July 11, 2016
The department's response didn't end there, though. A second tweet read more playfully: 
What do we do if we find a Pokemon in our dispatch center? Asking for a friend. #PokemonGO

— UW-Madison Police (@UWMadisonPolice) July 12, 2016
3. Administrators Prove They're Pokéballer at Recruiting
Innovative higher administrators turned the Pokémon frenzy into a chance to show off their campuses to prospective students. Some integrated campus facts into social posts: Harvard University, for example, tweeted out photos of Pokémon posed in front of historical landmarks, while Valdosta State University staff posted a similar photo on Facebook.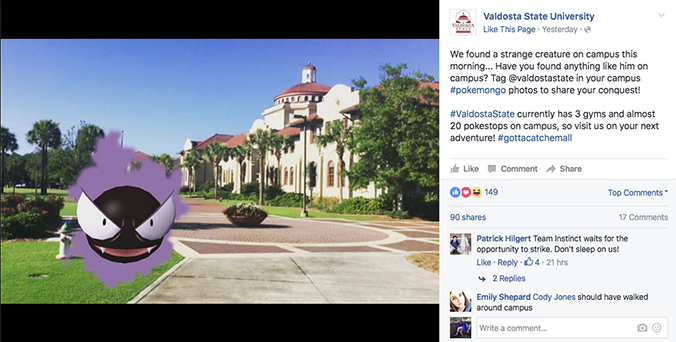 SOURCE: Valdosta State University via Facebook
mario900/ThinkStock