A Recap of the Higher Ed Projects, Presentations at National Maker Faire
The 2016 event featured helpful advice from higher ed administrators, as well as exciting innovations from student makers.
Tinkerers, makers and inventors from across the country descended on Washington, D.C., for the second annual National Maker Faire this weekend.
The two-day event, held at the University of the District of Columbia, came as part of the White House's National Week of Making celebration, which runs from June 17 to 23.
Faire attendees watched demonstrations from makers of all ages, tried their hands at tinkering during interactive workshops, and listened to presentations from celebrities, entrepreneurs, winners of the White House's Champions of Change awards and education thought leaders.
Chris Peterson, assistant director of admissions at the Massachusetts Institute of Technology, was one of those speakers. In a presentation titled Seeing & Supporting Makers @ MIT: The View from Admissions, Peterson described MIT Admissions' Maker Portfolio, which allows prospective students to showcase their technically creative projects via images, video and technical documentation.
Students and educators from Howard University's HowU Innovate initiative also discussed the D.C. institution's making activities and outreach efforts during a presentation titled HowU Innovate: Making and the HBCU Campus.
Meanwhile, local students from George Washington University's GW Tech Collective showed off their "All of the Lights" device, which generates a light show from any music source.
Nicole Mendoza and Kimberly Veliz, two University of California, Irvine graduates who recently competed on the TV show America's Greatest Makers, demonstrated their Slapband wrist-worn device. The Slapband records the wearer's vitals and sends the information to his or her doctor via the cloud.
Explore even more higher ed innovations by reading about Maker Faire Bay Area 2016.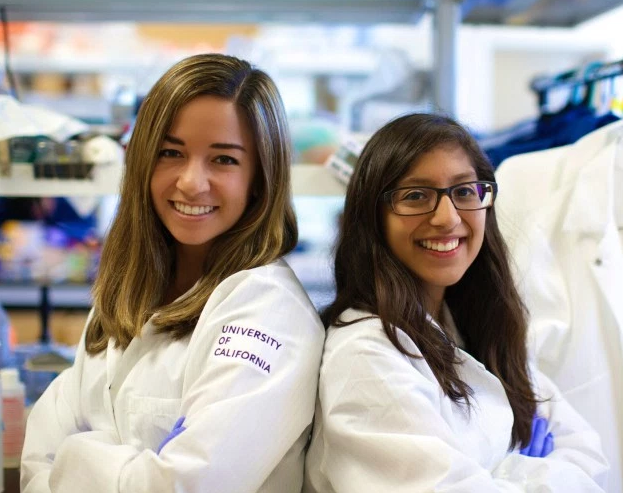 Mendoza and Veliz pose in their lab. Source: Maker Faire
KEVIN JARRETT/FLICKR
More On