Wake Forest Deploys Wearable Tech to Keep Players Fit and Injury-Free
The men's basketball team invested in performance-tracking devices to monitor players' heart rates and fatigue levels.
Like other basketball programs, Wake Forest University's coaches and support staff have embraced analytics to evaluate players and refine game strategy. But they're using data for something even more innovative: to prevent injuries and keep players healthy and in top shape.
During practices, players wear a sports-tracking device from GPSports that measures heart rate, distance, speed, accelerations and decelerations and their intensity levels. Before daily workouts, the team uses another technology tool, by Omegawave, to measure stress, fatigue and readiness levels for more aerobic and anaerobic exercises.
"We want to maximize our players by looking at performance analytics. We are monitoring every heart beat, sprint, jump, cut or change of direction, and that allows us to be proactive and better design practices to protect our athletes from injury," says Ryan Horn, the team's director of athletic performance. "If we see signs of overtraining and fatigue, we can have players sit out for the day to recover or just stay in the half court."
Wake Forest, under head coach Danny Manning, is a huge proponent of sports science and analytics and has invested heavily in the technology during the past year. The university is among the early adopters in college basketball that are using sports-monitoring technology tools and data analytics to increase and sustain player performance.
At Wake Forest, Horn takes a holistic approach in his attempt to improve his players' fitness and performance. He mixes strength and conditioning with good nutrition. He teaches visualization techniques to help players mentally prepare for competition. And because students must juggle team responsibilities with classes and school life, Horn also teaches stress-reduction techniques, such as yoga, to make sure players manage their stress and get enough sleep.
The performance-tracking technology tools help Horn with his efforts and allow him to tailor workouts for each player.
How Wake Forest Monitors Health and Performance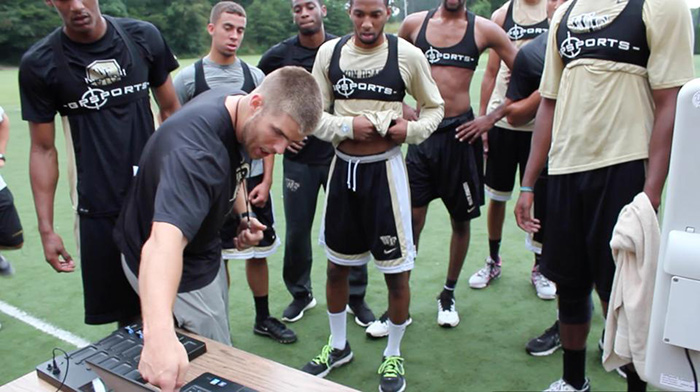 The GPSports device — which is slightly bigger than a box of matches yet has a heart-rate monitor, a GPS to track distance and an accelerometer to measure motion — is strapped onto each player's chest during practice.
When first used on athletes, the initial data collected give Horn a baseline of where the players are, in terms of fitness, and how they can improve over time.
"If players have an increased number of sprints and jumps, then they are at increased risk for injuries. By monitoring their workload, we make sure we are not recklessly putting them in danger," says Horn, who joined Wake Forest a year ago. Horn was previously on Manning's staff at the University of Tulsa for two years, but when Manning became head coach at Wake Forest last year, Horn joined him.
According to Horn, if a player is moving slower than normal or if his heart rate remains elevated during breaks, it's a warning sign that the player is tired and needs a rest.
The device also measures "running symmetry," which ensures that a player is distributing his weight equally on his left and right foot. If a player has knee or ankle pain, the data will show that the player is favoring one side when he runs.
"We'll talk to the athlete. We may find out that his knee is a little sore, and we'll have the training and sports-medicine staff treat and manage it," Horn says. "It's about being proactive and not letting it build up to the point that it becomes debilitating and the player starts missing games."
Before workouts and practices during the season, Horn uses the Omegawave device to measure each athlete's heart rate, central nervous system and metabolic system. He attaches a heart monitor to the chest and an electrode to the forehead, and the device determines whether the player is fully rested and operating at maximum efficiency or is showing signs of stress and fatigue.
Horn downloads the data onto his computer and then uses software to analyze each player's results. A red, yellow or green light helps him decide whether a player is ready for another practice or workout — and at what volume and intensity.
"Green light means the athlete is fully recovered, mentally in good shape and ready to go. Yellow means proceed with caution, while red means the player is stressed and not recovered yet," he says.
Combined, the two performance-monitoring tools made a big impact on the team's health during the just-completed season, Horn says. Except for one broken hand and a player who caught a cold and missed one practice, not one player missed a game or practice due to injury.
From Excel to SportVU
The Wake Forest Demon Deacons also invested in on-court data analytics. The team recently became the fifth college basketball team to adopt STATS LLC's SportVU technology, which uses video cameras to track every player and ball movement.
The technology, being installed this spring at the team's arena and practice facility, will provide coaches and staff with volumes of new game and practice data, such as rebound percentage and points per possession.
It will help coaches better assess players, uncover trends and patterns and help refine strategies during games, says Justin Bauman, the team's director of basketball operations.
Bauman used to build his own custom data analytics reports by jotting down stats during a game and then plugging them into formulas on Excel spreadsheets. The SportVU technology will generate reports automatically.
"SportVU will give us an in-depth snapshot of our team to identify weaknesses so we can make improvements," Bauman says.
The SportVU statistics will also complement the performance-tracking tech tools that Horn uses.
The NCAA doesn't allow teams to wear sports-tracking devices during games. But because SportVU records player and ball movements 25 times per second, it will provide data on each player's speed and total distance run during games. Horn can then compare it to all of the other performance data that he compiles.
"It will help me tremendously," he says. "Not only are we getting basketball-specific analytics, but it lets us see the speed at which we play. Are we really making the players faster on the court? It gives me valuable information on whether what we are doing is transferring to games."
Wake Forest University
More On