IBM Takes Watson University Competition Overseas
Innovative Watson-powered solutions to common problems were honored in an IBM event in France.
Hot on the heels of Watson-themed higher education challenges in America, IBM took its challenge overseas to see what European student entrepreneurs could do with Watson's brainpower.
IBM has cast a wide net to discover new applications for Watson, the company's cognitive computing system — from processing thousands of pages of medical research to aiding teachers with virtual tutors. And recently the company has been challenging university business students to test Watson's capabilities through a series of competitions.
Some students have already reaped the benefits of winning an IBM's Watson University Competition. In January, a student team from the University of Texas at Austin was awarded $100,000 in seed funding for their entry — CallScout, an app that uses Watson's cognitive computing to help people access the best social services for a particular need.
In March, IBM took the competition to Paris to host the first International Watson Case Competition. Similar to its North American counterpart, the challenge asked 13 student teams from local universities to identify industry-specific challenges and then pitch use cases for Watson-powered apps to help overcome those challenges.
The three universities involved in the competition, HEC, Ecole 42 and Centrale-Supelec, are the first in France to bring Watson into their classrooms, says Pamela Induni, program director at IBM Watson University Programs, in a March 25 blog post on A Smarter Planet.
"From offering unprecedented access to Watson via full semester coursework to hosting case competitions and Bluemix hackathons, our mission is to advance student skills in cognitive computing and enable the next generation of cognitive computing innovators," Induni wrote.
Here are the top three pitches in the competition:
BecomeOne, a job-search app that would use cognitive computing to help job seekers find the right job, based on "a number of professional, demographic, regional and social criteria."

Blue, an app that would help therapists treat people suffering from depression and other mental illnesses by using Watson's brainpower to provide "clinical decision support, advice and monitoring."

Aller, a travel-adviser app powered by Watson's text-to-speech and question-answer capabilities, would help travelers create "optimal trip itineraries based on destination and personal preferences" to enhance experiences abroad.
"I'm privileged to have a front row seat as student entrepreneurs take Watson's capabilities into entirely new directions," Induni wrote.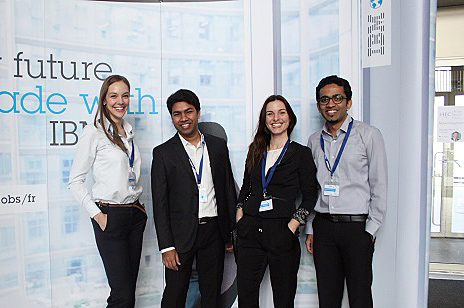 Blue, a use case designed by four students from the HEC MBA program in Paris, ended up taking home the top prize.
Credit: IBM Watson
Melpomenem/Thinkstock