3 Colleges Make Way for Cloud Computing
Three colleges and universities share advice for successful cloud migration.
Despite initial wariness of the prospect of losing control of critical IT resources, Montclair State University is taking a cautious approach to cloud computing.
Associate Vice President of Enterprise Technology Services Jeff Giacobbe says the public university in Montclair, N.J., recently moved 20,000 student email accounts and the institution's learning management system (LMS) to the cloud. A new cloud-based service for adaptive budget planning also was introduced.
"In higher ed, we're typically a little cautious of cloud services because we develop a lot of things ourselves and keep them in-house, if possible," Giacobbe says. "You have to ask whether the cloud can do a basic service better and, in the process, save time for your IT staff. We chose to start our cloud migration with services we knew we could do well, in case we had to pull them back on-premises."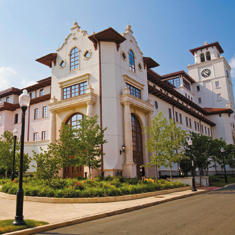 Mike Peters, Montclair State University
Montclair State University
Making a Checklist of Tech Challenges
Montclair State IT initially evaluated cloud providers by asking a series of questions covering issues such as security, compliance with government regulations, details on the provider's infrastructure and facilities, disaster recovery plans, personnel policies concerning who would handle the university's data, software license agreements, and the availability of test sites to try out any changes to the service. Giacobbe recommends that other institutions use similar questionnaires to elicit the detailed information necessary to make IT and the college administration comfortable with the choice of providers.
"The checklist gave us insight into how our data was going to be handled before we turned over the keys," he says. "Some vendors couldn't answer the questions, or their answers were off base, so we evaluated them accordingly."
Going forward, Montclair State's website is another obvious candidate for the cloud, where a provider can offer more resilience and better disaster recovery than is possible in-house, Giacobbe says. As part of the university's ongoing OneMontclair enterprise resource planning (ERP) systems overhaul, human resources will move to a cloud-based ERP alternative. IT staff are evaluating options for other departments as they consider adding resources, but the cloud is already showing its value, Giacobbe says.
"Cloud services are not necessarily cheaper," he admits. "The value lies in the ways they accelerate the speed of innovation and free you from day-to-day maintenance."
A Cloud Upgrade Means Access Anytime, Anywhere
Beyond the shift to host commodity services in the cloud, higher ed CIOs increasingly recognize how well cloud services mesh with their specific needs, Gartner Research Director Terri-Lynn Thayer says.
"Cloud computing is predicated on anytime, anywhere access to resources, which is where higher education needs to go," she says. "Cloud apps are agile, designed to evolve much faster than IT can make changes in-house. And colleges need scalability, which is a fundamental element of the cloud."
Any successful cloud deployment requires vigilance, Thayer adds. Institutions should investigate the security, reliability and financial stability of the provider before contracting for a service. Once an agreement is signed, colleges should continue to monitor the provider's third-party security audits and other technical indicators for signs of trouble. User feedback should be an integral part of the ongoing evaluation.
"You can't assess a service's value unless you hear from the users," she says. "They are the stakeholders who can tell you if the service is working, if there are problems that need to be fixed, or even if it's time to move on to another solution."
54%
Percentage of higher education IT executives surveyed who say their institutions have migrated email to the cloud
SOURCE: MeriTalk, "Cloud Campus: The Software-Defined College," August 2014
Have a Problem? There's Always Help
Indianapolis-based Marian University has tapped services from the public Internet as well as its private cloud for several years, says Peter Williams, assistant vice president and CIO.
The private liberal arts college, with about 3,000 students, uses the cloud for a mass communications application, its LMS and various administrative modules, such as predictive analytics and workflow. Marian's medical school has substantially increased the number of cloud services used by the university, adding electronic textbooks, a lecture capture system, electronic polling and an assessment service, Williams says.
"Our goal in IT is to be as efficient and effective as possible," he says. "If we can save staff time on maintaining services, we can focus on helping our users leverage those tools to be successful."
Before making the move to cloud services, colleges should take a close look at their IT infrastructures, and pay special attention to fortifying the edge of the network by ensuring robust authentication systems are in place, Williams advises. IT staff buy-in is also crucial to a successful migration, as the shift to cloud services may change roles and responsibilities.
"Change can be unsettling, and you have to work with your staff to frame how to best use their talents in the new environment," he says. "One of the things I tell our staff is that when there's a problem with a cloud service, we've got help — there's a bigger team to solve it."
Leveraging the Cloud for Scalability
With a five-year technology plan that calls for IT to be more nimble and support an expanding demand for resources, Dominican University in River Forest, Ill., can't afford to ignore cloud services, says Jill Albin-Hill, vice president for information technology and CIO.
"We must leverage the cloud for scalability," she says. "We can't wait to meet the growing needs of our users until we have the funds for in-house implementations."
Dominican University is a private liberal arts institution with five professional schools. The majority of the university's nearly 4,000 students commute to class, and cloud-based services help to bring the community together, says Albin-Hill.
Like many other colleges and universities, Dominican dipped its toes in the cloud waters with student email. Today, the university's website is hosted in the cloud along with its prospect management system. Last July, the university completed a yearlong transition from an on-premises LMS to a cloud-based system. The university planned an extended implementation time frame to accommodate training and course redesign.
"We took our time to get the faculty on board and give them a chance to use the full capabilities of the new tool," she says. "Cloud services, like the rest of what we do, should make things better for end users and enhance learning."
To evaluate a cloud service or to compare with an in-house application, Albin-Hill considers time to implementation, staff time to install and maintain the resource, and overall cost. Given lean IT staffs and the imperative for up-to-date resources, colleges must consider cloud-based service alternatives, she says.
"Capitalize on your strengths, then outsource the rest of your needs to the cloud," she advises. "Pick good-­quality providers and hold them ­accountable. Be cautious, do your due diligence, but there's no need to be scared."
Giles Ashford
More On