The App Impasse: College Students Love Apps, but Should Colleges Invest?
Three takeaways from EDUCAUSE's mobile-app survey.
"The future of learning is mobile, whether it is a simple delivery technology or something that enables a new method of instruction not yet possible."
This is how EDUCAUSE introduces their study "Student Preferences for Mobile App Usage" (PDF download). They could not have summed up the mobile landscape more articulately. The survey evaluated mobile device usage among more than 1,500 Purdue University students.
Here's a look at three key takeaways from the study.
College Students Have Mobile Devices … And They Know How to Use Them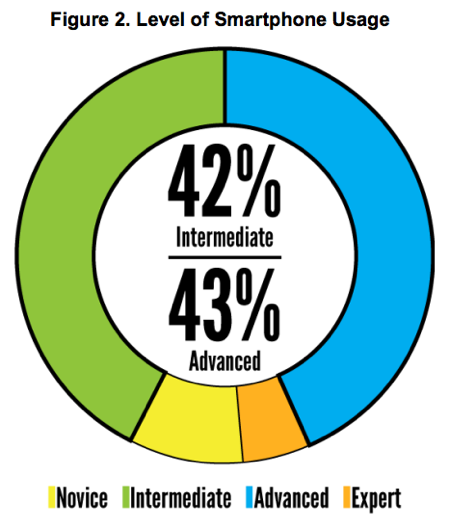 Universities don't need to train their students on using mobile devices. Mobile technology spread so quickly that a majority of students adopted the trend before colleges had a chance to implement strategic plans for its use.
Now that 85 percent of college students who own smartphones identify themselves as either intermediate (have been using a smartphone for more than six months) or advanced users (have been using a smartphone for more than two years), bring-your-own-device (BYOD) programs are happening with or without colleges' approval.
According to EDUCAUSE, smartphone purchasing trends indicate that "a significant number of incoming students' purchases of smartphones coincide with the start of fall classes." Does this mean parents believe mobile devices are required in order for today's students to thrive? These devices are important not only for communicating with family back home but also for researching, collaborating and sharing.
It's All About Native Apps (for Now)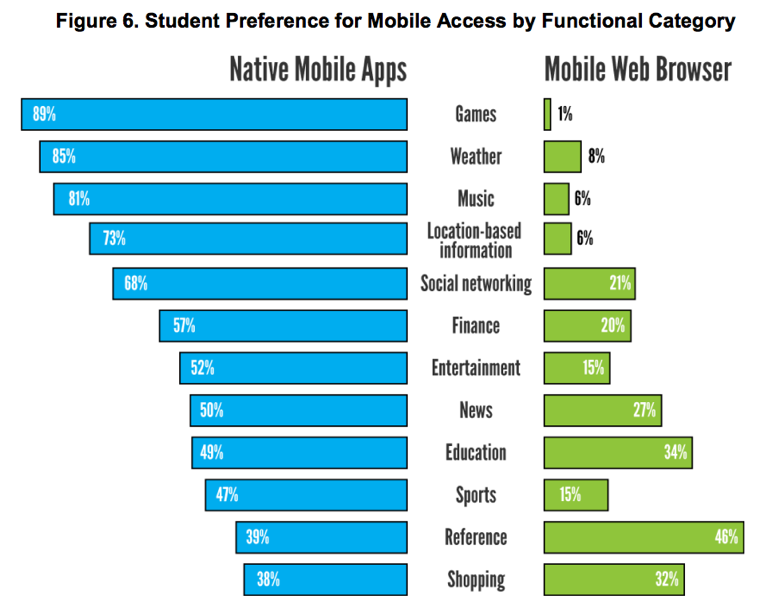 The survey compared activities that students performed in native apps against those performed in browsers. In all but one category (Reference), students indicated they prefer — strongly, in most cases — apps.
Apps are more popular for a few reasons. A native app is one that has access to a device's hardware: camera, accelerometer, GPS, etc. This makes apps faster, easier to use and more functional. Native apps might not be the future, however. HTML5, the latest version of the code that powers web content, will enable more functionality in the browser. Its adoption for the purposes of web apps — cross-platform, cloud-hosted applications — is imminent, pending the ability of developers to make money with their apps. (App stores, where native apps are sold and downloaded, are built to make sure that developers have a marketplace for their apps.)
For students, apps are the simplest, fastest way to communicate, play games or get information. For colleges, this is a challenge. It order to fully invest in apps, they need to create offerings for multiple platforms. Is it worth the investment to build iOS, Android, Windows and BlackBerry apps that are likely to be useful for only a few years? There is no easy answer right now, but a Mashable article suggests that mobile websites reach far more people per dollar spent than apps do.
Does Your College Have an App for That?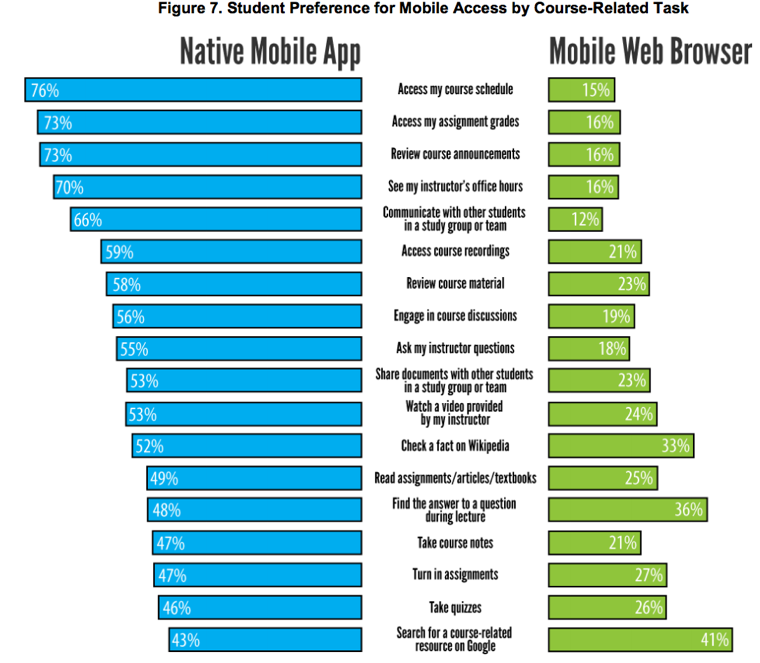 Even if educational activities don't take up the bulk of students' time on smartphones, it's important to understand how the devices are used to optimize educational experiences. Once again, it's clear that students prefer apps both for speed and for ease of use. As colleges make plans for student services — email, collaboration tools, learning management systems, etc. — it's increasingly important to make sure those platforms come with native apps. It makes more sense for a vendor like Blackboard to build and maintain apps, since they work with a number of schools.
If your college isn't planning to build its own apps, make sure there are easy ways for students to access course materials and other university resources on the mobile web.
Check out our library of mobile resources for more information.
<p>iStockphoto/Thinkstock</p>
More On