EdTech TweetChat: University of Wisconsin Team Shares Mobile Best Practices
Our first tweet chat is coming up. Get the details here.
Edit: Read our recap of the tweet chat here.
We are excited to announce our first tweet chat with the University of Wisconsin's mobile development team. They have agreed to talk to EdTech about mobile applications, strategy, deployment, marketing and ROI. Here are the details:
When: March 20, 2013, at 2:00 p.m. Eastern Standard Time
Where: Twitter, of course! Follow along with the hashtag #edtech101. This tweetchat is the first in a series of discussions on best practices in higher education technology. If your college is interested in participating in a future tweetchat, let us know. And save this hashtag!
Who: The bulk of the conversation will happen between @EdTech_HigherEd and @UWDoIT, but there will be lots of experts supporting this chat.
From the University of Wisconsin:
From EdTech Magazine:
Here is a sampling of questions that Wisconsin's mobile experts will be answering:
How do you manage bug fixes and updates for multiple platforms?
How do you measure the ROI of a project like this?
What was your strategy for marketing the app on campus?
What is your long-term mobile strategy?
There will also be an open Q&A session, so be sure to submit your questions to us. We hope to see you on March 20th. Tweet us with any questions! Tweet #edtech101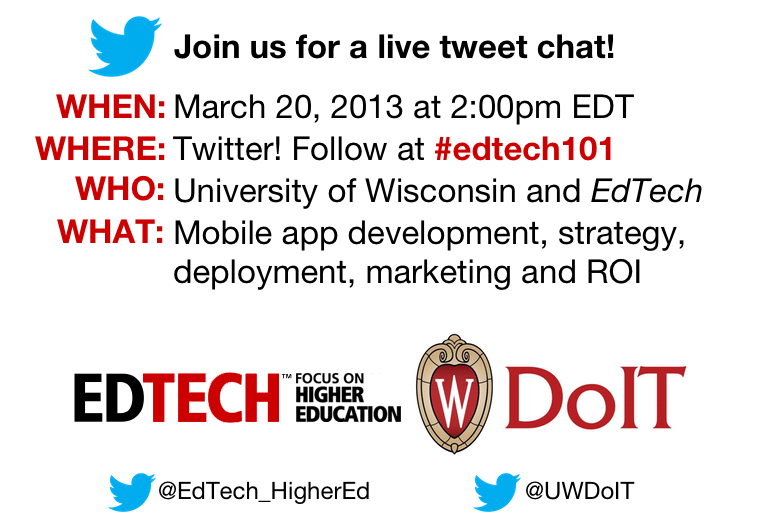 More On