'Minecraft: Education Edition' Brings 21st-Century Students Back to the Oregon Trail
The popular world building game is reviving a classic classroom video game.
If you were a K–12 student in the 1980s or 1990s, playing a video game at school likely makes you think of only one thing: "The Oregon Trail." The side-scrolling game, a combination of choose-your-adventure story and survival challenge, was invented in 1971 by three student teachers to educate students on westward expansion.
It found its place in the classroom, with some companies even bundling it with their computers. While the game was frustrating — "You have died of dysentery" was a common outcome — many former students credit it with sparking a love of video games, among other things.
"['Oregon Trail'] became the catalyst in fostering discussion among my classmates about how we could work together to overcome its challenges," writes teacher Joshua Ducharme on the Classcraft blog. "In the process, we were learning about pioneer life. More importantly (and I didn't see this at the time), we learned a lot of life's lessons from this simple game."
However, it's likely that today's students may not have even heard of this game-changing classroom tool. To them, "Minecraft" is the epitome of the classroom video game, and the world-building game has been incorporated into every type of class.
Now, thanks to a new update, players of "Minecraft: Education Edition" will get a taste of "The Oregon Trail."
SIGN UP: Get more news from the EdTech newsletter in your inbox every two weeks!
Teach Students About Westward Expansion the Minecraft Way
Through a partnership with Houghton Mifflin Harcourt, the world of the classic video game has been brought to life inside of "Minecraft: Education Edition," reports an article on Minecraft Education. By downloading the world, students can begin the trip from Independence, Mo., to the Oregon Coast.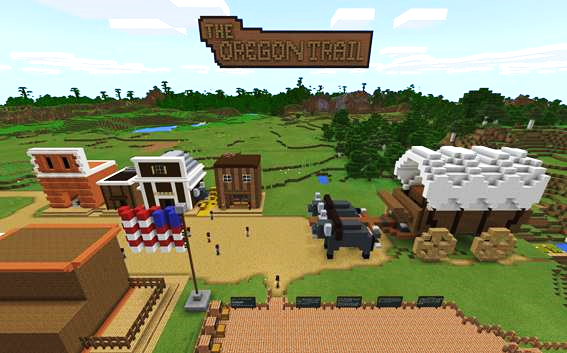 Photo courtesy of Microsoft
"Through the unique magic of Minecraft, students will be drawn to discover the wonders and challenges that pioneers encountered on this famous journey," says Houghton Mifflin Harcourt Senior Vice President Caroline Fraser in the announcement.
In addition to exploring the world, teachers can also download 14 different lesson plans covering everything from language arts to mathematics.
For example, a language arts lesson for students aged eight to 13 asks them to explore the dangers of the trail (remember that dysentery?) and write public service announcements to warn future travelers. A math lesson for all ages teaches students the basics of economics by examining the in-game fur trading.
zrfphoto/Getty Images
More On