Teaching World War II in a Split Classroom
This project allows one grade level to work independently while the other grade level receives direct instruction.
Many teachers divide their time between multiple classrooms, but how do they manage the challenge of teaching two grades or two subjects simultaneously? The web is loaded with content and activity resources that can be adapted to students of varying ages and learning needs. It's just a matter of finding the right ones.
LESSON DESCRIPTION
When dividing time between two grade levels, effective classroom management is essential. This World War II project, which encompasses both American and world history, allows a teacher to provide direct instruction to students in one grade level while students in another grade level work or collaborate independently.
Begin by having students who will be working on the independent project read textbook content and reputable online resources, such as PBS' The Perilous Fight and History.com's Inside WWII sites, for background on the conflict's chief causes, key players and significant battles. Save other preferred content sources in one location using iKeepBookmarks.com, a web-based bookmark manager, or Quia.com, a site on which teachers can post web links or create and assess online activities and quizzes for students.
Following a class discussion about what students learned from their reading, pair off students and assign each pair a major ­figure in the war. Together, the students will create a Facebook­-like project in Microsoft PowerPoint that resembles (and will be ­assessed as) a Facebook page. This will allow students to use higher-order thinking and acquire knowledge through discovery.
Once students have researched their world leaders and are ready to begin sharing what they have learned, provide them with a PowerPoint template with which they can build their Facebook page presentation. A good example can be found on the Tomorrow's Tech in Today's Schools blog. Online searches also can turn up examples of class Facebook projects for students to replicate.
Keep a list of the world leaders that the project will encompass so students can collaborate, as the leaders they're representing did, while developing their Facebook "wall" posts. It can be helpful to create a class or project wikispace through which students can share information, brainstorm posts and solve problems. A "photo album" page also is a great way to involve visual learners in the project.
SUBJECT AREA
This lesson was created for sixth-grade world history, but it can be adapted to other ­disciplines and grades.
CURRICULUM STANDARDS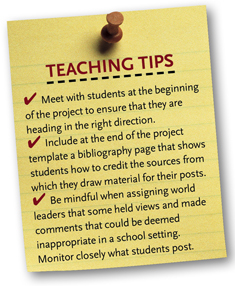 This lesson fulfills many of the Common Core State Standards for English Language Arts and Literacy in History/Social Studies, Science and Technical Subjects coordinated by the National Governors Association Center for Best Practices and the Council of Chief State School Officers.
RESOURCES
GRADING RUBRIC
The Facebook project templates that students develop should be shared with the class as PowerPoint presentations. Students should explain what each post means and why it was included. Areas for assessment include content accuracy, the quality of students' oral presentations, and how effectively they answer questions.
<p><a href="http://commons.wikimedia.org/wiki/File:American_troops_march_down_the_Champs_Elysees_crop.jpg">Wikimedia</a></p>
More On