Review: Google Nexus 7 Tablet Is Affordable and High-Quality
This KitKat-based Android tablet is vibrant and fast.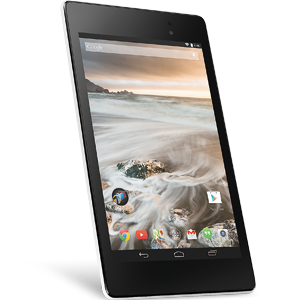 This sleek and lightweight Android tablet features crisp graphics, long ­battery life and, to be expected with Google's Nexus line, easy integration with a host of Google services. Users looking for an affordable and high-quality Android tablet should check out the ­latest release of the Google Nexus 7.
Students in search of a device that can be easily carried, started instantly and ready for note taking as soon as the lecture starts will find the Nexus 7 an ­affordable option. At less than a half-inch thick and weighing about 12 ounces, the device is easy to use on the go.
Quickoffice provides essential word processing, spreadsheet and presentation capabilities, and Keep provides quick and easy note taking.
Wireless connectivity is provided via 802.11 a/b/g/n, Bluetooth and near field communication (Android Beam).
The tablet's high-definition, in-plane switching (IPS) display is more responsive than a traditional thin-film-transistor LCD and provides clear and accurate color representation across a wider ­variety of viewing angles than active-matrix organic light-emitting diode (AMOLED) displays. Vibrant color, coupled with the responsiveness of the 7-inch IPS display, offers an ideal platform for e-textbooks and rich media, creating a natural and integrated learning space for students.
MPEG4 and H.264 videos play flawlessly at 1080p, and streaming video from Netflix and YouTube is smooth and clear.
Setup is easy but requires a Google account and Wi-Fi connection. Once configured, the Nexus 7 automatically downloads apps associated with the user's Google Play account.
The Nexus 7 ships with a basic installation of Android 4.4.2 (KitKat) and is not cluttered with free apps or ­trialware. Installation is clean and clutter-free, allowing users to maximize screen and storage space on apps and media of their choice.
Image courtesy of Google.com
More On