Okta Single Sign-On Empowers IT Teams with Flexibility and Scale
Most important, this full-featured federation engine and flexible access policy is reliable. With colleges and universities at constant risk of hacking and social engineering attacks, Okta single sign-on empowers IT teams with the flexibility and scale of an IAM solution combined with the reliability of cloud and mobile platforms.
This single view of all applications makes Okta a dream for IT security and HR. It's easy to add new programs to the list of managed ones without adding new passwords. For example, when pushing out a new professional development module or undergoing benefit elections, HR can leverage the Okta Identity Cloud to facilitate access to materials for whoever needs it — and those who don't need access may not even know that the new resources exist, which provides yet another layer of security.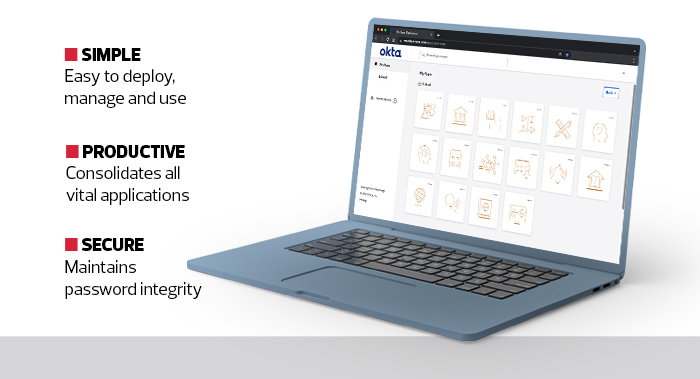 Students and Faculty Can Access Applications from Multiple Locations
One key benefit of the Okta Identity Cloud, front and center in the latest offering, is the ability to switch to new devices while retaining access to important applications and files. If a faculty member is working on a desktop and needs to transfer to a laptop or tablet to head home for the night, the process is seamless, with no worries about file access or additional passwords.
Unlike legacy federation and access management systems, Okta single sign-on is lightweight and easy to deploy. Because there is only one login, IT security has less to keep track of as far as password management goes. Okta can also scale to meet the demands of any college or university, while securely connecting staff, faculty and students to all of their cloud and on-premises applications, across all of their devices.
Specifications
Software type: Multifactor authentication
Aggregator: Works with online and appliance-based services
Form: Single sign-on authentication tool
Installation: Software as a Service
License type: Subscription, with discounts for large deployments
LEARN MORE: Multichannel phishing extends to threats beyond email.