"When you build a space devoted to active learning that infuses technology and deliberately encourages collaboration and exploration, you're creating a kind of academic beacon on a hill," Kunnen says. "You're telling students and faculty to think differently about what's possible, and that this physical facility is there to support them."
That idea was central to the construction of the $67 million Anteater Learning Pavilion at the University of California, Irvine completed in late 2018. The 65,000-square-foot space came about after UCI leaders reviewed research on the academic benefits of active learning.
"We're a university that prides itself on the fact that half of our students are the first in their families to go to college," says Michael Dennin, UCI's vice provost of teaching and learning. "If you look at the evidence, you see that learning improves for anyone participating in an active-learning environment, but it especially improves for those first-generation students."
MORE FROM EDTECH: Check out how universities are building active learning environments to fit a variety of academic needs.
Modern Learning Facilities Serve College Students Across Disciplines
Another reason UCI's project got the green light, says Dennin, was "the big realization that building this pavilion wouldn't have a negative impact on space for more traditional types of teaching. It would just add value to the campus as a whole and provide a place where faculty who were ready for active learning could thrive in classrooms designed for that purpose."
The Anteater, Dennin notes, serves students from across the UCI campus, including those in liberal arts disciplines such as dance and history. 
"We have people from every discipline, not just the STEM fields, who are using the building," Dennin says. "I think that's a sign of how successful it's going to be."
The building includes a first-floor lobby and lounge, an assortment of labs and meeting rooms, and more than a dozen smart classrooms and auditoriums. Large classrooms feature shared displays and laptops at tables for six, while smaller spaces use movable chairs that let students swivel between groups and discussions. 
Among the technologies in place are 27 Sony and Epson laser projectors, more than 75 flat-panel LG displays and 65 Dell Precision 3520 mobile workstation student laptops.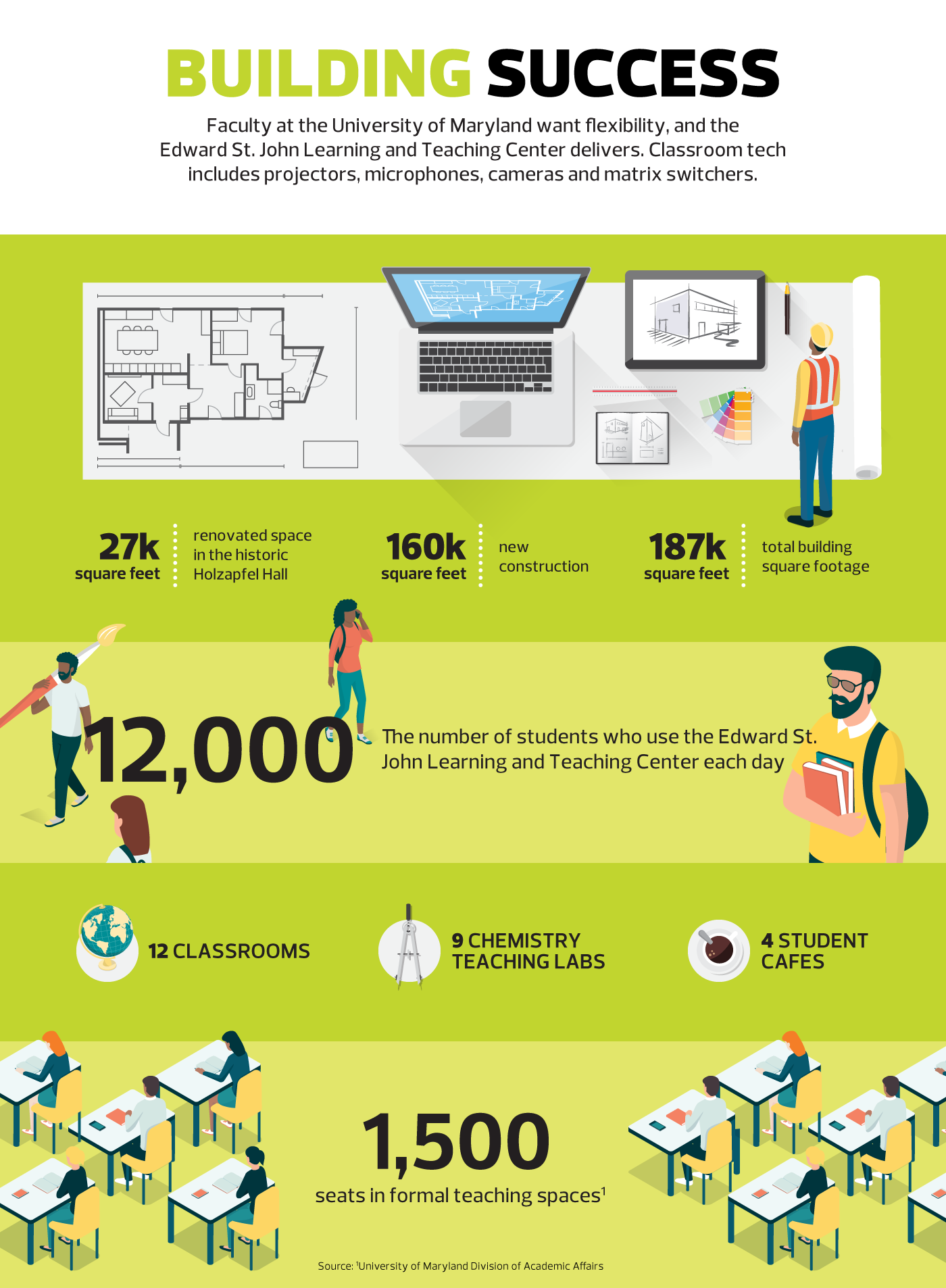 Critical to all of these tools, and to maximizing the learning experience, is switching, Dennin says. In most of the rooms, students work in groups at pods. They each need a screen for independent work, but they also need the ability to connect to a master screen and to see other groups' screens.
Students accomplish these goals with Extron controllers, switchers and touch panels, says Dennin, and with nearly 100 Cisco Aironet 3800 Series wireless access points that serve as the backbone of the building's wireless infrastructure.
While some universities have built active-learning centers from scratch, others, like Providence College in Rhode Island, find it makes more sense to add on to existing facilities. (UMD, in fact, also incorporated an existing historic building, Holzapfel Hall, into its new learning center.)
"For us, a combination of renovation and new construction made the most sense physically and financially," says Charles Haberle, Providence's assistant vice president of academic and technology facilities planning.
The college's recently finished Science Complex features 35,000 square feet of new classroom, office and laboratory space, with another 80,000 square feet of renovated space in progress.
"We have active-learning classrooms elsewhere on campus, but nothing that is science-specific," Haberle says. "This addition gave us the opportunity to do something innovative that would benefit our science faculty and students."
MORE FROM EDTECH: See how universities can create their own active learning classrooms.
Providence College Sees Big Results in Active Learning Spaces
Much like the new buildings at UCI and UMD, Providence's complex includes double-rowed tiered seating in its light-filled lecture hall, chemistry labs with whiteboard projector screens and a common room where students can collaborate using their own devices or flat-screen monitors on the walls. Three classrooms feature movable tables and seats, equipped with everything instructors need to keep students on their toes, including carts stacked with iPad Pro devices and Apple Pencils.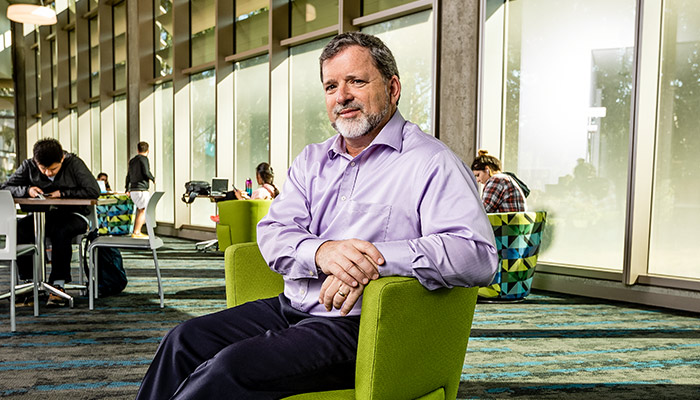 University of California, Irvine leaders recognized that the Anteater Learning Pavilion would add value to the entire campus, says Vice Provost of Teaching and Learning Michael Dennin. Photography by: Dana Hursey.
"The key to active learning is flexibility and being untethered from a podium," Haberle says. "When you put faculty and students in a setting that allows this to happen, you see incredible results."
Because everyone is required to take science courses as part of Providence's core curriculum, students from all over the college use the building. "They're excited about the technology and the hands-on environment, and they're eager to learn in a different way," Haberle says.