Colleges Simplify and Streamline IT with Hyperconverged Data Centers
Next-gen infrastructure makes quick work of compute, server and storage management.
It was 2015, and Western Washington University had a data center full of aging technology: HPE 1U servers, storage area network (SAN) systems, storage arrays, Fibre Channel connections and the like. Half these systems were at end of life; the other half would be obsolete in a year. So WWU's technology department had a decision to make. Keep going down the same path, or forge a new direction?
Ultimately, the decision came down to simple economics, says Jon Junell, assistant director of enterprise infrastructure services for the campus, located 20 miles south of the U.S.-Canada border. 
"If I just replaced everything, I was going to be able to solve half the problem for all of the money," he says. "That's not a very sustainable position." 
SIGN UP: Get more news from the EdTech newsletter in your inbox every two weeks!
Hyperconvergence Eases Data Center Management
Instead of upgrading the data center's compute, storage and networking elements separately, the IT team made the leap to a hyperconverged infrastructure solution that combined all three in a single software-managed appliance.
WWU had already run a small virtual desktop infrastructure pilot using an HCI appliance from Nutanix (back when it was still a startup). And while WWU ended up not adopting VDI, Junell liked the flexibility, visibility and ease of management the Nutanix Enterprise Cloud Platform and Prism Pro management software provided. 
The university started by installing a cluster of four Nutanix nodes in Bond Hall, an academic building that houses the College of Sciences and Technology. A year later it added another four nodes in the university's Administrative Service Center. Today, all 278 of WWU's virtualized servers (running everything from SQL databases and Skype for Business to the enterprise resource planning system) are on Nutanix nodes. 
Almost overnight, WWU reduced its data center footprint, power and cooling costs by 75 percent. Even better, Junell's team of six IT pros went from spending 20 hours a week managing storage and servers to nearly zero. 
"Nutanix and Prism allowed a very lean staff to interact with a major part of our infrastructure in a better way that took less time," he says. "It went from drudgery to a small task that was doable. And then it was done, and you could leave it alone." 
As WWU discovered, the key benefits of a hyperconverged environment are easier management and scalability, says Dimitris Mavrakis, a research director at ABI Research. "You only need to add the element that needs to be scaled, rather than buying everything at one time," he says. "If you've got a storage-intensive app, you can add more storage capacity, without having to also upgrade networking and processing."
With Nutanix nodes, Junell says his department no longer needs to worry about paying up front for hardware it ultimately didn't need. 
"I'm not overprovisioning anything. I am buying what I need at the time I need it," he says. "And when we expanded our clusters, it was at most a day's worth of work, and most of that time was spent slapping each other on the back and saying, 'Hey, how easy is this? High-five!'"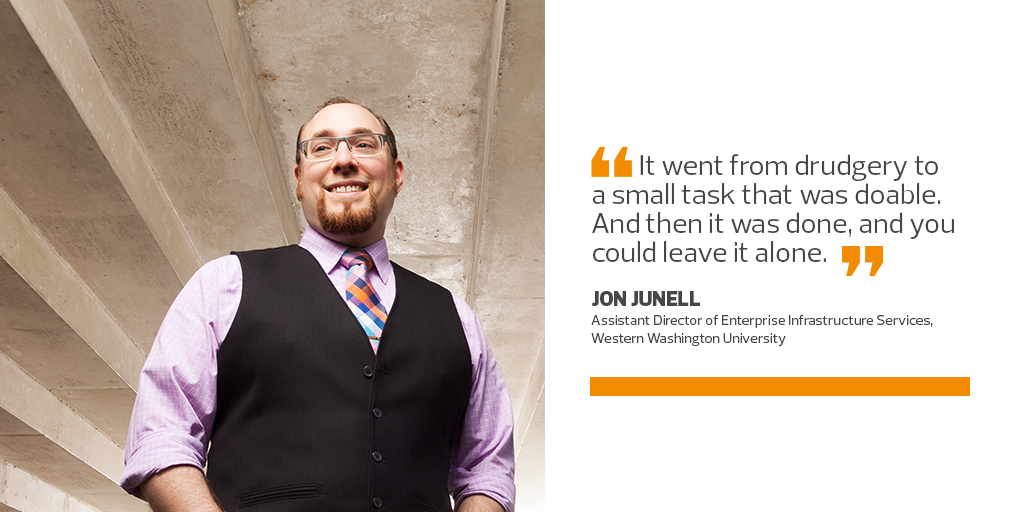 HCI Solution Boosts Time and Cost Efficiencies
About two years ago, Edmonds Community College was in the same boat as WWU, with a data center filled with aging blades and SAN infrastructure. The blades were at the end of their support life, and the SAN systems were notoriously unreliable, leading to lost hard drives several times per week, says David Voogd, the IT specialist responsible for maintaining virtual environments at the college just outside Seattle. And, like its northern cousin, Edmonds elected to go with an HCI appliance running the Nutanix platform. 
The college had already consolidated from 10 racks of physical servers to four racks running Microsoft Hyper-V virtual machines a few years earlier, says Voogd. Moving to five Dell EMC XC730 hyperconverged appliances shrunk that footprint down to two racks while offering room to expand as they needed. 
"We've definitely dropped our power consumption, which cut our cooling costs," he says. "And HCI's building block capability lets us buy five nodes now, then tack on a node at a time later if we need more storage or more compute." 
But the greatest benefit has been the reduction in administrative overhead. With the old system, just trying to coordinate firmware updates was a bit of a nightmare. 
"There was a sequence in which things had to be done," Voogd says. "To update the firmware on one of the blades, I had to make sure it was compatible with the firmware on the chassis, then make sure that firmware was compatible with the fiber switches, and so on. It turned into this maze where I was chasing my tail trying to figure out what goes where."
With Nutanix, Voogd can just download the latest operating system and update the cluster while it's still running.
"At Edmonds, we're not usually real bleeding edge," he says. "And at the time we adopted it, hyperconvergence was barely mature. But it's been everything I was told it would be."
Better Backups Support Disaster Recovery
Brigham Young University's College of Life Sciences was also an early convert to HCI. BYU Life Sciences replaced its traditional server stack with converged Dell OmniCube systems running SimpliVity near the end of 2014 and has never looked back, says IT Director Danny Yeo.
Lower cost, smaller footprint and easier management were some of the key benefits of HCI, says Yeo. But the biggest factor was having one vendor to call when things went wrong.
"When there's a problem, they take ownership," he says. "Whenever it's a problem with hardware, storage, networking or software, SimpliVity takes care of it. That was really compelling." 
The second biggest motivator for adopting HCI was simplified backup and disaster recovery, Yeo says. BYU had amassed so much data that weekend backups were spilling over into Mondays, and its disaster recovery plan was to restore from backups — meaning days of downtime if disaster struck. 
With SimpliVity, BYU Life Sciences was able to set up three nodes on campus, with a fourth node at a remote location that continuously replicates data. If there's a major disruption at the college's server center, BYU can fail over its mission-critical virtual machines to the remote site without requiring a service interruption. 
"Before SimpliVity, we were not meeting our recovery time or recovery point objectives," says Yeo. "Now I have a hot DR site I can fail over to if something dies on our main site. Everything's working beautifully, and my systems architect doesn't have to work past 5 p.m. anymore."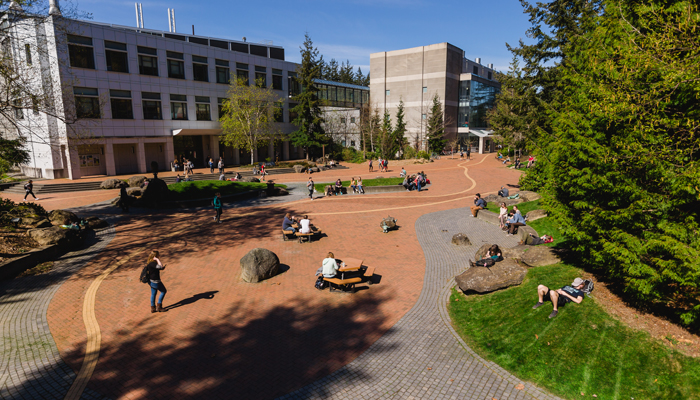 Reducing the data center footprint and utility costs also led to savings at Western Washington University. Photo: Rick Dahms
IT Pros Embrace a New Data Center Philosophy 
As with many paradigm shifts, the biggest challenge to adopting HCI is cultural, especially for IT people who are used to buying storage, compute and networking separately, says ABI's Mavrakis.
"They have to dimension everything in a more abstract way," he says. "It's a completely different management and control philosophy."
But by reducing the time needed to manage the university's infrastructure, Junell says, WWU's IT department can become more of a strategic partner in the university's long-term planning. 
The new system also helps to keep his staff engaged and up to speed on current technologies.
"It's my responsibility to make sure I'm giving my employees a way to grow in the way our industry is growing," he says. "No one gets a lot of job satisfaction out of swapping tapes, recompiling things in COBOL or provisioning Fibre SANs. They get job satisfaction out of working with their peers and learning new things. That's where we want to be."
Complex System, Simple Solution
Rick Dahms