Review: HP Z2 Mini G3 Workstation Provides Form in Function
Even on advanced computing tasks, a tiny frame doesn't slow this device down.
Computers in school are nothing new, but depending on the classroom, conventional models may not be best suited to the task. Older models are often bulky, with sprawling wires and noisy cooling fans that make them generally unsuitable for areas where students and faculty need to collaborate. And the more powerful workstation computers require even more space than their desktop cousins.
HP flips that logic on its head with the Z2 Mini G3 Workstation, a tiny powerhouse that packs workstation-class performance into a mini-PC form factor.
Z2 Mini Packs a Performance Punch
Resembling a thin client more than a workstation, the Z2 Mini nonetheless houses a powerful i7 quad core processor, 8 gigabytes of RAM and a 1 terabyte hard drive. On the PassMark Performance Test benchmarks, the 8.5-inch-square workstation scored 10,000 points higher than a modern desktop system that was eight times larger.
Users have several mounting options for installation. The workstation, which is about the size of a personal pizza box, can be securely attached to the underside of a desk. It can be mounted in a small enclosure cabinet or case, or anywhere else that offers a bit of space and ventilation. HP engineered the cooling fans to be extremely quiet, so even several Z2 Minis running simultaneously are unlikely to disrupt a lecture.
Powerful Workstations Are Now Practical and Affordable
With integrated wireless LAN capabilities, the Z2 Mini can run completely wirelessly (with the exception, of course, of a power cable and potentially a display connector). If a user needs to add components, the device comes with four of the most advanced USB 3.0 ports, which allow external peripherals to operate nearly as fast as internal components.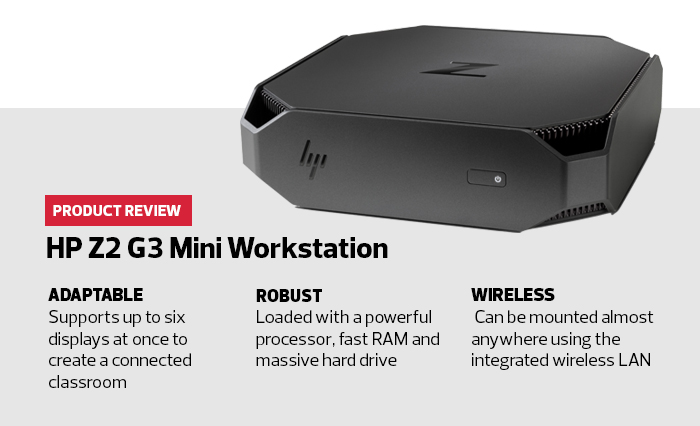 The Z2 Mini also has a 135-watt power supply, so internal expansion is always an option if needed. Finally, it can support six monitors at once, with four attached natively and two daisy-chained into the group.
Just a few years ago, a device like the Z2 Mini would have been an impossible marriage of performance and size. Now, adding powerful workstations to any classroom is not only an option, but also a practical and affordable choice that can benefit any curriculum.
Advanced Computing Allows for Immersive Education
HP's Z2 Mini G3 Workstation blazed through performance benchmarks, but I wanted to see how well it handled real-world programs that are likely to appear on campus.
First, I configured the test with Z2 Mini as a virtual reality support box, attaching it to a popular VR headset. Many users don't realize that while more basic VR applications work fine on a smartphone, advanced virtual worlds require more processing power that can render images more quickly.
A VR program that lets viewers explore the ocean's depths was loaded on the system. This particular VR program had been tested in the lab before with an advanced (but aging) workstation, and the display seemed choppy, which is never good for virtual worlds. But powered by the Z2 Mini, everything sprang to life. Images were so fluid, in fact, that I almost wanted to gasp for air a few times, forgetting that I was not actually fathoms under the sea.
Other VR programs worked just as well, including the newly released tour of the International Space Station, where real astronauts explain the mysteries of space. And the VR tour of the infamous Chernobyl Exclusion Zone is incredibly true to life.
Moving from VR to something a bit more linear, I loaded the latest AutoCAD program. There, the Z2 Mini quickly rendered extremely advanced schematics of everything from a firehose nozzle to a space shuttle in just a few seconds. Making changes and saving the work again were similarly speedy, as one might expect from a workstation-class computer.
The Z2 Mini proves that size is no longer a requirement of computing power. Whatever classroom application is needed to enhance learning in a higher education setting, the G3 is probably up to the task — and it will take up a lot less space and power while doing it, compared with systems from just a few years ago.
HP Z2 Mini G3 Workstation
Processor: Intel Core i7 6700/3.4GHz
Hard Drive: HP Turbo G2 512GB M.2 PCIe Solid-State Drive
Graphics: Nvidia M620 with 2GB GDDR5
Memory: 16GB DDR4 2400Mhz
Weight: 4.5 pounds
More On