For Success in Higher Ed IT, Cultivate Your People Skills
The most valuable skill in higher education technology is the ability to collaborate.
In a world that's becoming increasingly electronic, people skills are a vital part of the aptitudes for IT professionals.
In fact, I would argue that these skills — communication, collaboration, critical thinking, the ability to understand others' needs and facilitate solutions — are far more important than technical know-how. In the rapidly changing world of IT, technical expertise may be short-lived. But people skills will serve a professional well across an entire career.
SIGN UP: Get more news from the EdTech newsletter in your inbox every two weeks!
IT Must Facilitate Solutions Collaboratively
Traditionally, "soft skills" haven't been considered necessary to the IT repertoire. In some quarters, the image persists of the IT admin as the lone professional, tucked away behind a screen.
We know this, in part, through surveys of young women, who are more likely to avoid an IT career because they perceive it as being less people-oriented. Yet this image no longer reflects the reality for today's professionals, especially in higher education, where technology touches nearly every aspect of operations. In today's IT, everything is collaborative.
IT leaders can see this dynamic at work on their own campuses. For example, our institutions may invest in equipment, but users don't fully embrace it because we didn't adequately teach them to use it.
Cybersecurity is another example. How often do we think we've done enough to communicate smart habits and available resources to our communities, only to learn they didn't get the intended message? What about budget planning, when IT leaders must persuade campus stakeholders of the importance of a major IT investment?
In all these cases, people skills have the potential to make the difference between the success or failure of an initiative that's critical to IT and to the institution as a whole.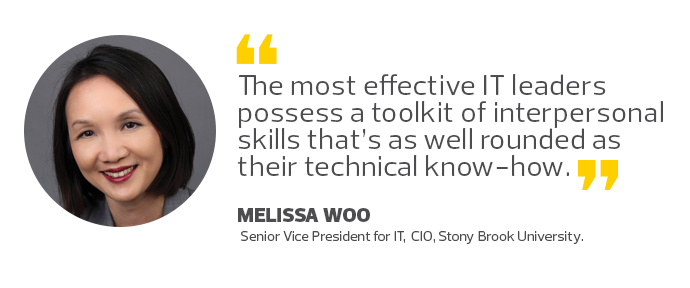 Influencing this dynamic is the fact that users now have more access and wider choice when it comes to technologies. They can choose their own applications or create accounts in the cloud. To a great extent, the legacy IT that used to create and distribute services to people, whether they wanted them or not, no longer exists. This means IT professionals must also be effective facilitators, helping to match users with the tools they need to reach their goals.
Advance Your Agenda with IT Buy-In
Another major change is that, on most campuses, technology is now integral to strategic planning. That puts IT leaders at the table with high-level stakeholders, often in the position of advocating for technology investments amid a host of competing priorities and a wide range of personalities.
To be successful in this realm requires careful listening and the ability to understand others' concerns and interests. And as IT professionals, we must be the universal translators. We have to understand a little bit of what everybody does, what their goals and concerns are, and how technology can help them get there.
Ultimately, we need people skills to understand how all the different areas (and the personalities around the table) must work together. The ability to think about the entire campus holistically helps IT identify solutions that work for the good of everyone. You can be the most empathetic leader at the table, but if you can't convey the empathy, if you can't talk to your colleagues in a way that shows that you're listening and you understand the bigger picture, that can weaken your ability to advocate.
Today, the most effective IT leaders possess a toolkit of interpersonal skills that's as well rounded as their technical know-how. I believe that individuals who embrace these skills, actively cultivating them in themselves and on their teams, will reap rich dividends — personally, professionally and for their institutions.
More On