Review: Acer 11 N7 C731T-C42N Chromebook Packs Big Power in a Small Package
Light, portable notebook delivers versatility and durability at a low price.
Acer's 11 N7 C731T-C42N Chromebook is a small laptop with a long battery life and a low price, ideal for budget-conscious buyers. It's light enough to slip into a backpack, and the battery can support a full day of classes without requiring the AC adapter. It's also responsive, with a Chrome operating system that boots up in one or two seconds.
This Chromebook model is equipped to handle the needs of most campus users, with the full set of Google Chrome apps, a 720p webcam, audio recording capability and high-resolution audio. The latter features make it a convenient tool for recording audio and video and for playing back web content, such as foreign language pronunciations. The keyboard is small, but with good travel, and with two USB ports and an HDMI port, the user can leave a monitor, full-sized keyboard and mouse back on the desk for long-term projects.
Chromebook Boasts Big Versatility
The Chromebook also offers a useful blend of versatility and durability. It has both 32GB of internal storage and an SD card reader that supports up to 128GB SD cards. For unlimited online storage, users have access to Google Drive for an additional fee.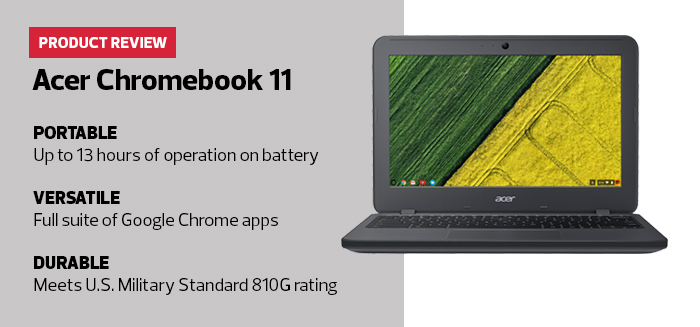 For users with a Windows PC at home, a desktop app on the Chromebook supports remote access to the Windows system. That means users also have access to any Windows apps, subject only to the limitations of available bandwidth through the wireless connection and the screen size. The Chromebook can also open Microsoft Office documents stored on Google Docs or the internal storage.
App Support on Demand
Chrome OS is essentially Linux with the Chrome browser as the primary interface rather than KDE or Chrome. It generally supports web apps, some Android apps and the bundled Google Chrome apps (the same Docs, Sheets, Slides, Forms, Photos and Drawings tools that can be found on Google).
For first-time users who don't have a big existing bunch of data in other formats, this is more than sufficient. There are even some interesting games available, though this is not the focus of the system. Other features include a file manager, audio and video player and e-book reader, along with apps for Google Maps, Drive and Calendar.
Although early versions of ChromeOS were cloud-only and required a good internet connection, this latest version includes local storage. So even if students are traveling home on an airline that doesn't yet offer in-flight Wi-Fi, they'll still be able to listen to music or watch movies without an internet connection. And, although some apps are available on Windows, iOS or Linux that can't be found on Chrome OS, in general, good substitutes are available that will provide enough functionality for campus users, often for free or for a nominal cost.
The Acer Chromebook is a highly portable laptop that is durable enough to survive cross-campus trips and capable enough to meet the needs of most staff and students, at an attractive price.
Acer 11 N7 C731T-C42N Chromebook
Screen: 11.6" touch screen
Resolution: 1366x768
Processor: Celeron 2.48GHz dual-core CPU
Storage: 32GB
Memory: 4GB RAM
Ports: Two USB 3.0 and 1 HDMI
Size: 11.72x8.27x0.87 inches
Weight: 3 pounds