Review: Extreme Networks Pairs Camera with Wireless Access Point
The first-of-its-kind device does double duty for higher education institutions.
Providing a safe, effective place to learn is the goal of every educational institution. However, the larger and more sprawling the campus, whether horizontally over many buildings or vertically through multiple floors, the more difficult those goals become. Adding more cameras can improve security, but networking them together isn't always easy. And more space creates more challenges in coverage and connectivity.
A tool that addresses both connectivity and security objectives is the ExtremeWireless 3916ic indoor camera access point from Extreme Networks, seemingly designed with educational users in mind. An advanced access point offers 802.11ac Wave 2 wireless networking, while a mounted security camera provides high-resolution images.
AP Cameras Offer Flexible Security
Setup of the 3916ic AP is extremely easy. It has several mounting options for walls or flat surfaces, as well as the ability to safely attach to a drop ceiling. Once in place, the camera can rotate 360 degrees and move 112 degrees vertically, so it can point its gaze wherever needed.
A user can lock down the camera with a thumbscrew to prevent an unauthorized person from rotating the camera out of position. A Kensington lock slot serves to deter theft.
Wave 2 Connectivity Supports More Users
Because the 3916ic AP is Wave 2 gear, it can accommodate more users simultaneously. In testing, the device was able to make use of its entire gigabit bandwidth channel, even with multiple users and devices vying for a share of the pipeline.
The camera is also impressive. It's able to record high-resolution images and, thanks to an infrared mode, works well in low-light conditions. An integrated microphone complements the recorded video so security staff can hear what's happening in the environment being monitored.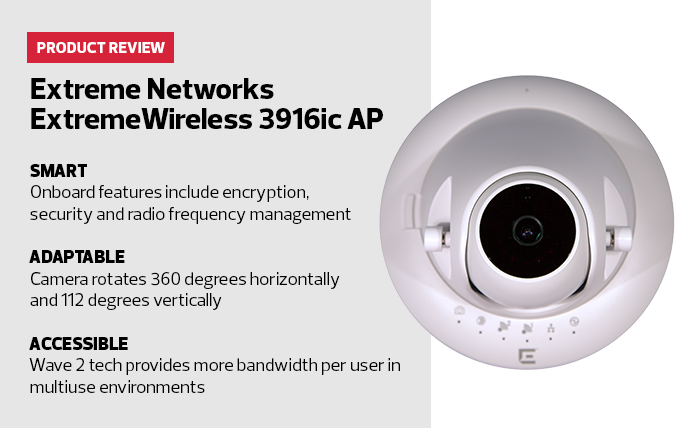 The camera uses the same LAN cable as the AP, and both share a power cord. Although a user can configure the device positioning, it's not ruggedized against water or temperature, so it is best suited for indoor environments.
Because this combination device is new to the market, it's likely that many IT professionals have never considered pairing a security camera with an AP. But in educational environments that make ample use of both tools, a dual major in connectivity and security is a smart move for the 3916ic AP.
Offer More Users a Better Connection
Obviously, adding a security camera to a wireless access point is the most notable feature of the 3916ic AP. But the AP is impressive on its own merit. It makes use of the 802.11.ac Wave 2 with multiple user, multiple input and multiple output (MU-MIMO) technology, enabling more users to get better connectivity for their wireless devices.
The AP allows up to three MU-MIMO–enabled devices to communicate using dedicated bandwidth with faster download speeds. It's basically a reserved lane for devices that can take advantage of the new technology. Almost all new laptops and tablets are MU-MIMO compatible.
Giving the first three users who connect dedicated bandwidth may not seem like much, but as they disconnect or move into a new AP zone, their reserve slots open back up. The AP's native intelligence lets it prioritize users running the most bandwidth-intensive applications and seamlessly move them into those dedicated connections, getting them out of the main bandwidth pool and preventing the apps from bogging down the entire AP.
In fact, without MU-MIMO, it's almost impossible to utilize the entire gigabit pipeline on most APs. MU-MIMO fixes this by basically tapping into that unused part of the bandwidth stream to provide the dedicated connections, freeing up the rest of the pipeline for everyone else. When tested, the AP 3916 could provide its entire bandwidth stream to devices in the trial network.
Using Wave 2 results in a faster and more reliable Wi-Fi signal can completely open the gigabit wireless pipeline, increasing performance for all connected devices and granting priority access to the most important or bandwidth-intensive applications using each AP. It may not be as visible as the new security camera, but it should prove even more important as it provides good wireless connectivity to students, faculty and staff.
ExtremeWireless 3916ic AP
Access Point: 802.11ac Wave 2
Maximum Wireless Users: 480
Camera: 2MP CMOS image sensor
Minimum Resolution: 1920x1080
Field of View: 112 degrees
Dimensions: 6.5x4.4 inches