Wireless Investment Aligns with Big-Picture Goals on New York Campus
A strategic Wi-Fi upgrade connects network performance to institutional objectives.
For students at Utica College, there's no contest: Wi-Fi quality is the No. 1 technology concern. In fact, when we did a survey a couple of years ago, nearly 90 percent of students said the quality of our Wi-Fi network was their top priority in on-campus computing.
Many students expressed frustration with the Wi-Fi quality at Utica College and the need for better coverage. Students bring multiple devices to campus, and they expect to be able to connect to the network on their notebooks, tablets and gaming devices from just about anywhere on campus. This demand for wireless will only increase as students bring more connected devices to campus and the Internet of Things becomes a bigger part of our lives.
Providing Wi-Fi Coverage Where It Counts
Based on feedback from students, the IT team knew that we had to improve our wireless coverage. Thanks to a supportive administration, we secured the funds to upgrade our wireless network. Opting for a robust network and management system built around wireless access points (APs) and switches from Extreme Networks, we launched the upgrade in the summer of 2016 to be ready for ­students that fall.
One of our key strategies was to increase AP density in areas of high demand, such as common areas, lecture halls and classrooms. Like many colleges, we knew residence halls should also be a primary target for improvement. Accordingly, we increased the number of APs in each residential building from about 10 to between 30 and 35.
Boosting Rapid Response Capabilities
Providing a better user experience for our students was a primary driver of this deployment, but that wasn't our sole objective. We also wanted to ensure that our investment produced measurable results related to broader goals of the institution, such as enhanced student learning, better student retention rates and increased staff productivity.
On the student learning front, we now have access to data analytics that give us greater insight into the performance of various applications. We can track network performance by location and service set identifiers. For example, we can detect issues with our learning management system and make corrections fairly quickly, which translates to more consistent uptime.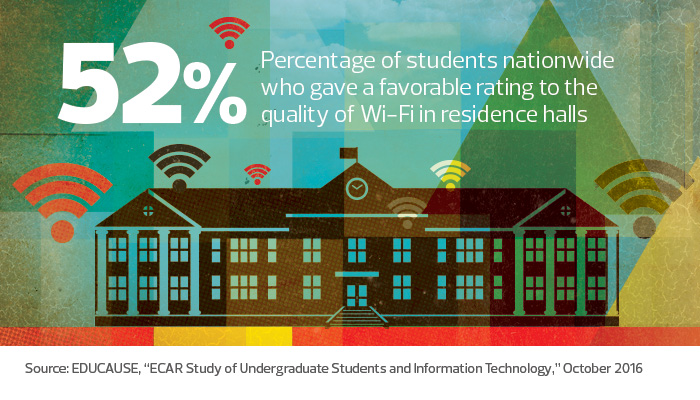 In one case, when students loaded a certain form on the LMS, the application would time out and cause the page to freeze. However, the network analytics showed a huge spike in traffic that we did not normally expect from a standard database application. Once we identified the traffic spike, we notified the applications team, which discovered a rogue process on the form. The team then issued a patch and made the fix.
We've also become more flexible. For example, when a computer science professor needs additional resources for a class, we can set policies and assign computing resources in a day as opposed to two to three weeks. This dramatically improves the quality of teaching and learning by allowing professors and students to move forward in their coursework rather than wait for network resources.
Creating Consistency Means More Satisfied Customers
We also achieved dramatic productivity gains. With our legacy wireless system, one systems administrator could manage only 200 users at a time. Today, our management console lets me manage all 4,000 users. The console gives me visibility into multiple cloud applications, APs and switches under a single pane of glass in a way that was not possible before.
We also find it easier to provide a consistent Wi-Fi experience during major campus events. When Utica College hosted a local fundraiser for the American Heart Association, we supported setup and breakdown for 1,000 people on wireless without a hitch. It's fair to say that in the future, the better wireless coverage and network performance will help to attract students to our campus.
Finally, our IT team has seen a noticeable reduction in work tickets, which means we can spend more time on other activities. In the past, we routinely received up to 70 work tickets per week, many of them complaints. Today, we are down to two tickets a week, and we haven't received a negative email from a student threatening to leave because of poor wireless coverage.
Technology works best when it aligns with the goals of an institution. Rather than deploy technology for technology's sake, we worked to ensure that our networking system streamlines IT activities and allows us to be more responsive to professors and students, so they can spend more time on their mission: teaching and learning.
David Vogin
More On