Review: Latest HP ZBook Pairs Performance and Portability
This notebook delivers optimized graphics and supports collaboration tools and videoconferencing.
The ZBook 15u G4 — HP's latest offering in the ZBook line of business-class mobile workstations — is an entry-level Ultrabook with the horsepower to run demanding workloads.
The G4 provides a technology refresh for the 15u line, including an Intel quad-core i7-7600U processor, 16 gigabytes of DDR4 RAM and a 512GB PCIe solid-state disk drive.
All these attributes make the ZBook an excellent choice for students, faculty or staff who need a thin, light Ultrabook that can easily handle graphics- and data-intensive computing workloads.
The ZBook Offers Versatile Collaboration
The ZBook is designed to be a graphics workhorse, and that's one area where it shines. An AMD FirePro W4190M graphics adapter provides 2GB of video RAM and drives a 15.6-inch, Full HD touch display that is bright and responsive.
A 720p webcam and dual-microphone array provide a rich video­conferencing experience, making the ZBook handy for distance-learning applications or collaboration with remote team members.
A Bang & Olufsen audio system delivers crisp and clear audio, and HP Noise Reduction software reduces ambient noise interference for conferencing in noisy settings. And while the ZBook was created to be easily portable, a wide keyboard and full numeric keypad make it comfortable for use as a primary workstation.
The ZBook is also versatile, providing two USB 3.0 slots (one for charging) and a USB 3.1 Gen 1 slot for transfer rates up to 5 gigabits per second. In addition, VGA and RJ45 ports and an audio in/out jack provide ­connectivity for a wide range of peripherals.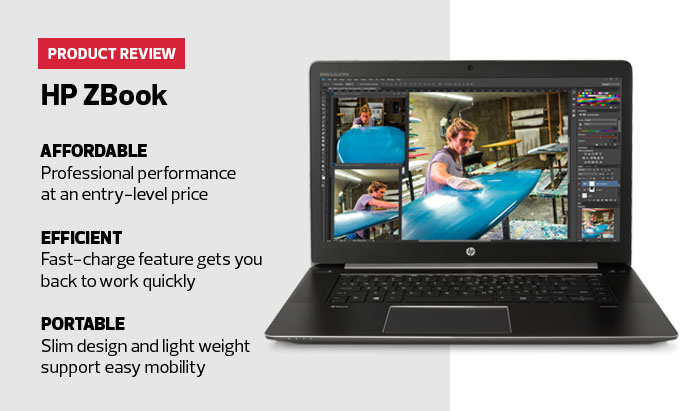 A three-cell, 51-watt-hour battery is comparable to other Ultrabooks in its class, but HP's Fast Charge support can recharge the battery from zero to 50 percent in just 30 minutes. Unlike many in its class, the ZBook has a limited, onsite three-year warranty that also covers the battery.
Security and Performance Are Perfect for Campus
The ZBook incorporates several security features, including the ability to automatically detect basic input/output system alteration or corruption and to restore a working BIOS. HP Client Security enables fingerprint authentication, password recovery, and management of smart card and Bluetooth ­credentials. Power-on authentication, full-­volume encryption and per-device authorization let both users and campus IT departments apply fine-grained security policies.
Overall, this is an Ultrabook that's well suited for a college campus. Its light weight and slim design make it compatible with on-the-go projects, and it has the performance chops necessary to meet the demands of specialized coursework and business applications.
User-Friendly Support and Management Don't Disappoint
HP's Independent Software Vendor (ISV) Partner Program lets software vendors test their applications on the ZBook to ensure their applications will perform. Under the program, performance-intensive applications from vendors such as Autodesk and Adobe are certified to meet the vendor's performance expectations. Students, faculty and other users who want to run performance-intensive applications can verify that these have been certified to run on the ZBook platform.
The ZBook also includes software management utilities for users and IT departments seeking ease of management. HP Support Assistant aids in the diagnosis and resolution of common problems, and it facilitates collection of detailed information in case a user needs to escalate an issue to an internal IT organization or to HP Support. HP Mobile Connect Pro lets users connect with a single username and password across a wide range of broadband networks. HP Recovery Manager facilitates automated and user-initiated backup and restore, and HP Image Assistant and LANDesk integration allow IT departments to ensure consistent configuration when supporting large numbers of devices.
HP ZBook 15u G4
Processor: Intel i7-7600U quad-core processor (2.8GHz)
Installed Memory: 16GB DDR4 RAM (expandable to 32GB)
Installed OS: Windows 10 Pro 64
Screen: 15.6-inch diagonal touch Full HD display
Weight: 4.18 pounds