Review: Acer Switch Alpha Pivots Easily Between Tablet and Laptop
The fast processor, advanced cooling technology and large screen make this a smart choice for higher education.
The core of the Acer Switch Alpha is a tablet computer with a generous 12-inch ­­touch-screen LED. Unlike many devices designed to fill multiple roles, the Alpha comes standard with a detachable keyboard that easily snaps into place, making it indistinguishable from most other laptops in performance and aesthetics when so configured.
In fact, the Alpha goes one step ­further, with a digital pen included as part of the standard package.
A Windows 10 operating system drives the device, unlocking a host of educational and productivity apps and many ways to use them.
I used Windows Ink Workspace to take accurate handwritten notes with the device in tablet mode, then worked for several hours typing with the Alpha in laptop format.
The Alpha Stays Cool Quietly
The Alpha is classroom-friendly and not distracting. Instead of traditional fans for cooling, the Alpha uses a liquid cooling technology, Acer LiquidLoop, which silently circulates water throughout the device to draw heat away from the processor and out to the aluminum surface for dispersal. When powered, the Alpha makes almost no sound, yet remains cool even after hours of use. Stripped of power-draining fans, it can also hold its charge in tablet mode for more than nine hours: enough to keep working through a full day of courses and perhaps a night class before needing to plug in.
Acer has added some nice extras to make the Alpha even more practical for educational environments. The high-quality keyboard is easy to type on, and it features backlighting for every key. This makes it possible to work in laptop mode in darkened areas (such as auditoriums during presentations), although this does put more strain on the battery.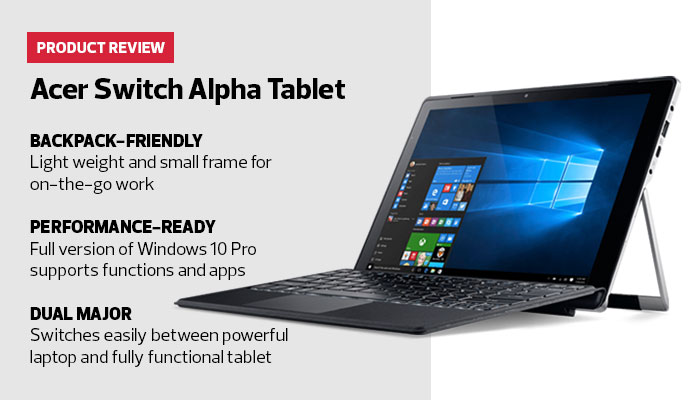 The Alpha also comes with one of the nicest kickstands I've seen. A long rubber strip holds the kickstand in place along a 165-degree arc, even on slippery classroom tables. That makes it quite comfortable to work in laptop mode, and the kickstand provides a sturdy mount for tablet mode too.
The Acer Switch Alpha offers the best of both the tablet and the laptop worlds, providing a powerful device that can unobtrusively slip into, and provide value to, any educational setting.
LED Screen Delivers Stunning Visuals
In testing, the convertible Acer Switch Alpha performed well in both laptop and tablet modes in a variety of higher educational settings. We also wanted to see what it could do with some of the most visually stunning multimedia apps and programs being used in education today. In particular, we wanted to test the performance and display accuracy the Alpha delivers with these demanding apps.
I started with a planetarium app that accurately depicts the night sky, letting users zoom in and check out information about various objects. Despite being graphically intensive, the images looked great on the 12-inch LED screen when running at its native 2,160-by-1,440 resolution.
Switching to video, I was impressed that the Alpha again made the visuals look amazing in full HD. There was no hint of moiré effect errors, even when viewing detailed video images, and no screen artifacts appeared when the action moved quickly. In addition, the Alpha's two front-facing stereo speakers ensured that even viewers up to 20 feet away could clearly hear presentations.
One hidden feature that's a powerful addition to the Alpha package is a USB Type-C port. In addition to being unidirectional, the Type C let us stream fully HD video to a 65-inch HDMI television display. Because of the speed and bandwidth of the new interface, images on the larger display appeared just as accurately as they did on the Alpha's 12-inch screen.
Nothing I threw at the Alpha could stymie its performance. This is a device that can offer desktop or even near-workstation performance in a tiny, portable format — perfect for an educational environment.
Acer Switch Alpha Tablet
Processor: Intel Core i5 2.3GHz
Operating System: Windows 10 Pro 64-bit edition
Memory: 8GB LPDDR3 SDRAM
Hard Drive: 256GB solid-state drive
Display: 12-inch LED touch screen
Dimensions: 11.5x7.9x0.4 inches
Weight: 1.99 pounds