College Sports Fans Cheer for Wi-Fi Upgrades
From Instagram to instant replays, fans expect to connect in college athletics facilities.
In the world of college sports, internet access is rapidly becoming as integral to the game as cheerleaders, team colors and fight songs. That's why providing Wi-Fi access at its sports venues was a big priority for the University of Maryland, says Augustus Sam, IT director for Intercollegiate Athletics.
Adding Wi-Fi was part of a larger overhaul of UMD's 17,950-seat Xfinity Center, which included installing digital signage and dozens of video displays throughout the facility, dynamic menu boards at concession stands, and video walls in the atrium and main entry areas.
To achieve high-density Wi-Fi coverage, CDW's integration specialists installed more than 340 Cisco Systems access points and 132 digital media players in the 15-year-old arena. Sam says mapping out the optimal placement for each AP required a detailed assessment of both human and internet traffic, identifying locations where fans are most likely to congregate and use their phones, as well as the kinds of sites they'd want to access.
The project began in earnest in summer 2016 and was completed a few games into the Terrapins' basketball season. UMD quietly rolled out the service to see what would happen. "It was definitely a soft launch," Sam says. "We waited to see who would find the custom login splash page and how many would actually join. The first time, a couple of thousand fans found it. Those numbers grew over the season."
The most popular destinations online? Social media sites like Facebook, Twitter and Instagram, says Sam.
A Network Overhaul Is a Marathon, Not a Sprint
When UMD revamped its basketball arena, it also wired the five-story Tyser Tower facility that overlooks its 54,000-seat football stadium. But the Xfinity Center was more challenging, Sam says.
"Tyser Tower was pretty simple. It's almost like an office building," he says. "Providing Wi-Fi in a high-density area such as a basketball stadium requires a different approach in how the technology is installed and configured."
Another challenge: coordinating technical, mechanical, electrical and project managers from different areas of the UMD campus.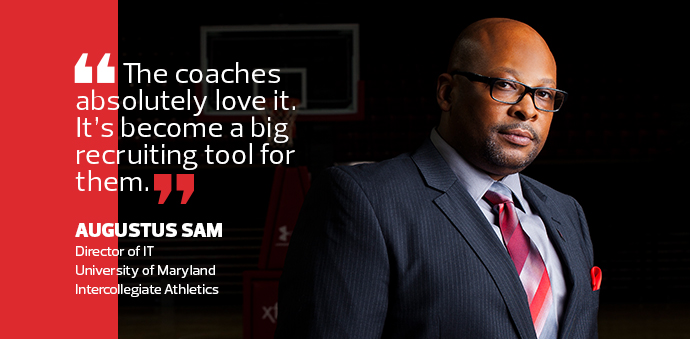 "It was a long, extensive process — definitely a marathon, not a sprint," Sam says. "There is always a great deal of coordination and collaboration when you are working with many different partners throughout campus on a project as innovative and challenging as this one. But when the work is completed and accomplished, it is extremely rewarding for our entire campus community."
The Xfinity Center upgrades are a big hit with Terrapin fans and athletes, Sam says: "We have video highlights and player pictures on our video walls. The coaches absolutely love it. It's become a big recruiting tool for them."
Now that the infrastructure is in place, Sam says UMD is mulling other services, such as custom apps, social media integration and wayfinding features to help fans navigate the arena.
A Facility Upgrade Makes Stadiums First-Class
When it comes to college hoops, the University of Kentucky Wildcats are at or near the top of the heap almost every year. Now, its facilities are too.
In March, Rupp Arena became fully connected as part of a facility upgrade — three years in the planning — that included a new scoreboard array and sound system. Reliable internet access was essential to keep the 41-year-old venue relevant, says Bill Owen, president and CEO of Lexington Center, which operates the county-owned facility. In addition to Wildcats basketball, Rupp Arena hosts more than 100 shows a year, from Disney on Ice to U2 concerts.
"We've got huge video screens in Rupp Arena, but for some reason people still want to look at the 4-by-6-inch screen in their hand, check in on Facebook and post pictures to Instagram," Owen jokes.
The $1.5 million Wi-Fi upgrade included a 10-gigabit fiber backbone and an array of Cisco APs, switches, cores and firewalls, says IT Manager Michael Fox. More than 300 Cisco Aironet 3800 Series APs were placed in the arena and concourse areas, with another 200 or so in the convention center and opera house areas.
"The biggest challenge was retrofitting an older building," says Fox. "It was difficult to get to specific locations when adding hundreds of antennas and access points."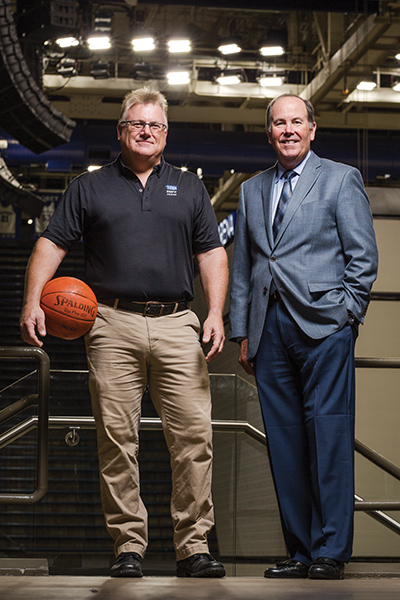 IT Manager Michael Fox and Bill Owen, President and CEO of Lexington Center, say Rupp Arena's age was the biggest challenge of installing Wi-Fi. Photography by Jonathan Robert Willis
Cisco Mobility Services Engine with CMX provides insight and analytics to help administrators optimize network performance.
Improvements to the 23,000-seat arena also optimize the experience for fans, says UK's Director of Strategic Communications Guy Ramsey: "We are continually working to create the most engaging environment possible at all of our events. The addition of public Wi-Fi access at Rupp Arena is another positive step in that direction for Kentucky basketball games."
Roll IT Costs into New Construction
Despite the push for internet access, it's more common in professional arenas than college facilities, says Paul Kapustka, editor in chief of Mobile Sports Report, an online news site. Some colleges have a hard time justifying the cost of upgrading facilities that may be used for only part of the year. Another challenge: Many older stadiums are "concrete monoliths," Kapustka says.
That's why Wi-Fi is more often found in newer facilities like Baylor University's $260 million McLane Stadium. McLane, completed in 2014, delivers high-speed wireless access to all 45,140 seats through Extreme Networks APs. Baylor also has Wi-Fi in its Ferrell Center, used for basketball, volleyball and other events. "Many schools struggle with the return on investment, but Baylor viewed Wi-Fi as a requirement that today's fans expect and deserve," says Bob Hartland, associate vice president for IT infrastructure.
Rolling the cost of the network into new construction helped, but Hartland says the university was also careful to find cost-effective ways to implement it. For example, officials have limited the bandwidth initially available to fans, with an eye toward increasing it later if the need arises. Even so, there's more than enough bandwidth for Bears fans to watch instant replays on their phones using a custom app, he says.
So far, two-thirds of Wi-Fi-enabled devices entering the stadium have connected to the network, says Hartland, in part thanks to innovative ideas such as "Wi-Fi coaches" — Baylor students who roam the stands to help fans who have trouble connecting.
Networks Need Long-Term Care
One problem with tech upgrades is they're never-ending: In a few years, you'll probably have to do it again.
In 2011, Stanford was the first major university to install Wi-Fi in its football stadium and other assembly facilities. The university is now considering a much-needed refresh, says Ray Purpur, deputy director of athletics.
"There's so much more data available and so much more demand for it that our system can't keep up," he says. "It was fine for the first four years. And the equipment is still in great shape — it's doing exactly what it did in 2011. It's just not enough anymore. The equipment didn't wear out; it wore thin." Despite the challenges, reliable stadium access is rapidly becoming table stakes for major colleges, says Kapustka.
"I don't see how you go forward in this era without a network," he says. "Imagine trying to sell season tickets to students who are about to become alumni and telling them they'll have to pay for the privilege of being without their phones for four hours."
For institutions that want a robust fan base, connectivity is also a valuable two-way street, letting teams learn more about the people filling their stands, Kapustka says: "It's about establishing a deeper digital connection to the fans who are coming to your stadium."
Jimell Greene
More On