Build Your High Ed IT Dream Team with Smart Hires and Strategic Planning
A recruiting playbook helps you align competencies and culture for the win.
At the 1992 Olympics, the U.S. men's basketball team — hailed as the greatest sports team in history — was nicknamed the Dream Team. If you are lucky, you may have the opportunity a few times in your career to build a dream team. To do that, you need a set of guidelines to drive the recruiting process. In the University of Oklahoma IT Department (OUIT), we have developed a playbook for just that purpose.
Start with a Vision for Technology
In 2011, a change in CIO prompted our leadership team to review our campus technology needs and set a new vision for OUIT. Along with vacancies and attrition, we identified our recruiting playbook as key to achieving our new vision, which also required a change in culture. Any change in leadership may create tension, so it was imperative to be transparent about our change, communicating clear expectations to incoming employees and sharing new values and expectations with current staff.
Identify Competencies and Job Roles
Competency is one's combination of knowledge, skills and abilities. To assemble the desired competencies for your dream team, first identify those that an IT professional must possess to fit the culture and values of the organization you are building. Look at your top performers and ask yourself: What skills and capabilities do these people have? What makes them so successful? What will be needed in the future?
When defining your team roles, be sure to include both behavioral and technical competencies. For example, you might consider business acumen, adaptability, teamwork, innovation, inclusiveness and problem-solving, along with networking, programming and project management. On-the-job examples can help to eliminate any ambiguity in the expectation
Refine IT Hiring Objectives
A recruiting strategy, like a marketing strategy, must be developed with the objective of selling your jobs to the workforce. Job postings should communicate core values and required competencies, and showcase your brand. Be sure to convey why someone would want to work for your organization. As part of the recruiting strategy, outline the avenues you plan to use, such as hiring events, social media, employee referrals, job boards, advertisements and staffing vendors.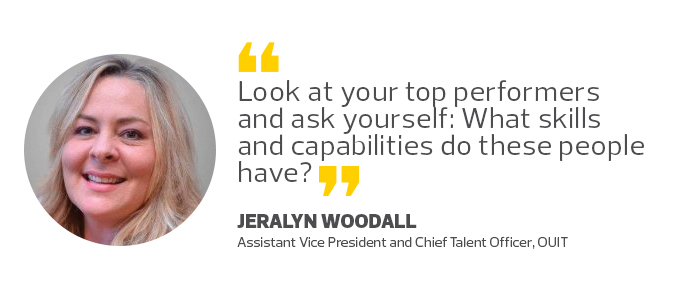 Redesign the IT Interview Process
Once you have recruited your applicant pool, the interview process is key to finding the ideal team member. You must design the process so that you are hiring for organizational and cultural fit, in addition to technical competency. To evaluate candidates in these areas, consider creating a scenario that mimics the type of work the person will be doing. For example, give developer candidates a set of requirements and ask them to outline a program with pseudo-code.
Recognize that throughout the process, candidates will be evaluating your organization. This is an opportunity to showcase the best of your organization, so deciding whom to put in front of the candidate during an interview is crucial. Seeing your culture in action also helps candidates envision themselves at work in your environment. This insight may be especially useful for candidates who are moving into higher education from the private sector or a nonprofit setting
Focus on the Future of Your Tech Team
If you truly want to build a dream team, consider each vacancy as an opportunity and make the most of it. Collaborate with your leadership team on where you want to be as an organization and align each step of the recruiting process with your organizational culture and values.
Finally, when making hiring decisions, remember that what got you where you are today may not take you where you want to go tomorrow, so be willing to adapt along the way.
Kalawin/Thinkstock
More On