Colleges Pivot to Prep Students for High-Demand Tech Careers
As technology drives new career paths, colleges pivot to help students get ready.
At Indiana University's newly renovated building in The Media School, students park themselves in front of 25-inch LED monitors and large HDTVs to play video games, but they aren't playing just for the fun of it. Actually, they're studying.
These avid gamers enrolled in the university's Bachelor of Science in Game Design program, established in 2015, to pursue their dreams of working in the video game industry. To prepare them, IU invested in state-of-the-art classrooms and labs featuring high-end gaming PCs, virtual reality headsets and specialized software that let students design and build their own games.
A play-testing area is equipped with a PC, tablets, Xbox One and PlayStation 4 consoles, a 65-inch HDTV, and comfortable chairs and loungers. The space may look like a living room, but it serves a serious purpose, says Chabane Maidi, The Media School's game lab manager.
"When you are a game designer, you evaluate games and draw inspiration from them. In our play-testing room, an audience of students gather like a book club, and they will talk about a game's dynamics and how it was developed," he says.
Invest in Technology for the Future
IU isn't alone in developing new programs to reflect changes in the job market. Many emerging career paths are technology-intensive, and institutions find they need to not only create new degree programs, but also invest in hardware and software to support the curricula.
Anthony P. Carnevale, director of Georgetown University's Center on Education and the Workforce, says that advances in technology tend to shape higher education programs in two ways: first, through traditional degrees in science, technology, engineering and mathematics (STEM). Second, among a broader set of majors (e.g., healthcare, business and education), institutions are incorporating technology into curricula to ensure students have the necessary tech skills to meet employers' needs.
"As technology advances in all fields, it creates occupations or new tasks that require education and training," Carnevale says.
Innovative Tech Makes Students Ready for the Workforce
At IU, the B.S. in Game Design aims to reflect a well-rounded education, with students learning programming, design, arts and audio production along with marketing and business strategies.
Media Professor Edward Castronova, who directs the program, says that game company executives need more from job applicants than simply a passion for gaming. They want employees who have pushed through obstacles and finished projects, he says. Accordingly, IU's program requires students to team up on a three-semester project to develop and publish games.
"We make sure students have a strong portfolio of work when they graduate," says Castronova.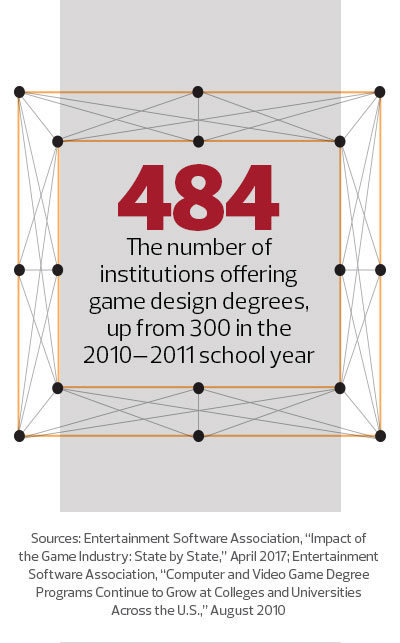 To make that possible, IU gives students access to cutting-edge hardware and software. Its labs and classrooms feature high-end Acer Predator gaming PCs, HTC Vive 3D virtual reality headsets and motion controllers, Samsung 4K HDTVs, and game design software that includes game engines, 3D digital modeling and animation applications, and audio production tools.
In the visualization lab, students can experiment with tools for augmented and virtual reality; a graphics lab with four high-end computers; and a 16-computer game design lab. Along with other Media School departments, students also have access to an audio studio and motion-capture equipment.
In the fast-changing video game market, up-to-date technology is imperative, Maidi says: "We try to keep our class structures flexible to change, and our instructors keep up with the latest technology to train students on it."
Future plans to enhance IU's gaming technology include a storage area network for Media School students' large media storage needs and potentially a cloud server to support virtual worlds and multiplayer online spaces.
Cybersecurity Skills in High Demand
As game design soars in popularity, cybersecurity programs are poised for equal, if not greater, growth. Like many institutions offering such programs, San Diego State University has seen a spike in interest in its Master of Science in Homeland Security degree. In fact, 66 students enrolled in the program in 2016, double the number from 2015.
Lance Larson is the assistant director of the graduate program, which prepares students for careers in law enforcement, intelligence and the private sector.
"We teach some theory, but we focus a substantial amount of time on tactical and practical skills for the workforce," says Larson, adding that teaching real-world skills is central to the program's mission.
For example, in a cyberwarfare course, students learn about offensive tactics (such as deploying malware or distributed denial of service attacks to strike back at an adversary) and defensive use of firewalls and intrusion prevention tools. In data analytics courses, they learn how police departments analyze crime data to identify trends and deploy resources. And a course in homeland security science focuses on technologies such as sound waves that can disable attackers in a battlefield.
Students also learn to monitor social media to seek out potential threats; study the Dark Web, an online underworld for illicit activity; and use virtual machines to practice attacking and defending computing systems. Most classes are held in SDSU's Visualization Center, equipped with notebook and desktop computers, a data center featuring 10 racks of blade and rack-mounted servers, and large, side-by-side projection screens that provide a 180-degree view of images.
Cutting-Edge Tech in the Classroom of Tomorrow
Other institutions, prompted by the rapid evolution of educational technology, see a need to teach instructors how to leverage these tools effectively. This fall, Georgetown University will launch a Master of Arts in Learning and Design program, aimed at preparing college-level educators for careers in instructional design, educational technology, learning analytics and higher education leadership.
The program was inspired by Georgetown's Center for New Designs in Learning and Scholarship, which helps faculty and graduate students refine teaching practices to incorporate technology and improve student learning. In fact, the center's faculty designed the new curriculum.
"Technology is a significant piece to the degree program," says Eddie J. Maloney, executive director of CNDLS and founding director of the new master's program. "It's not just learning how to use a set of tools. It's being able to think about how and when to use technology."
Although the program will make use of existing computer labs and the library's makerspace (complete with 3D printer), Maloney and his team are building an incubator classroom to showcase new technologies, including virtual reality. That exposure, he says, will give students the opportunity to experiment with promising new tools and help current faculty members adopt them in their own classrooms.
"Our students can not only help with the adoption of cutting-edge technology, but also help faculty understand it and balance the cutting edge with the judicious use of technology to create the greatest impact on students," he says.
photography by Patrick Cavan Brown
More On