Future-Proofed: Colleges Prepare Data Centers to Adapt
IT prepares for the future with data center solutions that are flexible and scalable.
Soon after Frankie Youngblood came to College of the Ozarks (CofO) in Point Lookout, Mo., he knew the institution needed to rethink its data center technology. As the new systems/security administrator, Youngblood says, he understood that the college had to reduce the data center management burden on its small IT staff in order for the department to meet the growing needs of the college.
"There weren't a lot of problems with the data center as it was. It had sophisticated technology that worked well, but it was more than the college needed," he says. "There were too many administrative headaches to keep it going from day to day. We needed more efficiency to make the infrastructure sustainable for the future."
Efficiency and flexibility are the keys to future-proofing any data center, says Sophia Vargas, an analyst with Forrester Research.
To maximize their adaptability, she says, colleges are turning to virtualization, all varieties of cloud computing and modular data center solutions, and they are exploring strategies such as colocation and collaboration with other institutions.
"With the exception of research departments, which can make unexpected demands on computing resources, growth is generally more ­predictable in colleges than in business," Vargas says. "But schools need ways to both scale up and scale down data center resources efficiently as projects and applications come and go."
To streamline its data center — and achieve that ease of scalability — CofO increased its reliance on virtualization and hardware consolidation. Central to the strategy was adoption of the Dell EMC VxRail appliance, which integrates compute and storage with VMware's virtualization and management ­capabilities. Under this hyperconverged infrastructure, all the IT functions are administered through a single console and are easily deployed.
"As our needs grow, the infrastructure easily scales," Youngblood says. "All we will have to do is add a new VxRail appliance. It takes about 10 to 15 minutes for it to be fully provisioned."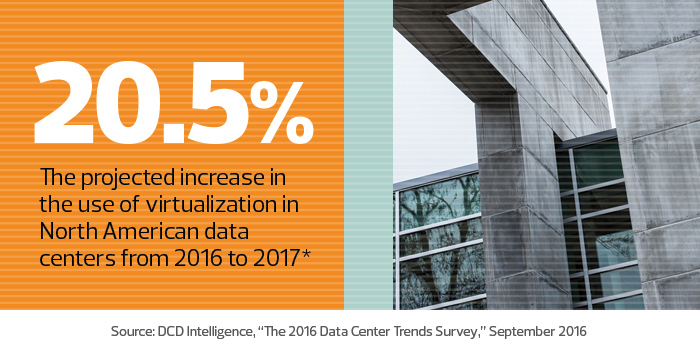 Assess the Big Picture of IT Needs
The trend toward cloud services and hardware consolidation through virtualization is shrinking on-premises data centers, Vargas says. At the same time, increased densities make power and cooling more pressing concerns. And as more core applications come from outside the data center, colleges should pay attention to how the shift affects their security architectures.
Admins planning for a data center's future should consider the potential wider impact of any change, Vargas says: "You can't plan for the future piecemeal. You have to address the ways any technology or strategy will change your entire architecture and all your existing processes."
CofO's approach is similarly comprehensive. In addition to reconfiguring its data center, future-proofing plans include offsite replication to improve backup and disaster recovery capabilities, says Youngblood. He also keeps a close eye on growth trends through the metrics available from ­vRealize within CofO's VMware environment.
"You have to know your environment, so you can be prepared to size it for the future," he says.
Modular Data Centers Make for Flexibility and Success
For other institutions, flexibility is the key factor for successful future-proofing. A year ago, a forecast of drenching rains from a powerful El Niño off the Pacific coast spurred California State University, Fullerton to undertake a solution that was ambitious: deploy a modular data center in less than four months.
CSUF's old data center was located in the basement of the main library, one of the lowest spots on campus. A flood would have had a catastrophic impact on its computing infrastructure and the work of its faculty, staff and 39,000 students, says Berhanu Tadesse, associate vice president for IT and infrastructure services. The floods never came, but the university has no regrets, Tadesse says. The modular data center is a vital piece of its strategy for delivering data center services in the future.
"We're very happy we did the project," he says. "The modular data center gives us more flexibility, and we took the opportunity to virtualize and consolidate as much as possible."
The site that CSUF chose for the modular data center offers easy access to cabling and power that can support a second module as the needs of the university grow, says Tadesse — just the kind of scalability that Vargas says is so important. In addition, CSUF's IT strategic plan calls for moving an increasing number of workloads into the cloud, to improve adaptability and reduce the management burden on the lean IT staff. It's not alone: A September 2016 report from research firm Technavio forecasts a 24 percent increase in cloud adoption in higher education by 2020.
According to Tadesse, communication with the university community is crucial for effective planning and for securing support and buy-in for technology initiatives. "People view their technology needs as unique and special, but we have to meet needs for the entire university," he says. "We make a very deliberate effort to reach out and engage with administrators, faculty and students to anticipate those needs within a well-defined IT governance structure. That way, we're ready for the future without being simply reactive."
Designing Data Centers for Agility
When Boston College designed a new data center 12 years ago, the IT staff was keenly aware that the future of the college and of technology would include uncharted territory, says Michael Bourque, vice president of IT.
"There will always be unknowns," he says. "In almost any project, especially a data center, you have to design in flexibility and capacity for growth. For instance, a dozen years ago, we couldn't know how the cloud would develop and what services would be available from it."
The increased density of resources achieved by virtualization and hardware consolidation means the college's infrastructure has grown, but after more than a decade, it remains comfortably within its capacity. The college is moving toward a "federated" model for service delivery, providing some delivery locally from the on-premises data center and obtaining others from cloud providers. Cloud services relieve technical burdens, while shifting the IT focus to security, integration and management of financial, contractual and service-level issues, Bourque says. "We work to maintain an architecture with the flexibility that lets us choose the best way to deliver a service, whether it's locally or from an outside provider," he says.
The data center is destined to evolve, and it's the job of IT administrators to ensure both stability and nimbleness, says Bourque.
"We have to provide a reliable foundation for infrastructure services in a cost-effective way," he says. "But we also have to be continuously changing and improving."
Dan Videtich
More On