All-in-One Solution: Hyperconvergence Simplifies Data Center Management
Hyperconverged solutions deliver benefits of the cloud with on-premises control.
When the Technical College System of Georgia, which oversees 22 technical colleges in the state, wanted to expand its virtual desktop ­infrastructure offerings, IT managers knew they would need to vastly expand compute, networking and storage resources.
They got it all delivered on the same day.
Like a growing number of organizations, TCSG adopted a hyperconverged infrastructure to meet its growing resource needs — in this case, Cisco Systems HyperFlex.
Hyperconvergence, which brings storage and servers together in a single appliance with a streamlined management interface, is an emerging market that is developing quickly. Proponents say hyperconvergence can reduce operating costs, simplify data center management and speed up delivery of new applications, thanks to on-premises hardware that replicates the scalability of the public cloud.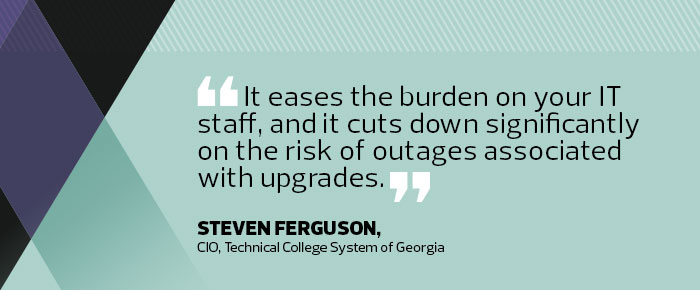 "The big challenge of a VDI rollout is that you have to make a pretty large investment if you want to build a virtualization platform with traditional infrastructure," says Steven Ferguson, TCSG's CIO. "You have to make an investment in server hardware, storage and networking, and you also have to make a software investment. And then you have to integrate all those things and make them work together."
By contrast, Ferguson says, a hyperconverged infrastructure is a "fully integrated platform for compute, networking and storage, with a software layer on top." That means TCSG only had to invest in a single product. The HyperFlex integrates well with the existing Cisco Unified Computing System hardware, which makes it possible to leverage previous investments. And by simplifying the data center infrastructure, Ferguson says, the hyperconverged solution reduces the potential for problems to crop up.
"Having everything in one box is phenomenal," he says. "You don't have to worry about interoperability. The firmware versions are going to all match, and they're all going to work together. It eases the burden on your IT staff, and it cuts down significantly on the risk of outages associated with upgrades."
Creating a Flexible Fit
For many institutions, a chief benefit of hyperconverged solutions is the high degree of scalability they offer, a benefit that has led some tech observers to compare hyperconvergence with the public cloud.
"We can add nodes to the initial cluster and leverage all of those resources across the cluster," Ferguson says. "I can add another node and add more storage. Or, if I really want a compute-focused piece, I can add a very compute-centric node. You can mix and match all of those."
Western Washington University deployed a Nutanix hyperconverged solution in 2015. Jon Junell, assistant director of enterprise infrastructure services at WWU, agrees that the ability to easily add capacity is a valuable time-saver. "A few clicks, and it sees the other nodes, and away you go," he says. "The management gets out of the way, so you can go back to doing the true value-add work."
At the same time, because hyperconverged ­solutions are on-premises, they address the concerns that some organizations have about the public cloud.
"It's security and control," says Eric Sheppard, an IDC research director covering enterprise storage, converged systems and hyperconverged markets. "It's the ability to have all of the data in-house. It's also latency. If you've got workloads that need compute to be close by, this is it."
Even More Features on the Horizon
Despite steady movement toward the public cloud in recent years, Sheppard rejects the idea that the cloud will one day replace on-premises data centers entirely.
"People think there's a single-direction freeway, where everything is headed toward the public cloud," he says. "The fact of the matter is, the technology suppliers that provide on-premises infrastructure solutions were never going to sit still and provide solutions that look the same. Of course they were going to innovate, of course they were going to bring in the best of what's available, and many times that is a cloudlike solution."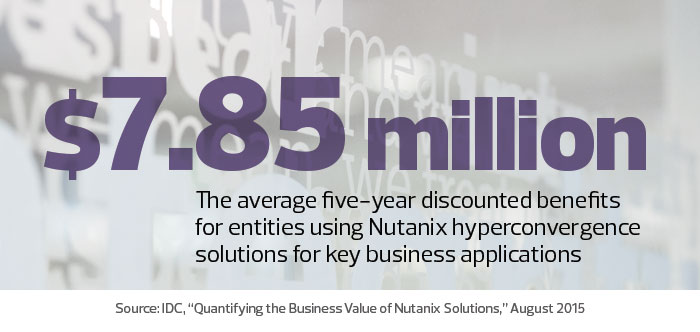 Sheppard also notes that, for now, most ­hyperconverged solutions support only virtualized workloads, although he predicts that will change quickly. "Because hyperconvergence is fairly new, the suppliers are working really fast and really hard to increase the features that they offer," he says.
Bryant University, a private college of about 3,500 students in Smithfield, R.I., adopted hyperconvergence to help support VDI.
The university looked at cloud-hosted desktops, says Carlos Samayoa, manager of infrastructure services, but the pricing model didn't make sense. A cloud solution vendor would have charged Bryant University on a per-user basis, Samayoa says, whereas the on-premises hyperconverged infrastructure is able to support multiple users throughout the day using the same resources.
"Our usage is not linear," Samayoa says. "We thought the cloud was very expensive on a per-user basis, whereas with this solution we can leverage it to do other things. We can have faculty and staff use it during the day, with students using it at night."
IT Staffing Shifts Pay Off
As with most sizable infrastructure investments, the primary drivers behind the deployment of hyperconverged systems are often new initiatives that need support and aging infrastructure that is ready to be replaced. Western Washington University, for example, was paying $65,000 each year just to maintain its storage arrays — "not really an efficient use of capital," Junell says.
The university considered a simple storage upgrade, but determined a hyperconverged infrastructure would be more cost-effective and deliver more comprehensive benefits.
In some cases, the impetus to move to hyperconvergence comes from a desire to simplify the data center environment so that staff can focus on other initiatives. Institutions with dedicated storage, compute and networking staff, of course, might view this as a challenge, because those employees would find their roles greatly reduced in a hyperconverged environment. But for some, the ability to allocate personnel differently makes sense.
"My employees do their best work when they're helping faculty, staff or students, not when they're performing maintenance on the SAN infrastructure or doing backups," says Junell. "When the hardware gets out of the way and lets us do our work, that's really, really valuable."
Ryan Gibson
More On