Campus Libraries Write a Tech-Savvy New Chapter
Today's college libraries are hubs of collaboration, powered by technology-enhanced learning spaces.
Shelves of books from floor to ceiling.
Students hunched in carrels, turning pages and scribbling notes. Stern librarians enforcing strict silence throughout the building.
If this is your idea of what a campus library looks like in 2016, it's time to update your mental picture. Libraries today can be so much more than a quiet place to study. And the hum of activity isn't the only difference; today's libraries often house extensive technological resources that encourage collaboration and support new ways to learn.
Creating the Library of the Future
Ringling College of Art and Design in Sarasota, Fla., will open its brand-new, multimillion-dollar Alfred R. Goldstein Library in time for the spring 2017 semester. The seeds of the facility were planted more than a decade ago by former Director of Library Services Kathleen List. Her successor, Kristina Keogh, gave List credit for her forward-thinking vision.
"[Kathleen] very much had this on her radar," Keogh says. "She had started going to the president's office, saying, 'We need the new library. We need to think about the services that we're providing to our students.' "
College administrators listened, and the planning process began in earnest. After selecting an architecture firm, the college held brainstorming sessions where students, faculty and staff generated ideas about desired services and features. From the beginning, technology was a focal point.
"That was one major impetus: to have a library that would have the space for experimentation, for working with different sorts of technology, for students to work together in different ways," Keogh says.
Ringling College's goal was an ambitious one: Build "a library of the future." When it opens, the facility will boast a variety of features that lend themselves to the collaborative pedagogical strategies that colleges and universities increasingly favor.
"Crucial to the technology at the Alfred R. Goldstein Library is the concept of IT ubiquity," says CIO Mahmoud Pegah. That means IT resources will be readily available, up to date, enterprise class and holistically supported. "It redefines what is possible, in teaching and learning, innovation, and scholarly pursuits."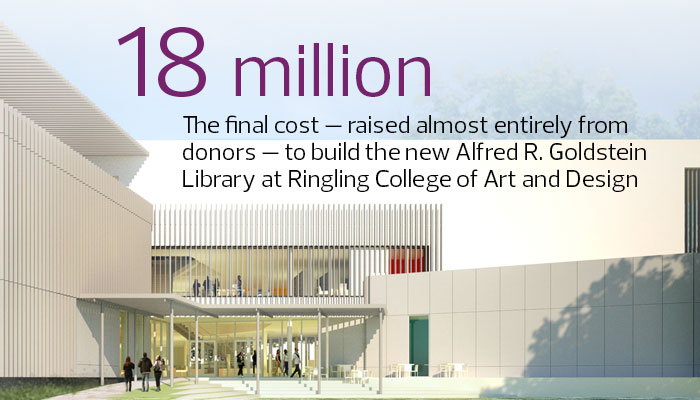 The library will have a 24-hour computer lab on the first floor. On all three floors, students will have access to group study rooms, equipped with presentation technology for easy collaboration on projects.
Given the college's emphasis on art and design, collaborative spaces were designed with those disciplines in mind. Students have access to a variety of scanners, digital drawing tablets and displays.
"The library will be a very collaborative place — a kind of sandbox," says Keogh.
The building will be equipped with a state-of-the-art wireless network that will support not only the aforementioned tools, but also the wide range of connected mobile devices that students will bring to the library with them.
Keogh is already considering future enhancements, which may include a lighting lab to allow interior design students to experiment with methods of lighting a space. Art students, meanwhile, could determine how various lighting conditions affect a viewer's experience of a particular piece. Keogh also aims to add virtual reality technology to enhance art history instruction.
Given the college's lofty goals for the library, Keogh isn't afraid to try new things. "Once we have this structure, once we have these spaces, once we have the technology — what are the things that we can dream of? The things that we can try, and maybe fail at, and maybe move on from, that will allow us to continue to develop this library of the future?"
Designing a Place Built for Choice
According to Joan Lippincott, associate executive director of the Coalition for Networked Information, today's library revolution is rooted in the "information commons." This concept of a shared base of knowledge emerged about two decades ago at the University of Southern California and the University of Iowa. Since then, the idea has spread.
"It still takes a fair amount of money to renovate the traditional, solo-­oriented, quiet study space of libraries," Lippincott says. "But those who have not developed the collaborative spaces, I don't know of a single institution that doesn't wish to if they have the funding."
As Ringling creates a new space from the ground up, other institutions are undertaking extensive renovations of existing spaces. Adapting them to the demands of modern technology can be a challenge, Lippincott says; for example, building materials interfering with Wi-Fi signals, or a ­facility that has a shortage of electrical outlets.
Whether institutions build or renovate, Lippincott recommends that planners provide spaces to accommodate a range of learning methods.
"Having the collaborative spaces and ­technology-enabled spaces in the library does not mean that we should totally get rid of the ­traditional, quiet reading room," she says. "It just means that you now have a choice of spaces that are most suitable for different types of work."

Photo by Bob Croslin
Spaces That Are Welcome to Experimentation
Norwich University in Northfield, Vt., reopened its dramatically renovated Kreitzberg Library 13 months ago. According to Chief Administrative Officer David Magida, who oversees facility operations, the university wanted to meet students' needs for group study spaces, while maintaining a traditional library atmosphere that included plenty of quiet space for students who chose to work alone.
"No matter what your preference might be for learning, I feel strongly that we can accommodate it in the library," Magida says.
Eleven group study rooms have shared monitors that accept input from a variety of devices, along with movable furniture that lets students settle in and get comfortable for long study sessions. The renovation also created two additional classrooms that enhance the library's technology offerings.
"Those two rooms are a proving ground for new technologies we want to evaluate," says Magida.
The South Instruction Room includes an instructor station equipped with a digital presentation system and a high-definition Wacom annotation monitor. Seven student stations each have a 65-inch Sharp AQUOS LED television. Projection and audio equipment (including an NEC PA722X projector, a Draper Premier motorized screen, and Shure microphones) ensure images and sounds are crystal clear.
The North Instruction Room houses a second NEC PA722X projector, a Draper Premier motorized screen and an audio suite.
Security is priority at the renovated library as well. Kensington locks, Chief manufacturing mounts and stands, racks from Middle Atlantic Products, and an uninterruptible power supply (UPS) from APC keep equipment organized and protected. Devices at the library are supported by improvements to the wireless network, which included upgrading to Cisco 802.11ac Wave 1 wireless access points and tripling the number of APs throughout the library.
Best of all, anytime that an instructor has not booked the rooms, students are welcome to reserve either space. "We didn't put in all this technology and all this new furniture and spend all of these millions on a renovation just to lock a door," says Magida. "We're happy to see them using all of this."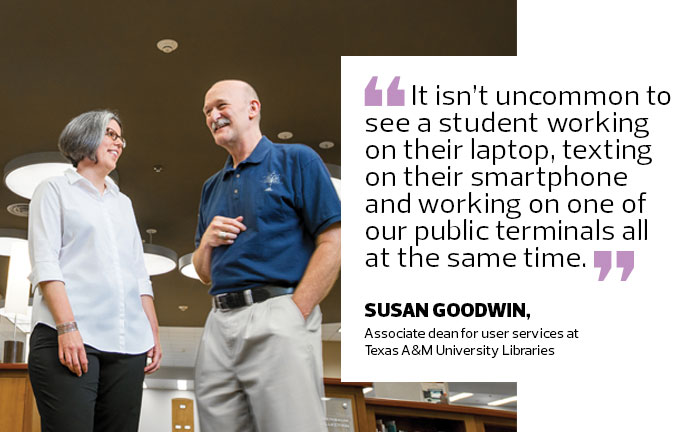 Photo by Robert Seale
Writing a New Chapter
Texas A&M University has completed major renovations in its Evans Library, West Campus Library and Medical Sciences Library over the last few years, according to Susan Goodwin, associate dean for user services.
The Evans Library renovation focused on computing, including an installation of more than 500 Dell All-in-One ­computers. Despite the explosive growth of mobile devices on campus, the demand for desktop computers hasn't slowed down, so the university's libraries ­continue to fill that need.
"It isn't uncommon to see a student working on their laptop, texting on their smartphone and working on one of our public terminals all at the same time," Goodwin says. The libraries also ­provide ­about 150 notebook PCs for student checkout. According to Senior IT Manager Bill Chollett, the university selected Dell Latitude E5430 notebooks because of Dell's excellent service and support, as well as a cost-effective accidental damage protection plan.
In a nod to the ongoing shift from print to digital, the Evans Library renovation phased out copiers in favor of upgraded scanners and Xerox printers. The university also added collaboration tools to the mix, such as media:scape from Steelcase, a design solution that supports wireless connectivity; and AWIND wePresent, an adaptor that facilitates wireless, interactive communication between mobile devices, tablets, computers and displays.
This fall, Evans Library will start a second phase of renovations on the main building and an annex, improvements that will increase the availability of ­public desktop terminals and create reconfigurable classroom spaces.
"In our signature large spaces, we will have probably 20 different screens spread around the room, movable walls to divvy up the space different ways and a control system — still undecided — that will be able to route the content between screens and give the instructor full control," says Chollett.
A recent Pew Research Center study suggests that library users, as a group, tend to be lifelong learners, progressive in embracing technology and engaging with information. That bodes well for the future of campus libraries, as they reinvent themselves to stay relevant to research, study and academic pursuits.
More On