Review: Acer Chromebase CA24I-CT Packs A Big Punch In A Small Package
All-in-one computer unites telelearning and individual workstations, backed by security-conscious customization.
The Acer Chromebase CA24I-CT is designed to fill multiple roles in today's higher education classrooms without breaking a school's budget.
This all-in-one computer features touch-screen, keyboard and mouse interfaces. The huge, 23.8-inch screen is one of the largest designed for Chrome computers, with the versatility to attach to a slim stand or mount easily on a wall. The Chromebase supports 802.11a/b/g/n/ac wireless, eliminating the need to run cables and making its placement much easier.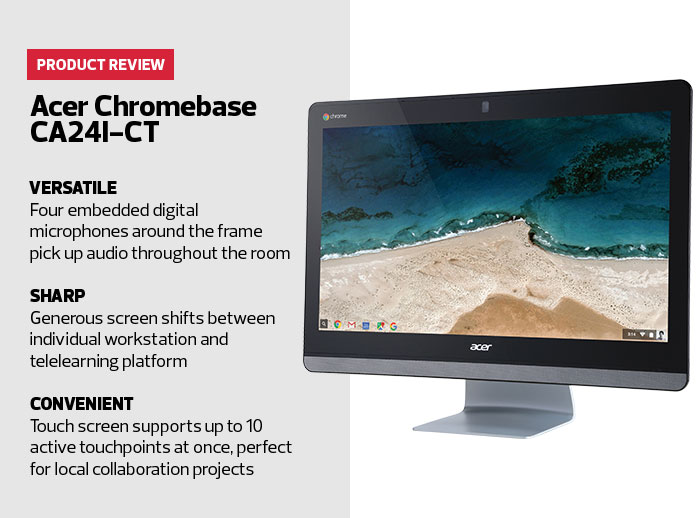 SPECIFICATIONS: Display 23.8-inch active matrix TFT color LCD, Dimensions 15.8x22.9x1.4 inches Weight 17.64 pounds, Processor 1.70GHz Intel Celeron 3215U Dual-Core CPU, Installed OS Chrome, Installed Memory 4GB DDR3L SDRAM
Up to Speed
The Intel Celeron 1.7-gigahertz processor works great with the Chrome operating system, providing more than enough speed to drive either productivity or multimedia applications. The boot time was less than six seconds, and even a taxing task like collaborating through Google Docs or streaming a high- definition movie through the gigabit interface never slowed the machine down in any of our testing.
Although the CA24I-CT would fit in well as a student or teacher workstation, Acer also optimized it for video, making this a high-performing, inexpensive video conferencing tool that instructors could use for distance learning or for hosting remote guest lecturers. Images and video are highly detailed on the LED screen, with its full HD native resolution of 1920x1080. Plus, the 178-degree viewing angle means that no seat in front of the Chromebase is a bad one.
Remote presenters might even feel as though they, too, are right there, thanks to the Chromebase's four embedded microphones, each pointing in a different direction. Those mics, together with the webcam, allow remote lecturers to see and hear what is happening in the classroom. In our testing, the unique sound-capturing setup allowed a remote user to clearly hear questions spoken at normal volume from the back of the room, 45 feet away.
The CA24I-CT runs off the Chrome OS and uses Google apps, so hard drive space is normally not an issue. The 16-gigabyte solid-state drive can support hundreds of apps. But if a user requires more space from a portable drive, or if a classroom has unique peripherals such as robots or 3D printers, these can be attached and charged in one of three high-speed USB 3.0 ports. The Chromebase also has a USB 2.0 port, though the keyboard likely will use that.
For $500, the Chromebase CA24I-CT offers a nice suite of educational features. It would be a good choice for almost any institute of higher learning.
More On