6 Tips on Migrating to the Cloud
Colleges and universities now understand the great potential of cloud computing, and for good reason. The cloud lets university IT departments move from a CAPEX model to an OPEX model, reducing costs along the way. But the potential benefits of the cloud far outweigh mere cost savings.
Moving to the cloud lets universities replace antiquated, patchwork systems spread across multiple colleges with the latest technology, which gets frequent updates and offers better security than any in-house IT department can deliver. IT staff can then devote time to building or provisioning applications that help students, faculty and staff be more productive.
Based on our experiences at Kent State University, here are six tips for colleges looking to deploy cloud applications.
1. Understand the Existing Environment
Start by taking a hard look at how IT spends time, what the work entails and what it costs. Then, review tasks and take an inventory of all the software applications and where they are in their lifecycle.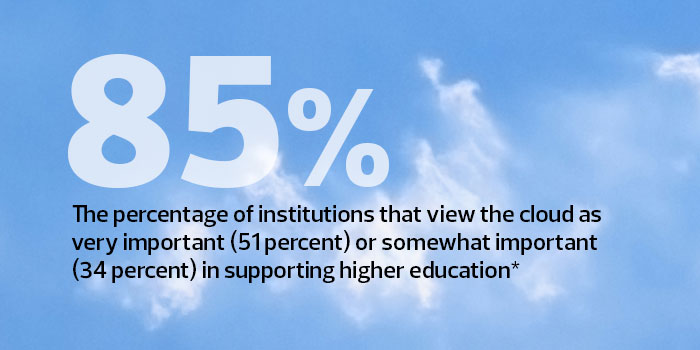 SOURCE: The Economist Intelligence Unit, "Ascending Cloud: The Adoption of Cloud Computing in Five Industries," March 2016
2. Get a Handle on Costs
Activity-based cost analysis can provide insight into the cost of operations. Once you understand these, it's easy to discern which operations run efficiently, which need work and which simply cost too much.
Based on our research, we found that we provided basic technology services, such as enterprise resource planning and back-end networking, quite well. However, we needed to improve on the innovation side. The growth of cloud computing had brought to market many new workflow and mobile applications that we just weren't taking advantage of, so we began exploring the purchase of Software as a Service apps. We also started researching Infrastructure as a Service applications for virtual servers and storage.
3. Roll Out Apps Logically
Once the team has an idea of costs, which functions to keep and which functions are good candidates to outsource, look for ways to free staff from routine tasks so they can spend more time on student-facing services.
For example, we moved our email system to Office 365 and started provisioning servers and storage with Amazon Web Services. The email move was a no-brainer. There was no reason for us to have in-house IT staff managing email servers when Microsoft could do it more efficiently. Amazon Web Services made it so attractive to provision virtual servers — and our research revealed so much unused capacity in our server farm — that it no longer made sense to run servers and storage in-house. Once we had email and virtual servers up and running, we focused on disaster recovery, archiving and backup. We also added Salesforce cloud-based customer relationship management, which we use to run recruiting and admissions applications, replacing legacy niche programs.
4. Take Advantage of Analytics
New analytics tools can mine unstructured data on everything from social media applications to the university's Domain Name Servers, routers and switches. That yields insight into usage patterns that will give the university a better idea of what apps it should develop next. Already, we've developed new mobile apps and a new time and attendance system that we run in the cloud.
5. Engage the Staff
Cloud computing offers many potential benefits, but too many organizations make the mistake of not retraining IT staff. Switching to cloud doesn't work if the rank and file IT staff are in fear of losing their jobs. IT management has to cultivate a positive climate in which the team accepts change and sees an opportunity to develop new skills and learn new technologies. The IT staff needs time to adjust and learn how to provision virtual servers, run analytics reports and think creatively about how these new applications can benefit the university.
6. Treat It Like a Business
Cloud services, such as those from Microsoft Azure, have matured enough that it makes little sense for our in-house IT team to continue to manage infrastructure. This leaves them free to focus on the fun stuff: providing new services that keep students, faculty and staff engaged and keep the college community growing and learning.
Dimitrios Stefanidis/Getty Images