Higher Ed Business Officers Lack Technology Insights, Survey Says
Survey results indicate that financial decision-makers don't have a clear view of how academic and administrative technologies perform, but faculty could help fill in the blanks.
Although colleges and universities continue to pump money into new technologies, survey data shows that many higher ed financial executives feel they're in the dark about the results of those investments.
According to The 2016 Inside Higher Ed Survey of College and University Business Officers, created in partnership with Gallup, 40 percent of business officers said they have enough information about the performance of academic technologies to make informed business decisions. Similarly, only 39 percent of respondents said they have enough information to make decisions about administrative technologies.
The findings, drawn from a survey of 386 business officers working at public and private institutions across the country, seem to reveal a lack of communication between departments.
Inside Higher Ed spoke with John Barnshaw, senior program officer and senior higher education researcher at the American Association of University Professors, to find out how colleges and universities can shed more light on technology performance.
"If an institution is going to move forward, it's important that budget officers reach out to the faculty in real, cogent ways," he told the publication. "I often hear from budget officers that faculty have no idea. Those budget officers can educate, and faculty members can probably educate budget officers."
But not all business officers who participated in the survey shared Barnshaw's view. Results indicate that financial officers working at institutions that don't involve faculty in budget talks were less likely to put stock in their insights; the opposite was true at institutions where faculty play a meaningful role in budget discussions.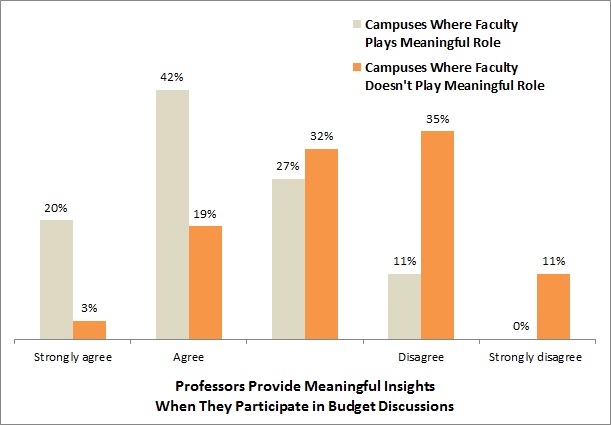 SOURCE: Inside Higher Ed
"That is a tremendous opportunity for education of business officers," Barnshaw told Inside Higher Ed. "Faculty actually know a lot about their subject areas, and they have a lot of connections in the communities in which they work."
Anastasiia_New/ThinkStock