College Students Experiment with Virtual Reality
Innovative course curricula at three higher ed institutions give students hands-on practice with virtual reality.
Virtual reality may be in its infancy, but higher ed institutions have already begun testing the limits of the technology, which research firm Deloitte predicts will generate more than $1 billion in sales this year.
One institution getting on board with VR innovations is the University of Maryland, College Park, which launched its first class on virtual reality this semester. The program gave 29 students the opportunity to design their own interactive world, work with 3D audio and experiment with immersive technology through a combination of hands-on learning and case studies.
Earlier this month, students presented their final projects to adjunct lecturer Derek Juba and professor Amitabh Varshney, who directs the school's Institute for Advanced Computer Studies. Varshney is deeply involved in the university's VR and augmented reality test facility, known as the Augmentarium.
Those projects included everything from interactive games to virtual tours of the Maryland campus.
"It was amazing to see the quality of the demos that came out of the class and lab sessions in a relatively short period of time," says Galen Stetsyuk, a sophomore computer science major who took the course.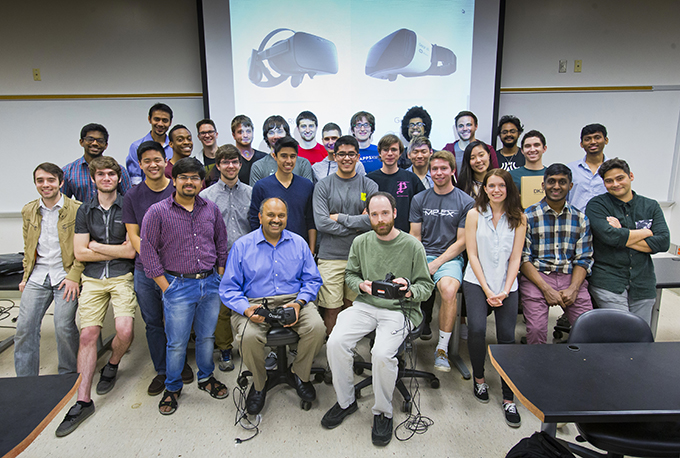 Varshney and Juba pose with the students of the university's first class on virtual and augmented reality. SOURCE: University of Maryland
Maryland is not the only institution to throw its hat into the VR and augmented reality ring.
According to an article in student newspaper The Red & Black, the University of Georgia has for years offered a similar class that lets students explore useful applications for VR, especially through the course's final project.
"The objective of the project was to work with a customer either on-campus or off-campus, somebody in the real world, and build something that they wanted," associate professor Dr. Kyle Johnsen told the paper.
Shifting focus from VR's practical applications to its creative ones, Emerson College in Los Angeles kicked off its first-ever VR filmmaking course in January. The curriculum offered aspiring filmmakers hands-on practice with multi-camera shooting equipment and editing software.
"This course presented a timely opportunity for us to pilot something truly innovative and unique that could have a tremendous impact on the college and our students going forward," Dr. Mikhail Gershovich, the college's director of academic planning and digital learning, said in a statement.
"Because the language of narrative storytelling in VR is only just beginning to emerge, this course offers our students a chance to contribute meaningfully to the development of a new art form — and that's rare and exciting," he added.
University of Maryland
More On