Google Helps Researchers Collaborate on the IoT's Future
Collaborations between technology companies and higher education are on the rise.
The Internet of Things (IoT), a growing ecosystem of connected devices, is on the horizon. But even the top tech companies in the world are still trying to discover what the opportunities will be.
To that end, Google has invited select university researchers to join its efforts in exploring this new technology through its Internet of Things Technology Research Award Pilot. Candidates who make it through the pilot will tinker with what Google is calling the "building blocks" of the IoT.
"This pilot provides selected researchers in-kind gifts of Google IoT related technologies (listed below), with the goal of fostering collaboration with the academic community on small-scale (~4-8 week) experiments," according to a February post on the Google Research blog.
Technologies given to researchers include a Google beacon platform, Nearby Messages API, OnHub routers, Google Cloud Platform IoT Solutions, Chrome Boxes, Kiosk Apps and more. Researchers would be using these devices in conjunction with their own studies to discover what can be done with Google's IoT offerings.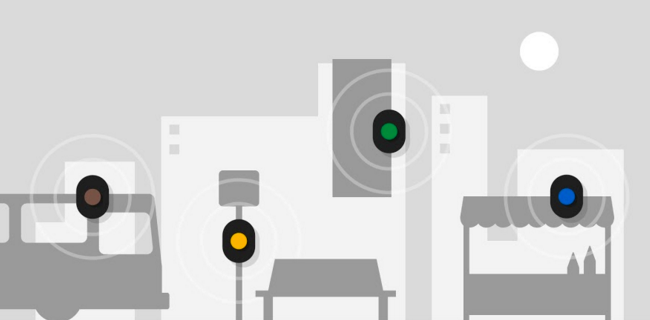 Google beacons are among the devices IoT researchers will experiment with.
Collaborations between technology companies and higher education are on the rise. In August, Georgia Tech announced a collaboration between its Center for the Development and Application of Internet-of-Things Technologies and experts from AT&T, Samsung Electronics and Airwatch. The team will study the effects of the IoT and determine how to prepare for the new wave of connected devices.
The International Data Corp. (IDC) projects that IoT spending will leap from the $655.8 billion seen in 2014 to $1.7 trillion by 2020, the year in which Gartner Inc. predicts that 26 billion devices will be connected to the Internet.
Meanwhile, IoT-powered devices have been popping up on campuses across the country, and some institutions are implementing them into curriculum. 
At Oral Roberts University, in Tulsa, Okla., incoming freshmen are put on a strict fitness regimen monitored by Fitbit wearable devices. A minimum of 10,000 steps each day is required of students, whose physical activity is fed into the university's learning-management system, BrightSpace, effectively making their fitness data part of their grade book, according to a post on the university's website.
Photo: Google