Shifting Sands: The Top 10 IT Issues from 2000–2015
An interactive graphic from EDUCAUSE shows the death and resurrection of the most dominant tech issues in higher education
In the frenetic world of higher education IT, the top issue of the day might not have even been on the radar five years ago.
Fresh from publishing 2015's Top 10 IT Issues, EDUCAUSE has released an interactive graphical chart that tracks how these issues have risen and fallen over the past 15 years. It lends some historical context to the ever-changing tide of dominant IT issues.
Among the notable changes in trends across the years: 2015's top IT issue, evolving IT staffing models, was dormant for 10 years, before reappearing in 2012. Analytics didn't appear on the Top 10 list until 2012, and, though important to higher education institutions, analytics dropped completely from EDUCAUSE's 2015 list.
Susan Grajek, EDUCAUSE's vice president for data, research and analytics, told EdTech it's not that institutions are paying less attention to analytics, but that the attention of IT officials is expanding. This broadening attention to technologies on multiple fronts exemplifies another aspect of the inflection point higher education reached in 2014.
"We're not just climbing a mountain, we're trying to traverse a mountain range," Grajek says.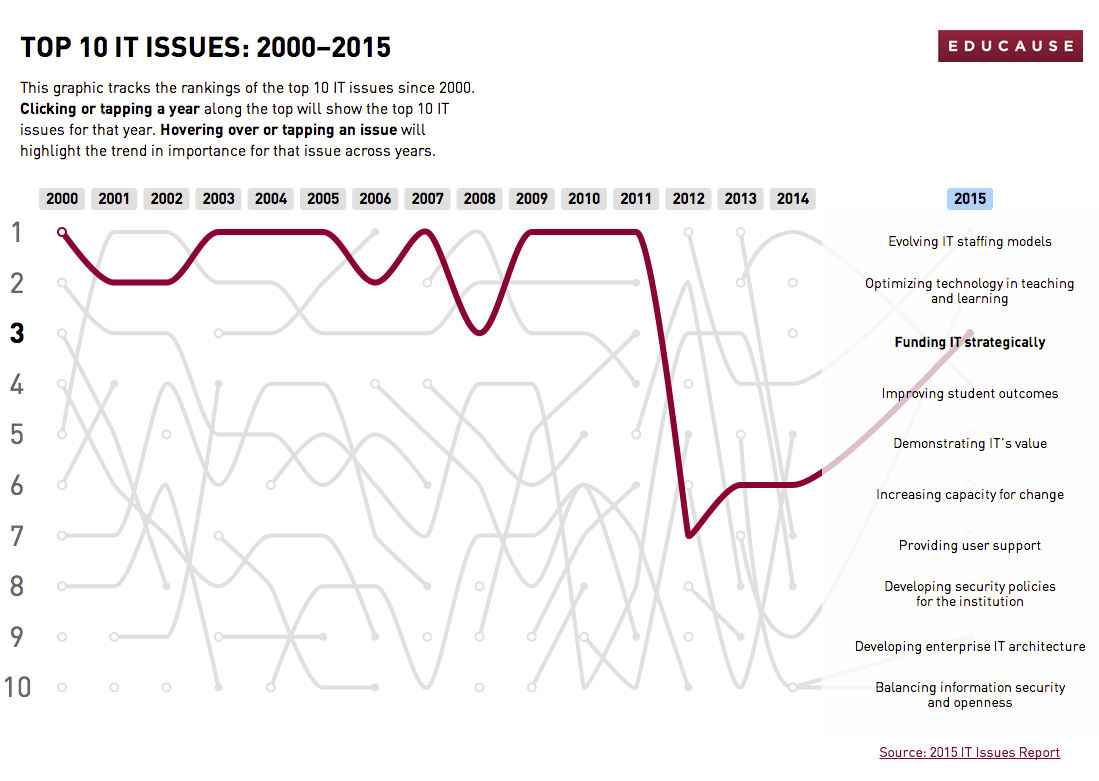 EDUCAUSE