EdTech Interview: UL Lafayette's Ramesh Kolluru
Technology is more critical than ever to the success of academic research.
When Dr. Ramesh Kolluru was named the new vice president for research at the University of Louisiana at Lafayette earlier this year, he brought with him a decidedly technology-focused bent to the position. His background in computer science, informatics and data analysis makes him keenly aware of the importance of leveraging new, high technology in support of research projects that can bring in critical dollars to fill public-funding gaps.
He joined the University of Louisiana at Lafayette 21 years ago as a graduate student and later became a research scientist. Today, he oversees all 16 of the university's research centers and is collaborating with other campus leaders to develop a new master plan for research — one built on a strong computational foundation — aligned with the institution's strengths as well as the state's economic development and higher education goals. During his career, Kolluru collaborated with other faculty and researchers to generate more than $42 million in external research and development funds in support of 172 graduate and undergraduate students.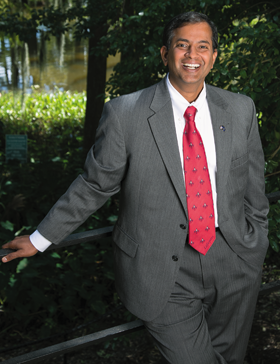 Photo: Kathy Anderson
Ramesh Kolluru says IT and research must collaborate to ensure the success of future research programs.
EDTECH: As you head up all of the research and help the ­university plan to properly assist researchers in all ­disciplines, what role does ­technology play?
KOLLURU: We are now conducting a lot of research in the area of Big Data and understanding how corporations can use data to make decisions and develop tools to help organizations and the private and public sectors get unique and meaningful insights into their own data. Shame on us if we don't practice what we preach, right? For us to develop a strategy and a vision, we need to understand where we are today, and we went through a very deliberate, very intentional process of identifying truly what our strengths are as an institution, and that was all driven by data.
Nationally, research universities pride themselves in where they are ranked by the National Science Foundation (NSF). Increasingly, funding from industry, and not just federal agencies, is also a unique aspect of how universities measure themselves and promote their alignment with business and industry and, more broadly, their economic development contributions. Universities are stewards of development and are increasingly expected to contribute and innovate, working with business and industry, technology transfer and all of the good things that follow from industry engagement. That is initiated in many ways by investment from industry into the university's research programs.
As we began the data discovery process internally, we realized something that we didn't know about our own program, and that is that 33 to 37 percent of our research funding came from industry, placing us 10th in the U.S. according to the NSF's rankings.
We are committed to research for a reason, and on a daily basis, we find our faculty working with a graduate student in his or her lab. But you will also see a person wearing a T-shirt with the logo of a company working in our laboratories on a daily basis. And that has been the DNA. That has been the culture of our university.
EDTECH: Are you collaborating to fill those ­technology needs?
KOLLURU: That's a big question. We were having this conversation recently with the university's CIO, Gene Fields, because some of our research centers are very specialized. One of our centers, the Center for Business and Information Technologies, does a lot of work in health information technology, which means that they deal with data that is required to be handled in compliance with HIPAA [the Health Insurance Portability and Accountability Act], FERPA [the Family Educational Rights and Privacy Act] and so on. We have another center, the Picard Center for Child Development and Lifelong Learning, which focuses on early childhood, working with student data and building a longitudinal data system that allows us to identify how we can improve educational outcomes for our children in the state of Louisiana.
Inherent in the mission of that center is the ability to understand connections in the data and identifying opportunities for intervention if students are not doing well, which means, again, we are handling student data that is personally identifiable information.
As those research programs began to grow — and nationally, as the requirements for HIPAA and FERPA began to grow — we got into a situation where folks who got into this business suddenly had to become very conversant and familiar with IT security and data security. We realized that this is not organic to their skill set; this is not why they got into research in the first place.
We are in the process of developing the concepts of a scientific and computing research program, which centralizes all of those functions within our CIO's office because they already have the infrastructure and the expertise to manage the enterprise, and to handle data in a secure manner, providing services not only to various programs of the university but also to various researchers.
If one of our Big Data researchers wants to have the CIO's office provision a Hadoop cluster, we should be in a position to provide that service so they don't have to buy a cluster of Linux nodes and try to structure them to build their research programs on top of those.
EDTECH: Please share more with our readers about your long history with the University of Louisiana at Lafayette.
KOLLURU: I came here back in 1992 as a graduate student to pursue my master's degree and Ph.D. in computer science because the university — it was called the University of Southwestern Louisiana at the time — had a very strong computer science program through the Center for Advanced Computer Studies. It has always been a technology-leading university. The nation's first master's degree in computer science was offered here back in 1962. The list of technology firsts or computing firsts in this university is long, and I wanted to be part of that.
I got my Ph.D. in 1996, and I was all set to go to the San Francisco Bay area and pursue opportunities there that I already had lined up, when the president of the university, in the middle of the graduation ceremony, stopped and said, "Why don't you finish a couple of projects," ones that were funded by industry and the NSF at the time, part of my research and dissertation. When the president of your university asks you to stay, you don't have much of a choice.
It has been a great journey. This is a university that is as much modern, in how it is a technology pioneer, as it is traditional, in how it integrates people from across the globe into its Ragin' Cajun family.
I have had the good fortune of applying computing and technology to various research centers and research initiatives and problems. I have been in a position where I have found myself able to contribute to the growth of the research programs of the university. We have some phenomenally strong, capable researchers who are focused on following some of the toughest basic research problems.