How to Break Into the Educational App Marketplace
A dental student found success by exploiting a weakness in the test prep market.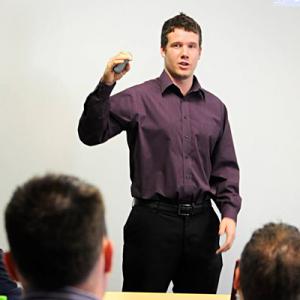 Photo by Jason Nelson
Alec Whitters
The way students prepare for tests is changing, thanks in part to a new digital industry still in its infancy: apps as study tools.
The prevalence of smartphones and tablets on college campuses is no secret. A 2013 report by College Explorer found the average college student owns seven Internet-connected devices, with tablets ranked as the highest-bandwidth consumers on campus.
One of the highest-grossing developers of educational apps today is Higher Learning Technologies, which made its name helping dental and nursing students use their phones and tablets to prepare for their industries' most stressful standardized tests. Forbes and Inc. recently featured the company because of the waves it's making in app store marketplaces.
HLT's apps test users' knowledge of exam material with questions like those they'll have to answer. As they answer, the question lineup evolves to suit a student's needs.
The company's CEO, Alec Whitters, got his start in the world of app development while preparing for his dental licensure exam. As the test day loomed on the horizon, he was shocked to find he couldn't use his smartphone or tablet as a study tool.
He reached out to publishing companies to try to convince them they needed a mobile study solution, but they dismissed it as "a dumb idea," he says.
"At that moment, I decided if no one else would do it, then I would have to," Whitters says. "I knew it was something students needed."
Two of his best childhood friends helped him: Adam Keune, a business major, and Ben O'Connor, a doctoral student. The trio began development on its first app, Dental Boards Mastery, which was released in 2012.
"It was one of the most exciting times of my life watching those early downloads and sales," Whitters says.
By May 2013, they had released their second app, a study tool for the nursing licensure exam, NCLEX RN Mastery, which became the top-grossing educational app on iOS and Google Play, which ranked in the top 125 grossing apps overall.
A year later, HLT has five apps under its belt, and Whitters has raised $1 million in seed investment funds to grow the company. Most of the apps' users are between the ages of 20 and 30 and in professions that have high-stakes licensing exams. The platform's price and portability appeal to students of that age, Whitters says.
"You no longer need to attend an expensive class, carry heavy books or unorganized flash cards; all you need is a phone or tablet," he says.
But not everyone has the chops for the highly competitive app marketplace. Whitters says it takes a balance of quality technology, content and marketing to successfully launch an app. It also takes persistence.
"Updating products once a year is no longer enough; tweaks and changes must be frequently done," Whitters says. "Constantly search for a better way of doing things by challenging assumptions, thinking outside the box and testing new ideas."
Shutter_M/ThinkStock
More On