The Bulletin: What's Happening in the World of Higher Ed Technology
EdTech compiles the most important news, tips and social trends impacting higher ed IT today.
Mobile Matters: Mobility, Illuminated
Campus IT leaders, university administrators, professors and students all rely heavily on mobile devices to do their jobs, complete assignments or research and collaborate with peers. Others are just beginning to explore how mobility — and the anytime, anywhere connectivity and productivity it enables — can enhance their higher ed experience.
Technology Insights — a new app available from CDW — is designed to educate and engage all types of users when it comes to all things mobile. Multimedia assets are organized and tailored to four user profiles: Novices will find the content available along the "Apprentice" track especially helpful, whereas tech-savvy IT leaders will benefit most from content provided along the "Early Adopter," "User" and "Expert" tracks.
224
The number of grants and awards currently available for higher education instructors and institutions at GetEdFunding.com
What's your mobility profile? Which resources will facilitate your mobility journey? Find out by scanning the QR code at left, or visit edtechmag.com/higher/app.
Groundwork for a Mobile Future
The College of Lake County serves more than 18,000 full-time students across three campuses, and roughly 750 faculty and staff. Until recently, it wasn't able to provide network services as well as it wanted to, Director of Technology Services James Senft says.
The Grayslake, Ill., college recently upgraded backbone infrastructure from 1 Gigabit Ethernet to 40 Gig-E, added new wireless controllers and increased the number of access points by nearly 50 percent — all on time and under budget. 
Find out how by watching our video: edtechmag.com/higher/groundwork-video.
Pre-2008 Funding Restored?
The latest EDUCAUSE Core Data Service survey shows that recent central IT budget increases appear to compensate for the major cuts that dominated fiscal years 2008–09 and 2009–10. Changes in ­central IT funding per full-time employee at all U.S. institutions (­fiscals 2004–05 through 2012–13):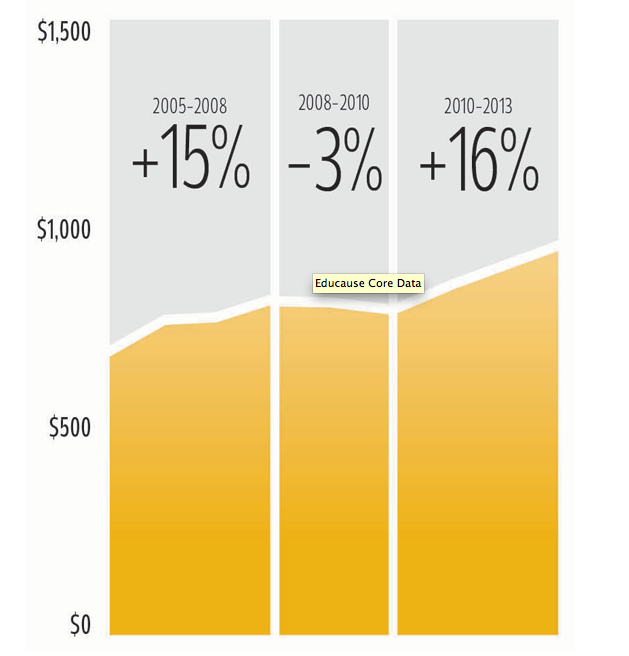 The full 2013 CDS Executive Summary Report, released in February, is available online at net.educause.edu/ir/library/pdf/PUB8010.pdf.
Social Barometer: Listen and Learn
"I just don't see disruptive innovation as a good guide for investment in education." @mfeldstein67 (Michael Feldstein, blogger and Co-Publisher, e-Literate; Partner, MindWires Consulting, Great Barrington, Mass.)
"The 'problem' with flipped learning is not the students." @EmergingEdTech (Kelly Walsh, CIO, The College of Westchester, Westchester, N.Y.)
"BYOD has become part of the fabric of enterprise tech, the 'grid,' if you will. It no longer requires its own dialogue. #BYOD #CIO" @S_dF (Stephen diFilipo, Vice President and CIO, Cecil College, North East, Md.)
"Campus myth overheard: 'People only use ebooks when the library is closed.' " @BryanAlexander (Bryan Alexander, Senior Fellow, National Institute for Technology in Liberal Education, Georgetown, Texas)
"#highered IT organizations need the opportunity to innovate in order to challenge and improve paradigms." @educause (EDUCAUSE)
<p>Jurgen Ziewe/Corbis</p>
More On