How to Deploy an Enterprise-Class Wireless Infrastructure
Colleges need powerful networks to support mobility and productivity.
The emergence of mobile technologies has forced organizations to seriously consider the state of their wireless networking infrastructure. Serving mobile users requires an agile, scalable wireless network infrastructure.
In terms of upgrades, IT leaders intend to refresh and expand their wireless networks. Many Surveying Your Network respondents plan to refresh their wireless infrastructure and add wireless access points, with the goal of bringing them under centralized wireless controllers, supporting more service set identifiers (SSIDs), and improving throughput and coverage.
"The current wireless routers that we're using don't give the range or management options that we need at some of our sites, so we're upgrading," said an IT manager at a large healthcare organization.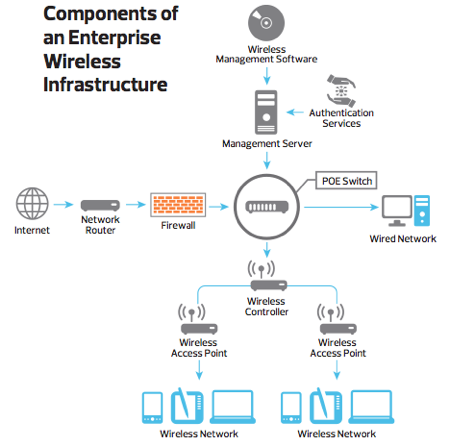 To deploy an enterprise-class wireless infrastructure, IT leaders should follow this five-step process:
Identify requirements. Defining the needs of a wireless network starts with reviewing coverage and security. Coverage dictates where and how fast the network will operate, while security dictates how different users will connect and what access controls will apply to each.

Conduct a site survey. This determines the appropriate number and placement of access points.

Select products. Many IT chiefs opt to simplify acquisition by choosing their wired network vendor to handle wireless too. Because engineering practices discourage merged wired and wireless networks, IT should explore all options.

Installation. Installing wireless equipment generally involves new cabling, patch panels and Power over Ethernet, as well as testing, verification and (possibly) enterprise integration requirements.

Management and tuning. After access points have been installed, a second site survey will verify network performance. Dead spots and other issues may require moving or adding APs.
Organizations can make sure wireless investments pay off by employing these implementation best practices:
Adopt fully managed wireless solutions. Wireless controllers that treat the network as a single organism (rather than a collection of APs) simplify management, configuration and upgrades.
Manage proactively and prioritize usage. Network administrators should identify problems before they can affect performance or access to services.
Enforce smart guest access policies. While enabling guest access to the wireless LAN (WLAN) is important, it should be restricted. IT should make the connection process straightforward and simple, avoiding approaches that require users to register or request a temporary user name and password.
Download Top Network Optimization Projects for 2014 for more information.
<p>iStock/Thinkstock</p>