A Comparison of Five Popular MOOC Platforms for Educators
There are a number of good options for educators looking to build their own MOOCs. Here is a look at five of the most interesting platforms.
By the end of 2013, most top universities had started to offer some sort of MOOC (massive open online course). Now, we are starting to see the MOOC product move into both the corporate and the private realm. Companies like Google and Tenaris are using MOOCs for training their employees, MongoDB is educating developers through the MOOC medium and thousands of private instructors are teaching classes on sites like Udemy.
If you are considering a MOOC for yourself or your organization, you'll first need to determine which tool you will use to build the course. The following is an assessment of five popular free MOOC (and MOOC-like) platforms.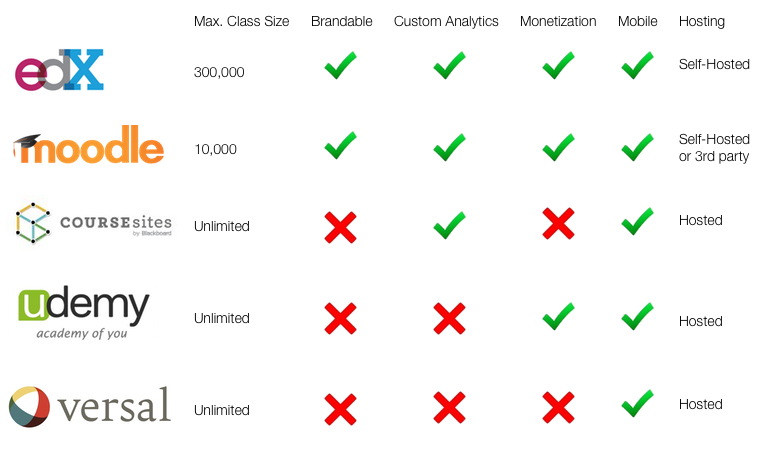 EdX is an open-source platform offered by edX.org. It is the same platform that universities such as Harvard and MIT use to offer courses to 100,000+ students. It was released as open source in March 2013, and the goal was to act as the WordPress for MOOC platforms, allowing users to use plug-ins to expand the core functionality. edX has a fast, modern feel, with the ability to accommodate large enrollments.
edX is suitable for organizations that want a modern, flexible, robust course-management platform. Although it is open source, investment will need to be made in both installation and some maintenance. But the return will be a platform that can provide best-in-class content to thousands of students.
Moodle is an open-source learning management system (LMS) that allows users to build and offer online courses. It was built for traditional online classrooms rather than MOOCs, which attract a large number of students. It tends to be easier to install than edX, and there are hosted or one-click install options available.
Moodle is suited for organizations that want a full-featured, customizable LMS. The platform offers more than edX in terms of educational tools, analytics and SCORM compliance. The trade-off is that the platform is over 10 years old. The number of configuration options can be daunting, and system performance suffers with larger numbers of students.
CourseSites by Blackboard is an exceptionally robust platform. It has most of the features that Moodle has, including extensive teaching tools, reporting features and SCORM compliance. It is also cloud-based. You can set up a course in minutes and never have to worry about maintenance or upgrades.
The service is free for up to five live courses, and Blackboard has given no indication that this will change. The trade-off seems to be that your courses are branded with the Blackboard logo, and your students must register with Blackboard in order to join a course.
CourseSites is a good option for individuals — for example, a teacher who wants to migrate part of a curriculum to an online format — or organizations looking to start experimenting with online courses without having to install anything . The five-course maximum and the inability to brand your course place limitations on how this platform can be applied. But with the lowest maintenance costs and the highest number of features, CourseSites is a good option.
From the beginning, Udemy has specialized in the private MOOC. Think of it as the YouTube of MOOCs. Instructors can build and host their own courses on the platform and then offer them to users for free or for a fee.
Udemy is for individuals who want to easily build basic courses and monetize them. The platform is full of coders, photographers, designers and other specialists who offer their knowledge in the form of an online course. Udemy's most distinct strength is its base of 2,000,000 registered students. When you build a course on Udemy, you are able to reach this pool of potential students.
Versal is an intriguing new platform. Its major strengths are a sleek, intuitive user interface and a robust drag-and-drop functionality. A user can sign up for free and then build a course that includes mathematical expressions, image drill-downs and many more widgets, all without any coding knowledge. Users can also embed their published courses on other websites, such as personal blogs.
Versal can't fairly be called a MOOC platform, because it lacks certain MOOC elements. In particular, there is currently no forum or discussion functionality. Instead, it can be thought of as a strong tutorial platform.
Versal is most suited to individuals who want to quickly build sleek tutorials — for example, a teacher who builds an assignment for his students, or a musician who builds a short course on music theory and posts it on his or her blog. Versal is a young product, and the company is planning to develop some of the features that its platform currently lacks. This is one to keep an eye on.
Which platform you choose depends on what assumptions you make about your course. Most of these platforms offer demos on their site. It helps to be able to play around in a course and try to imagine your content with a similar look and feel. Finally, don't worry about changing your mind early on. These platforms all rely on much of the same content (YouTube videos, PDFs, quizzes, etc), so it is easy to migrate a course halfway through the building process.
<p>iStock/Thinkstock</p>