Colleges Sharpen the Educational Experience with Classroom Technology
Technology brings the arts, sciences and humanities to life on campus.
Colleges and universities understand that technology generates excitement among students and faculty and can ­significantly improve teaching and learning on ­campus. But that's not all.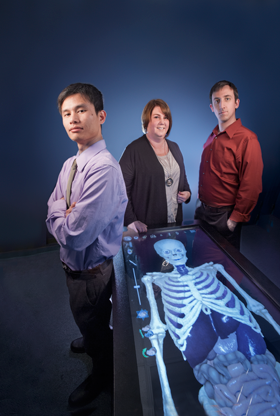 Aric Huang, Theresa Eggleston and Mike Rocke are transforming the anatomy labs at the Southern California University of Health Sciences
Photo: Thomas Alleman
While technology tends to represent change, that change is often for the better, says Theresa Eggleston, executive director of information technology at the Southern California University of Health Sciences (SCU) in Whittier, Calif.
Until a year ago, Eggleston says, technology in the university's anatomy lab consisted of 20-inch CRT monitors that were well more than a decade old.
"We're talking VHS stuff," says Mike Rocke, SCU's information systems manager. "I don't even think they were used that much."
"We're talking VHS stuff."
Access also was a problem, Eggleston says: "Students used to crowd around the lab table when the professor was doing a dissection on a cadaver and very often had a hard time seeing what was going on."
All of that changed in August 2012, when SCU undertook a major upgrade in its anatomy lab.
Now, ceiling-mounted Sony pan/tilt/zoom cameras deliver close-up views of dissection demonstrations, which students can also watch on Sony flat-screen TVs. New Wyse thin clients enable small groups of students to easily view supplemental materials. A standard PC that serves as a controller run by a lab assistant and a Kramer Electronics video switch that controls the cameras and TVs round out the anatomy classrooms' new technology package.
"In the past, where professors would show a generic video of a dissection, now they can broadcast what's happening throughout the room and supplement the experience with other visuals," Rocke says.
While the technology was fairly easy to install, one lesson Rocke's team had to learn was how to make the technology easy to use. In the beginning, IT had professors operate the Kramer video switch to manage ­classroom cameras, but everything worked more smoothly after lab assistants were trained to use the switch to manage cameras via a web-based interface.
"The other thing we learned along the way was that the instructor really needed a lab assistant on hand," Rocke says. "It's just too much for an instructor to teach the class and manage all of the technology."
Across the Board, Tech Is a Top Priority
Data from the fall 2013 Campus Computing Survey show that CIOs view support for faculty efforts to integrate instructional technology as a top institutional priority over the next two to three years, says ­Kenneth Green, founder of the Campus ­Computing Project, which performs the annual survey. CIOs also cite the leveraging of IT in support of student success and improved graduation rates as another top campus ­priority, Green says.
"Although CIOs can provide core infrastructure support, overall the instructional IT efforts are driven by faculty who want to use IT resources that will engage students and help make the course content and learning experience 'sticky,' " Green says.
This past year, SCU also updated its diagnostic imaging lab with the aid of 34 Wyse terminals and 35 24-inch HP monitors. Associate System Administrator Aric Huang had a big hand in modernizing the lab, using Linux-based software to broadcast the university's library of images to the Wyse terminals, Rocke says.
79%
The percentage of IT managers at colleges who say assisting faculty to integrate technology into instruction is a top priority
SOURCE: The Campus Computing Survey (The Campus Computing Project, October 2013)
"What we found was that the Microsoft MultiPoint server could support only 12 terminals per node, and we needed to support 34 Wyse terminals, plus a main controller," Huang says. "The Linux software was more robust and could do what we needed."
Huang also developed a mobile app — through a combination of PHP scripts, HTML5 canvas tags and JavaScript code — that enables professors to be more mobile within a lab while using a tablet. When a student has a question, an instructor can use the app to circle an X-ray and then send the image directly to the student's Wyse terminal.
Rocke says SCU has plans for several more technology projects, including replacing 5-year-old servers with virtualized HP blades and an HP storage area network; adding Aruba wireless access points campuswide to ­bolster access; and deploying 72 Lenovo ThinkPad ­Tablet 2 units to the health center.
Bringing Science Up to Snuff
At Washington and Lee University in Lexington, Va., head of biology and Howard Hughes Medical Institute (HHMI) Program Director Helen I'Anson says those now working in the sciences "have to do a better job making the sciences accessible to nonmajors."
As such, she has a clear vision for the university's new IQ Center, which opened last fall.
"All of our students have to take at least three science and math courses, so we thought that one way we could reach them was through the technology in the IQ ­Center," I'Anson says.
Funded through two HHMI grants totaling more than $2.3 million, the center already is being used to teach courses in forensics, English and Latin.
"There's also a course in conservation art taught by a chemistry professor, in which he combines science with art history," I'Anson says. "We've just started with these new technologies, so it's very much an experiment in action."
The IQ Center consists of four main facilities — a stereo 3D lab, 3D visualization lab, physical/mechanical lab and an imaging suite — says the center's coordinator, David Pfaff. Two of the labs highlight computer technology, while another boasts a grid in the ceiling that supports heavy loads as well as high-speed cameras and a motion capture system, which enables high-speed motion experimentation. The imaging lab allows students to work with a wide variety of microscopes. And Pfaff and his team can transmit live images of anything in use to the visualization lab next door.
The 3D visualization lab has made it easier for more students to view experiments taking place within the five microscopy suites. Pfaff says the technology team has run video feeds from the suites to a Crestron switch in the visualization lab. The switch connects to two ­Panasonic projectors in the visualization lab, which display the experiments on a single 16-foot-wide screen.
"These are expensive instruments, and we want to get as much use out of them as possible," Pfaff says. "In the past, they were behind closed doors in the various departments; now they are available to all of our undergraduate students."
As I'Anson points out, students and faculty are limited only by their imaginations.
Discover how the University of Colorado Boulder's Residential Academic Programs are leveraging new technologies to connect with the world.
ayvengo/thinkstock
More On