A Closer Look at Metropolitan Community College's Tablet Deployment
MDM solution helps Metropolitan Community College administer its mobile device program more effectively.
At Omaha, Neb.'s Metropolitan ­Community College (MCC), history students are ­traveling back in time and perusing the streets of 1850s London — without ever ­setting foot outside the classroom. Meanwhile, in the car shop, prospective automotive technicians can be found tinkering with engines without having to ­remove a single piece of equipment from under the hood.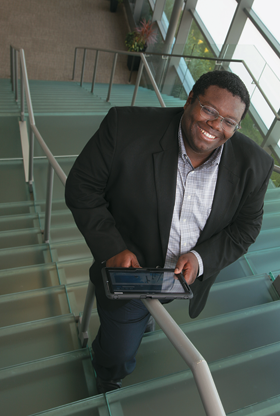 Metropolitan Community College's Clifton Pee credits the deployment of a mobile device management platform with helping the college's tablet program to thrive.
Photo: Paul S. Howell
Thanks to a tablet pilot program that has placed a variety of specialized apps in the hands of students, MCC is presenting these members of the future workforce with unique, high-quality learning opportunities. Serving some 45,000 students per year at eight locations across the greater Omaha area, the college seeks to ­deliver lifelong educational programs designed to stimulate economic and workforce development. The mobile device management (MDM) platform that enables MCC's mobile program to thrive, MobileIron MDM, was implemented late last year.
"This program is absolutely enhancing the learning process in the classroom."
"This program is absolutely enhancing the learning process in the classroom," says Clifton Pee, MCC's director of IT networking services. "Students have access to great tools that are allowing them to learn a variety of concepts in a much better way."
While MCC does not currently support personally owned student devices or a BYOD program, Pee says the college may begin accommodating this trend within the next few years.
"We're trying to meet the needs of our students," Pee says, "but first we wanted to make sure all of our faculty were up to speed and ready."
Full-Service Mobile Management
A key part of the preparation involved deployment of the MobileIron solution. In addition to implementing the Virtual Smartphone Platform (VSP), MCC also relies on MobileIron Docs@Work to provide end users with a more intuitive way to access, store and view documents, while allowing administrators to establish data loss prevention controls to prevent unauthorized distribution.
"We thought MobileIron gave us a great platform for administering the student tablets and allowing us to keep track of where they go," Pee says. "It also is a great tool for deploying software and being able to reclaim the asset if it is ever misplaced and isn't returned."
Because the devices are checked out for periods of up to two years, the college was seeking a way to effectively keep tabs on them, a solution MobileIron provides.
"Our faculty members have the responsibility of managing these devices and checking them out to students," Pee says. "This solution gives them the peace of mind that we've got them covered."
The platform also allows IT administrators to remotely wipe a faculty member's device if it is ever lost. App management, another critical advantage, also is provided through MobileIron MDM, enabling MCC to secure devices to ensure students cannot install their own apps.
"The tablet is really designed for a single user," Pee says, "but we are using them in a multiuser environment and need to be able to oversee exactly what is placed on them."
It's equally easy for the college to install apps onto checked-out devices through MobileIron's App Delivery Network, which boasts multilevel end-to-end security to protect enterprise data. And MCC can readily ensure all devices are in order and ready for the next class or term.
"In the middle of a term, a teacher might find a new app and want access to it the next day," Pee says. "We can get that app to students wherever they are immediately."
One-Stop Devices
Peter Landmark, an instructor in MCC's paramedic program, says that one of the greatest benefits of the tablet deployment has been giving students the ability to instantaneously "access a wealth of information, in a format that is portable and surprisingly interactive."
Landmark's class relies on several apps that have been specifically selected for the paramedic course, including Epocrates Rx and Medscape Mobile, both free pharmacology references that are continuously updated with new information. For the cardiac section of the course, students use the Heart Pro III app, which includes a 3D rendering of the human heart that students can manipulate to further their understanding of anatomy and physiology.
Everything in Its Place
None of the recent learning enhancements in place at Omaha, Neb.'s ­Metropolitan Community College would have been possible without the security and ­manage­ability afforded by the ­college's MDM solution.
"MDM allows organizations to provide secure mobile access to corporate IT resources on smartphones and tablets," says Vikrant Gandhi, a principal analyst at the market research and analysis firm Frost & Sullivan. "With MDM solutions, IT can manage the lifecycle of mobile devices — and users — from the time they enter an organization to the time they leave the IT environment.
"Aspects such as device configuration, privacy management, data security and data loss prevention, device compliance, user identity management, and support are part of providing MDM."
Without MDM, it can be extremely difficult to provide for managed mobility implementations, Gandhi says.
"We've gotten great input from our faculty, staff and students on the program," Pee says. "It's nice to know that one of the pieces is complete as far as the tools for security and management."
Wavebreakmedia Ltd/thinkstock
More On