What Is the Future of Residential Networking on College Campuses?
The increased demand for bandwidth raises a number of questions about everything from tuition to tablets.
College students demand wireless Internet access. Are colleges delivering?
The Association for Information Communications Technology Professionals in Higher Education (ACUTA), in partnership with the National Association of College and University Business Officers (NACUBO), has just released its "2013 State of ResNet Report." The survey examines the challenges involved with "supporting connectivity demands and maintaining high standards of quality, stability and security - all while optimizing capital expenditure and staffing needs."
The term ResNet, short for residential networking, has attracted increased interest over the past 15 years, as students' bandwidth needs have grown. The surge in mobile devices, Wi-Fi–enabled video-game consoles, smart TVs and the ever-present laptop has caused IT departments to re-think the way they approach networking. There is little research on this topic, so ACUTA hopes the second annual survey will help to build a body of data that will assist colleges in making smart choices when it comes to networking on campus. The survey can be downloaded here, but below you will find a few key points.
Which Devices Use the Most Bandwidth?
There are so many different devices that currently require bandwidth. In the future, will refrigerators and thermostats be on this list? For the time being, most of the survey respondents believe that tablets will demand the most bandwidth:
In 2012, 90% of responding colleges said they expect tablets to consume the most bandwidth in the years to come. Other top consumers included smartphones (85.6%), iPod/iPod Touches (76.4%), and game boxes (75.5%).

In the 2013 study, the question was altered to ask respondents, "How do you expect the following network-enabled devices to affect bandwidth consumption in the coming years?"
Here is a snapshot of the results:

Is Your Campus Covered?
Delivering access to dorms is not the biggest challenge college IT professionals face. The goal of most universities today is to give students Wi-Fi anywhere on campus. After all, what good are those laptops and mobile devices if they aren't connected to the web? ACUTA asked colleges how much of their campus had access to a strong wireless connection. Less than half of the colleges reported more than 80 percent coverage; 12 percent reported that less than 20 percent of their campus has Wi-Fi. The survey also breaks down which areas of campus are covered:
Nearly all campuses provide wireless access in their residential halls, including student rooms and suites (91%), common areas and community space (96%), academic spaces (93%), administrative areas (94%) and dining facilities (90%). Slightly fewer institutions provide wireless access in the residential computer labs (81%), while 66% provide wireless access in the outside areas adjacent to the residential space (courtyards, breezeways, parks).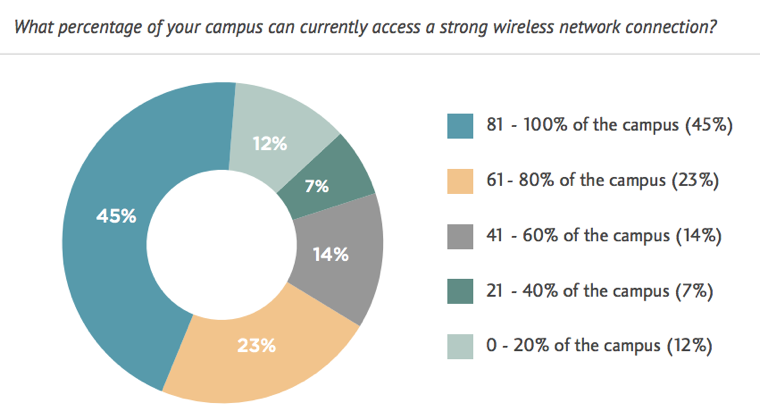 Who Pays the Bills?
The Internet is so ubiquitous that many people forget it's still relatively expensive. Who should pay for more bandwidth when college students want to connect three, four or even more devices? The answer is unclear, although most colleges currently foot the bill for unlimited use and then make up for it with fees built into tuition.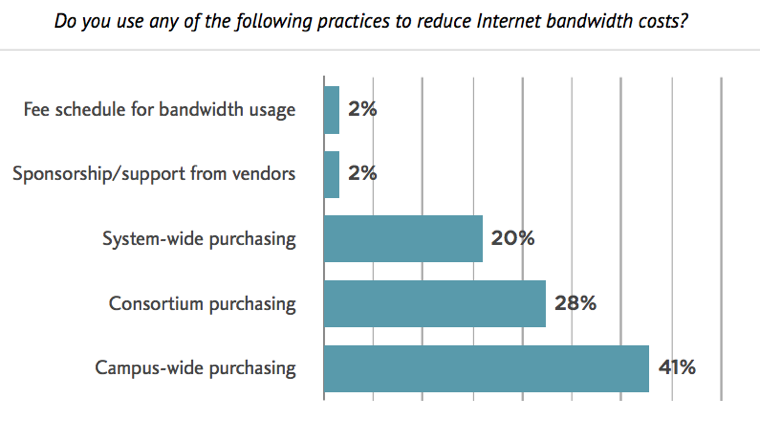 ACUTA also provides a more complete breakdown:
36% partially fund the residential network with student fees and partially through central university funds.
31% completely fund the residential network as a core university service from central university funds.
15% jointly fund the residential network through central university, student fees and departments.
13% partially fund the residential network through departmental assistance (colleges and schools) and partially through central university funds.
This report has more great information for college IT professionals and can be downloaded for free here.
<p>iStockphoto/Thinkstock</p>