Is Online Learning Moving at a Dangerous Pace?
The pros and cons of online learning, and the best reads of the week.
This is the third in a series of weekly roundups curating the best higher education technology news, articles and resources from around the web. Use the hashtag #higheredreads to suggest an article. For easy reading on any mobile device, download these stories as a Readlist.
Online Learning Is Spreading...Fast
It seems like just yesterday we were wondering how the web would affect universities. Now we are asking whether the web will put an end to universities as we know them. A recent article by Gregory Ferenstein of TechCrunch takes a step back and warns us that we could be moving too fast:
For over a decade, admissions-selective universities (e.g. not the University of Phoenix) resisted giving credit for their overwhelmingly popular online courses. Established with just 50 free online courses as a proof-of-concept, MIT's groundbreaking Open CourseWare project quickly expanded to 1,700 courses through a worldwide consortium of universities in just three yearse. To date, MIT's Open Courseware has a staggering 125 million lifetime visitors. Online education startup Coursera, which added interactive video, homework, and peer learning communities to courses from top-tier universities, has amassed more than 2.5 million users in only nine months since its debut in April 2012.

Perhaps most disruptive of all, the University of Wisconsin is offering a fully legitimate college degree without any class time required. So long as students can pass some tests (and pay the associated costs), they can learn from anywhere in the world.

The semi-sad impact is that we're acting quicker than we're thinking. It can take years to assess a single course, let alone an entire restructuring of the education system. A review of research by the Department of Education shows pretty definitively that "students who took all or part of their class online performed better, on average, than those taking the same course through traditional face-to-face instruction."
Read Online Education Is Replacing Physical Colleges At A Crazy Fast Pace on TechCrunch.
Is That a Classroom or a Computer Lab?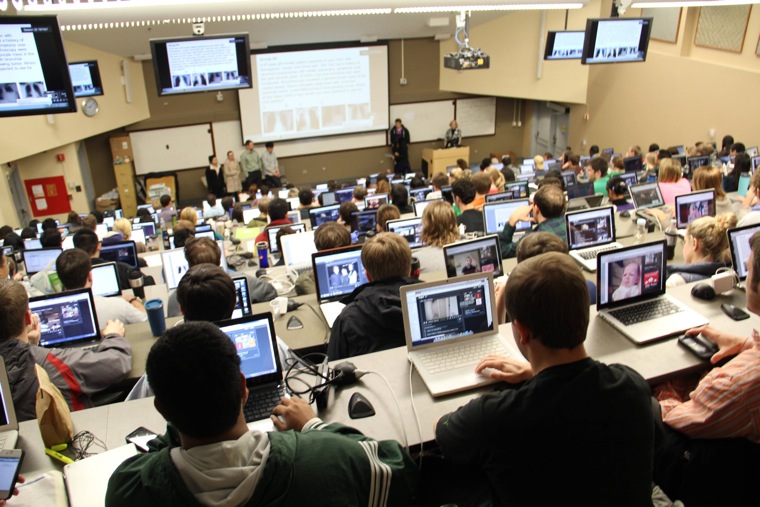 While there is a lot we don't know about massive open online courses (MOOCs), there is something we do know for sure about physical classrooms: Every student has a computer. The image above, posted by a medical student, originally appeared on the photo sharing site imgur. Jeff Dunn of Edudemic wonders whether this is what the average college classroom looks like today:
The picture is more interesting to me because of the sheer volume of computers in the classroom. Most graduate schools require or demand a laptop or tablet these days so it's not very surprising to hear that this is a med school. But my real question is: is this now a typical classroom? Do all students NEED laptops? Do all grad students NEED laptops? What would the view from the front of the classroom (from the teacher's perspective) look like?
Read Is This Now A Typical Classroom? on Edudemic.
Brewing Up a New Kind of Distance Learning
Brewers are all hopped up at the chance to enhance their skills with Auburn University's new master's program in brewing science. Home brewing is illegal in the state of Alabama, so Auburn is turning to an online platform to offer this degree. As Auburn's Martin O'Neil, head of the nutrition department said, they are "trying to support an industry that is crying out for education."
In an attempt to capitalize on this growing demand, Auburn University in Alabama will offer a master's certification in brewing science. Unanimously approved by the school's board, the program now needs approval from the Alabama Commission of Higher Education.

The 18-hour distance-learning program will only be offered to 10 students initially. Graduates of the program will be eligible to take certification exams at the Institute of Brewing and Distilling, an internationally-recognized brewing education organization, thanks to an understanding between Auburn and the institute.
Read Auburn University to Offer Beer Brewing Program on Hack College.
Send us a tweet at @EdTech_Highered to suggest stories for next week.
<p>Hemera/Thinkstock</p>