3 Ways Colleges Can Reconfigure Computer Labs
Bentley University transformed a largely forgotten, dreary lab space into a campus hotspot.
Not so long ago, Bentley University's Computer Information Systems Lab was known affectionately as the "bat cave" because of its secluded location in a remote basement corner of a campus classroom building.
The CIS Lab, opened in 2000, was a typical computer lab for its time: 40 computers faced the walls and students went there to access the Internet and get help with homework. As wireless access grew, traffic declined, and tutors often spent more time doing their own homework than helping students or interacting with technology.
A fresh coat of paint and new furniture were the easy and obvious fixes when a Bentley team renovated the lab in 2011. More difficult was changing campus perceptions of what would take place inside. Rebranded in fall 2011 as the CIS Learning and Technology Sandbox, the new facility encourages students to learn both in person and online.
When I was asked to manage the facility in spring 2011, I asked admissions staff why the CIS lab was not included on the tour for prospective students.
"Every school has a computer lab" was their response. Students weren't going to decide to come to Bentley because they saw the old CIS Lab on a campus tour.
The revamping of the lab offered the campus a real opportunity to consider what a 21st century learning space could be. It couldn't look or operate like a traditional computer lab. It needed a different name and the means to provide services beyond computers and tutoring. It needed to attract students who required tutoring as well as those who didn't.
Naming the facility the CIS Sandbox echoes the software industry, where "sandbox" refers to a work environment that encourages experimentation and testing without fear of affecting other parts of the system. To generate excitement, the CIS Sandbox would need to boast cool technology and also have a robust web presence, connecting with students in person and online. To create buzz surrounding the facility, the plan was to attract Bentley's best students, as well as those in need of tutoring.
With the new facility up and running, here are three steps that helped make the lab's transformation a success:
One: Document Everything
The only way to show that a change has taken place is to remind people what things used to be like. The Bentley team set up a webcam to take several pictures every day during renovation. A student stitched images together to create a time-lapse video showing the renovation process.
The CIS Sandbox requires students to swipe their identification cards upon entering to maintain a log of the facility's use. Such information helps with scheduling and ensures that tutors are available when needed — for instance, when a big assignment is due.
Tutors also complete forms that document students' questions and the classes they are taking, and that information is reported back to their instructors, along with the ways in which the CIS Sandbox staff was able to help.
Two: Operate like a Startup
As a new entity on campus, the CIS Sandbox held a logo contest inviting students to create its visual identity; then printed business cards, stickers and other swag to spread the word that the new learning space was open for business.
Running the CIS Sandbox like a startup gives student workers a sense of ownership during day-to-day operations. The staff of 22 graduate and undergraduate students are responsible for tasks that go beyond tutoring, such as creating use and tutoring reports, managing schedules, updating software, creating digital signage, and planning and publicizing events.
These opportunities provide student workers with résumé-building experience in data management, collaboration and social media marketing, and foster a sense of responsibility and entrepreneurship.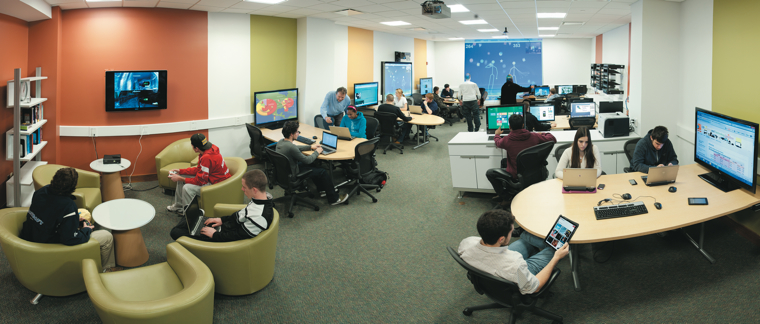 Three: Use Social Media for Outreach
Students who work in the CIS ­Sandbox share their expertise and interests online. The facility has established its online presence through a blog, to which student workers contribute posts once or twice a month. With 22 students, the assignment is a manageable one, and the blog is self-sustaining. Covering topics from new technology to homework hints, the staff refreshes the blog two or three times a week, ensuring that readers return for more.
Tutors also have created a suite of instructional videos in response to frequently asked questions, which students can watch at their own pace. Such activities enable tutors to make a difference outside of the Sandbox, and they enjoy the recognition they receive from the students they have helped. The CIS Sandbox Facebook and Twitter accounts further promote the blog posts and other activities.
The blog forms the basis of a social media infrastructure that student workers maintain to support the daily operations of the CIS Sandbox. Internally, Google sites serve as a wiki where tutors share weekly status reports, internal documentation on hardware and software configuration, and details about changes to accounts. Tutors keep their hours on Google ­Calendar, which feeds into the blog via a WordPress plug-in, so it is always up to date.
The Results
The CIS Sandbox is now a place where students come to learn about course-related and extracurricular technology topics. It is the innovative combination of a physical learning space supported by an online learning space, managed by student workers.
Google analytics show the blog receives about 400 hits per week during the school year. During the fall 2011 semester — the first semester of operation — 487 different students visited 1,577 times, and tutors documented more than 400 tutoring cases. One year later, during the first three months of the fall 2012 semester, those numbers nearly doubled: 671 students visited 2,956 times, and there were 900 documented tutoring events. A study is now under way, exploring the relationship between CIS Sandbox attendance and classroom learning.
The CIS Sandbox team is looking for new ways to provide additional events. For example, working with Bentley's Office of Undergraduate Career Services, the CIS Sandbox has invited technology companies to hold recruiting and extracurricular events at the facility. These events expose students to new technologies and their real-world applications, and attract students who otherwise might not come in for tutoring.
Today, not surprisingly, the CIS Sandbox is featured on the campus tour for prospective students.
<p>Photographs by Bentley University</p>
More On