Utah State University Electrifies Campus Transit with Revolutionary Bus
The world's first wirelessly charged bus is already transporting students.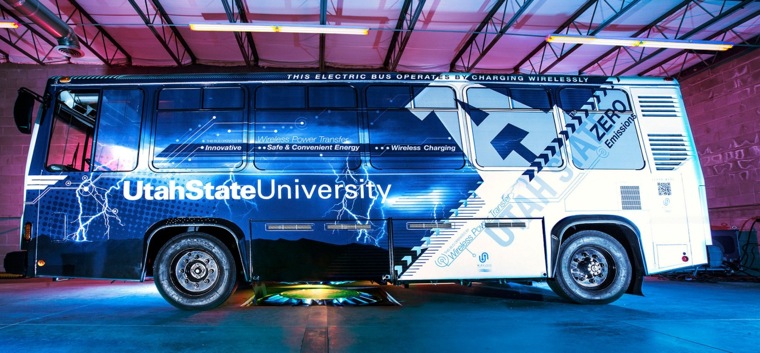 Credit: Utah State University
Many colleges use buses to transport students around campus, but only one has a bus powered by a wirelessly charging battery and a system known as wireless power transfer (WPT). The bus, a prototype, is already carrying students to and from classes — and charging its battery at each stop. Because buses are so large, current battery limitations prevent them from holding a charge all day. Because buses run on fixed routes, Utah State has built chargers into the road at some of the stops along the route. Using a technology known as induction, the battery can recharge wirelessly at each stop.
This bus is groundbreaking not just for Utah State but also, potentially, for public transit in general, according to Utah State Today:
USU's Aggie Bus has achieved several significant milestones. It is the first bus developed and designed by a North American organization that is charged with wireless power transfer technology and is the world's first electric bus with WPT technology combining the three following performance metrics: A power level up to 25 kilowatts, greater than 90 percent efficiency from the power grid to the battery and a maximum misalignment of up to six inches.

Wireless power transfer technology delivers a multitude of benefits to consumers that include greater reliability due to no moving parts or cords, added convenience through the elimination of plug-in charging, the assurance of safety by removing the risk of electrocution and aesthetically pleasing devices as a result of no visible wiring.
Read Utah State University Unveils Wirelessly Charged Electric Bus on Utah State Today.
Utah State University worked with WAVE, Inc., on this project, creating the video below to explain more about how this technology works.
<p>Credit: Utah State University</p>
More On