Fordham University's Crisis Communication Shines During Sandy
Social media proved to be an effective tool, thanks to a smart plan and hard work.
At 10 p.m. on Monday, October 29, Hurricane Sandy took out Fordham University's website and e-mail. Power outages had blacked out most of Manhattan south of 34th Street, and with the electricity went Fordham's web presence. Fordham's crisis communication plan had already been activated, so Bob Howe, the university's director of communications, was prepared. "We had been using social media all along, in addition to the website and e-mail. We also have an emergency notification system, where we can send out e-mail, text and phone messages," said Howe in a brief phone interview just days after the hurricane. The Fordham Facebook page, which has more than 25,000 fans, became a hub of conversation for faculty, students and parents, with some posts receiving over 100 comments. Howe made a point of remaining involved in the conversations, posting replies to as many questions as he could, and even copying and pasting answers when questions were asked more than once. Below is a screenshot from a conversation that Howe was actively involved in throughout the week.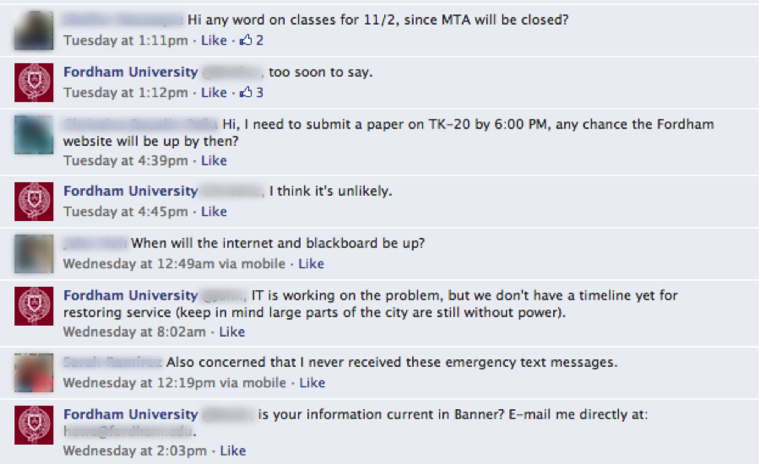 The level of engagement is obvious, and the personal attention that Howe gave was not overlooked. His hard work has been praised since the event, with many parents showing their gratitude on the same Facebook page.

In the face of disaster, Fordham's crisis communication system performed flawlessly thanks to planning and execution from the entire communications team. As their official emergency management plan states, "One measure of a university's strength is its ability to respond well in an emergency. While every scenario cannot be predicted, our emergency response must quickly adapt to every event as it occurs." Fordham's response to Hurricane Sandy perfectly illustrates this. Read more about using social media in crisis communications.
More On