How the Virginia Community College System Centralized Its Technology
VCCS strategy aims to improve services for students, staff and faculty.
Despite shrinking budgets and soaring enrollment, the Virginia Community College System has embarked on an ambitious six-year plan to improve student achievement, keep tuition affordable and increase job training opportunities for the state's workforce.
To do more with less, VCCS is revamping the way it does business and finding creative ways to improve education and operate efficiently and cost-effectively. And technology plays a critical role.
VCCS, which serves 400,000 students, has begun implementing a shared-services strategy. Instead of buying technology on a campus-by-campus basis, the community colleges now combine their buying power to get better prices. They also have begun centralizing enterprise applications, such as ­Active Directory. In addition, they are collaborating on distance learning to increase the amount and types of courses students can take.
"We have 23 colleges, and they are very independent in some ways. But the idea is to do things together to make the lives of Virginians better," says Dr. Joy Hatch, vice chancellor of IT services. "The goal is to become more efficient, provide more services and find innovative ways to get business done. IT is a partner in all of this."
Lofty Goals for 2015
Chancellor Glenn DuBois created the VCCS Reengineering Task Force in 2009 to examine the college system's entire organization. DuBois identified five key goals, which he calls "Achieve 2015," that he wants VCCS to meet:
Increase student enrollment, particularly in underserved populations, such as first-generation students.
Keep tuition at half the cost of the state's public four-year colleges while boosting the number of students who receive financial assistance.
Increase the number of students who graduate, transfer to four-year colleges or complete a workforce credential.
Bolster the number of employer-provided job training programs.
Raise $550 million in gift donations and grants.
Three years in, the college system has already met more than half its milestones. For example, VCCS has kept tuition at about one-third the cost of the state's public four-year colleges and is awarding 90,000 scholarships annually to students, surpassing its goal of 36,000 additional scholarships per year. VCCS has also met its goal of increasing by 50 percent the number of students who graduate, transfer or earn a workforce credential.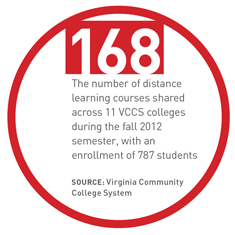 The college system is well on its way to reaching its other goals too, DuBois says. VCCS has raised more than $300 million in grants and donations, and more than 7,267 employers provide job training programs.
In the meantime, system leaders continue to pursue strategies to reshape campus operations. These efforts range from creating new types of full-time teaching positions to investing in professional development for faculty and staff. Strategies that have a technology component include redesigning developmental education, streamlining the financial aid process and building a business intelligence system.
"Fixing" Remedial Education
Nearly half of high school graduates who enter VCCS are not ready to take college-level math or English and must take remedial courses. To increase student success, the system's curriculum team has redesigned developmental courses to simplify and speed up the process for students who need to acquire basic math, reading and writing skills.
In the past, students had to take semester-long developmental math courses. It could take a year, possibly up to two years, to pass all required courses and be ready for the college-level math courses. If a student failed a four- or five-credit course, he or she had to take the entire class again. That caused frustration and put students at risk of dropping out, says Dr. Susan Wood, vice chancellor for academic services and research.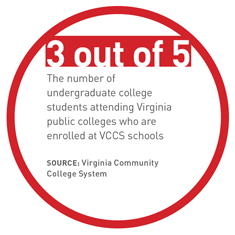 In January, VCCS math instructors streamlined the math content into nine one-unit courses, each of which emphasized specific math skills. If students have mastered some of the skills, they can test out of those one-unit courses and focus on the specific areas where they need remediation, she says.
From a technology standpoint, VCCS created online tests. Some of the system's colleges offer the new developmental math courses online, while others teach them in a classroom lab setting, where students learn collaboratively with faculty providing assistance, Wood says. In some of those cases, students are in computer labs and do math problems on computers as well.
The early results of the new math courses are promising. Students complete their remediation work faster, says Leslie Smith, the dean of distance learning and technology at Rappahannock Community College in eastern Virginia.
VCCS next plans to introduce new developmental English classes, in early 2013.
"It's huge because we are getting students to their college materials sooner. They will be able to graduate and enter the workforce sooner and spend less money on tuition," Smith says.
Dive into the Pool
Sharing services is not new to VCCS. About a decade ago, the central IT department installed a learning management system and student information system used by all the community colleges in Virginia. But because of the chancellor's re-engineering effort, the central IT department now seeks to centralize even more enterprise applications, Vice Chancellor Hatch says.
VCCS, for example, is consolidating Active Directory settings. Previously, students had one set of user names and passwords for the learning management system and student information system, and another for accessing network resources, such as Wi-Fi and local printers.
Soon, all students will need only one set of IDs and passwords. About two-thirds of the colleges have made the switch. "It's single sign-on," Hatch says. "It just makes it easier for students to log in to the services they need."
To reduce costs and improve financial aid services, VCCS also has installed a new enterprise document management system to centrally process financial aid paperwork, she says. Tidewater Community College in Norfolk, Va., has launched a pilot to test a new document workflow and verification process for the financial aid offices of eight community colleges.
Previously, some financial aid departments had to shut down for a few days each week just to process paperwork. Now, those offices can devote "more face time to students," says Matt Lawson, director of VCCS enterprise services.
Additionally, almost a dozen colleges have begun sharing distance learning courses as part of a test initiative to increase student access to courses. Northern Virginia Community College (NOVA), the system's largest college, with 75,000 students enrolled at six regional campuses across three counties, is leading the pilot by making its vast portfolio of online courses available to other VCCS campuses.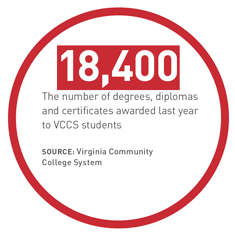 If one of the state's smaller or rural colleges doesn't offer a language or science course, students can now take some of these classes online from NOVA. During the 2011–2012 school year, about 1,000 students took advantage of distance learning courses.
"It's a way for our community colleges to leverage and share our resources and give students more options," says Dr. Richard Sebastian, VCCS director of Teaching and Learning Technologies.
VCCS recently installed analytics software that will let administrators analyze financial, human resources, student and student aid data to detect trends and patterns, measure performance, and find ways to increase operational efficiencies and improve education.
The new decision support system, which runs on four Cisco Unified Computing System (UCS) servers and connects to data stored on a NetApp storage area network, will be able to generate reports on the fly.
By analyzing student demographics and class enrollment information, for example, individual campuses can determine whether they need to eliminate some educational programs or create new ones, Wood says.
Tech Revamp
The central IT department, which has a staff of 70, has collaborated closely with the IT staffs at the individual community colleges to plan and implement these systemwide projects. The central IT team has also looked inward and is making infrastructure investments to enhance services, bolster reliability and reduce costs.
Three years ago, for example, when the main VCCS data center began to run out of space and max out power and cooling, central IT deployed virtualization to consolidate servers, reduce energy consumption and improve continuity of operations, Lawson says.
The central tech staff also upgraded to the new NetApp SAN, which further improved redundancy and let VCCS turn its secondary data center into a hot site. "We've moved from tape-based backup to disk-to-disk replication, and it has drastically improved recovery times," Lawson says.
More recently, VCCS has begun migrating to Cisco UCS blade servers. The blades' fast networking speeds will allow the IT staff to pack more virtual machines on each server. In fact, the IT department will soon offer private cloud services to individual colleges so their IT departments can reduce capital expenditures.
"We view ourselves as a private hosting provider," Lawson says. "With our resources, the IT staff at each college is freed up to focus on more important projects."
The benefits are clear to the colleges' IT teams, particularly to those at the small and midsized colleges, says Rappahannock's Smith: "We get to leverage so many things, from purchasing to sharing knowledge and helping each other out."
Taking the Sting Out of Textbook Costs
As part of its systemwide re-engineering effort, the Virginia Community Colleges System launched an initiative this year to lower the cost of textbooks for its students.
Dr. Richard Sebastian, director of teaching and learning technologies, is leading a workgroup that will explore ways to reduce textbook costs and keep education affordable.
"We have goals for student success and the affordability and accessibility of education, and they are affected by outrageous textbook costs," he says.
The workgroup is collecting data about how much students are paying now and exploring alternatives.
Potential solutions include negotiating with textbook publishers to allow students to rent e-books. Another option is to take advantage of open, educational resources, such as Rice University's OpenStax College program, which provides students with free e-textbooks, Sebastian says.
Khue Bui
More On